Monday, September 26, 2005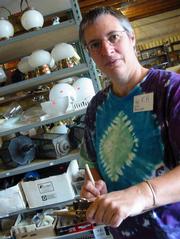 Meghan Dervin is hyped about volunteering at The Habitat ReStore.
She does, however, have one regret.
"I wish I knew about it before I ripped up my place and redid everything," says Dervin, 20. "The cabinets are probably a fourth of what I paid."
Bargains abound at Lawrence's first building-supply thrift store, which opened Friday at 200 Comet Lane (near Stone Creek Restaurant on west Sixth Street). Toilets, tiles, lighting fixtures, doors and other home-improvement treasures line the shelves, with all proceeds going to Lawrence Habitat for Humanity, a volunteer organization that builds homes for low-income residents.
Currently open from 8 a.m. to 6 p.m. Fridays and Saturdays, ReStore is seeking volunteers to stock the shelves, work the cash register, meet and greet customers and help gather donations.
"I'm looking for people I can depend on that will be there a minimum of four hours a month," says ReStore manager Katherine Harris. "If 45 people call me and say they want to volunteer, boy do I want to talk to them."
Persons interested in volunteering at ReStore should contact Katherine Harris at 764-6889 (no previous experience required). For pickup of used goods, contact the store at 856-6920.
More volunteer opportunities available at rhvc.org.
ReStore's success will depend largely on the efforts of volunteers, as Harris is the store's only paid employee.
"We don't have enough volunteers to cover the hours we've got," she says. "I'd love to be open another day a week. I think our customers would like it too."
Since ReStore is a non-profit agency, all donations are tax-deductible. The store offers a pickup service for large items and encourages people to drop off donations during hours of operation.
ReStore accepts any building materials that are in "good, usable condition." Pre-cleaning is appreciated but not required.