Monday, September 26, 2005
There exists a shaky truce between the countries of the Frontier and the Tundra. Their border is separated by a demilitarized zone and each country monitors their side of the line for undesirables. Soon this truce will break and these countries will find themselves in the throws of war.
A mix of real-time strategy and 3D action, Battalion Wars is a 128 bit spin off of the popular series, Advance Wars for the Gameboy Advance. At its core Battalion Wars is a real-time strategy. Instead of having an observer's viewpoint of the action like what is found in the GBA counterparts, this time you actually participate in the action directly. This is done through an intuitive control scheme that allows you to command entire squads, deploy different units to strategic vantage points and take control of any member of your battalion all in real time.
Mission variety is done well. In a single mission you may have to complete multiple objectives that require you to change your tactics to succeed. One mission has you rescuing scout troops from a Tundran stronghold. You and your team must traverse through the countryside, battling Tundran guerillas, until you've reached your comrades' prison. There you must battle a pair of light armored tanks and eventually free your allies. Once this is done it becomes a race against the clock to return to Frontier territory via light recon vehicle (your jeep). After that:well you get the idea.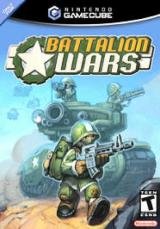 The level design compliments the mission variety, offering plenty of high vantage points for Missile Veterans and multiple pathways that lend themselves to flanking opportunities.
So with all of these major points nailed, what's wrong with Battalion Wars? Well, I'm glad you asked, scooter.
For starters, the game lacks an open-ended approach to the levels and objectives. There's essentially one way to do things in a level and if you don't do it the correct way you will lose a lot of men and, more than likely, be forced to retry.
This is due in part to the move from traditional RTS to Strategy-Action hybrid. Troops don't move on you, they're already in place for most of the missions. This means the element of surprise is nonexistent. It's true, you can flank, but there are only specific junctions in the game that allow for it, which makes it pretty scripted.
Another, infinitely more frustrating, problem with this game is the physics and control of the vehicles. They control like garbage trucks on ice. And not just the tanks, that would actually make sense, the steering is so loose and unresponsive on even the nimble Recon vehicles (again, Jeeps) it is a hair pulling experience just to get one through a doorway.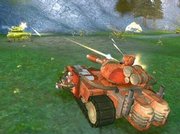 While I'm on the subject of vehicle physics, these are armored tanks and patrols. Armor-plated behemoths capable of taking direct onslaughts from rockets, mortars and anything else the enemy can throw at them. Why is it then that if I bump into a tree, rock, pillar, machine gun nest or anything else other than level driving surface my tank does three pirouettes and finally stops, facing the opposite direction? Maybe that's being too critical, but I like the idea of my heavy machinery handling like heavy machinery, not compact cars.
For as frustrating as that is, it doesn't even come close to the infuriation you'll suffer at the hands your teammates' artificial intelligence. There are times when your entire battalion will attack a single enemy, follow them back to their base and be instantly slaughtered. This usually happens right after the "hold" command has been issued.
Other times squads that have been ordered to attack a specific enemy unit will run around in no particular direction and never fire a shot. Units also lack the common sense to get out of the way of enemy fire and will sit leisurely in front of a machine gun nest until they've been cut to shreds.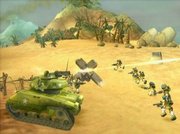 This is made even more baffling by the total inconsistency of the A.I. Other times they play like a unit of elite killing machines. Coordinating their fire on the same enemy, taking cover, following orders. That's the hardest part about the A.I. in this game: you never know which battalion is going to show up the Navy Seals or the Merchant Marines.
If it not for these major, albeit few, complaints Battalion Wars would be pretty fun to play. The control is easy to learn and intuitive. The graphics aren't breathtaking by any means, but they deliver a highly animated, steady-framed experience. The unit and level design are both intuitive and the mission variety is also welcome. The addition of bonus missions raises the replay value:a little.
However, the head-scratch inducing A.I., straightforward objective completion and the atrocious driving physics keep this from being a keeper. Good for a rent but I doubt I'll reenlist for Battalion Wars 2.
Graphics: B
Sound: B
First Play: C-
Last Play: D+
Gameplay: C
Overall: 76% C
More like this story on Lawrence.com