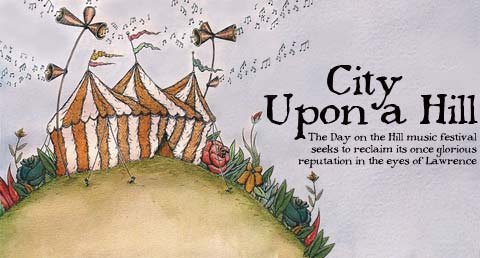 "For we must consider that we shall be as a city upon a hill. The eyes of all people are upon us."
When John Winthop delivered his stirring 1630 sermon "A Model of Christian Charity" to the Puritan colonists of New England, he probably wasn't thinking about KU's 2006 Day on the Hill festival.
But damn if he wasn't laying down the truth.
"A lot of students will say that a certain Day on the Hill was one of the coolest things they did in their entire college experience," says Dawn Shew, former advisor for KU's Student Union Activities (SUA).
But just as many students may remember certain Days on the Hill as one of the most disappointing days of their college experience.
As Shew recalls, 2001 marked the beginning of the end for Day on the Hill.
"The last quote-unquote 'headliner' we were able to bring in was Fastball - and they were three years out from being famous," she adds. "We caught a fair amount of flack for that."
Ah yes, the Fastball debacle. As Shew recounts it, the Austin-based band - three years after their hit song "The Way" - showed up to the 2001 Day on the Hill Festival in a sour mood, fighting amongst each other and enlisting student volunteers to cart them across town to Wendy's.
To add insult to injury, the band walked off the stage after 35 minutes - 25 minutes short of the 60-minute set that their contract stipulated.
"After Fastball we were like, 'OK, this is doing damage to (Day on the Hill's) memory'," she says.
"No one was happy with what it was, but no one was willing to let it go."
A real pearl
Fourteen years ago, an up-and-coming band called Pearl Jam signed a $3,000 contract to play a small-time KU event called Day on the Hill. One hit single and 10,000 attendees later, Day on the Hill was suddenly the torch-bearer for Lawrence music festivals.
"It was never meant to be that huge," says longtime SUA advisor Susan Hoffman. "We just got really lucky that one year."
This year's festival - which features Spoon, Sharon Jones & the Dap Kings, Ghosty, Kelpie, The Belles and Superargo - marks a return from a four-year absence. The event is free to KU students and $10 for the general public. It will take place under a gigantic tent on the Lied Center lawn, complete with food vendors and carnival games.
"The tent alone is the size of a football field - plus end zones," Hoffman says. "It may not be the hill, but there are many sides to a hill."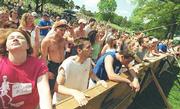 Organizers are hoping the event will go down more smoothly than the most recent Day on the Hill, which featured an all-local bill headlined by The Anniversary.
"A year after it happened there was an article in the paper about how it was the worst Day on the Hill ever," recalls former Anniversary bassist Jim David.
"It really bummed me out," he adds. "I was like, 'Goddammit - that's how I'm going to go out?'"
That year's shortcomings had less to do with music, however, and more to do with the fact that a tornado warning pushed the event back a week. Then, thanks to recent rain, "Day on the Hill" was moved off the grass and into the adjacent parking lot.
"The hill was about 100 yards away," recalls former Anniversary drummer Christian Jankowski. "If people sat on the hill, nobody was in front of the bands."
Turnpike features
› Spoon › Sharon Jones & the Dap Kings › Ghosty › Podcast: Superargo Full Turnpike archive
Modest endeavors
Humbled, Day on the Hill went into hibernation. With SUA's budget dwindling, the board focused its limited resources on year-round programming such as movies and lectures.
Then last year, a minor miracle occurred. Despite the fact that they were already paying twice as much as their younger siblings for a college education, KU students voted to approve a $5 hike in the student activities fee.
The result: an SUA budget that could once again afford to splurge - this time to the tune of $90,000.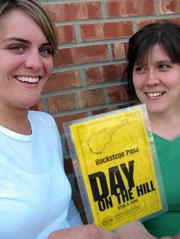 "I think there are a lot of students anticipating it coming back," says Jenny Kratz, a member of SUA's Day on the Hill committee. "I was at several of them in high school and I was sad to see it go."
Kratz, a senior in art history, steered the music search committee though a series of false starts - The Decemberists were having a baby, The Shins were recording and Modest Mouse wanted $125,000.
"We started out looking more along the lines of Modest Mouse - something that is a little bit more encompassing of all students and not just the indie rockers," Kratz says.
"We quickly realized that music festivals like Coachella and Bonnaroo have really put a damper on what you can do at a college," she adds. "Bands don't even really need to tour, because they get so much money at festivals."
Past Event
Saturday, April 8, 2006, 3 p.m. to 8 p.m.
Lied Center, 1600 Stewart Drive, KU campus, Lawrence
All ages / Free - $10
Other names tossed about included Interpol, Ben Folds, The New Pornographers, Pete Yorn and The Faint. The latter nearly committed, but turned down a $25,000 offer at the last minute.
"We had to get permission to move the festival back late enough that it would be dark for their light show," Kratz says, "That took a few more days and then they decided that the one person who doesn't live in Omaha didn't want to fly back."
Dancing cows, floating burritos
The Faint's deferral opened the door for retro soul-and-funk outfit Sharon Jones and the Dap Kings to join the bill - an exciting proposition for Adam Jeffers of opening act Superargo.
Pearl Jam at Day on the Hill (1992) Watch video, courtesy of Steve Silvestri(Note regarding lead singer Eddie Vedder's comments: the show was just two days after the L.A. riots, following the police beating of Rodney King.)
"I'm actually really stoked about that because I love that band," Jeffers says. "It's nice to know that I live in a world where Sharon Jones and the Dap Kings will be playing on the same stage that I played on - only an hour, or two, or three after I did."
Jeffers, who will open the show at 2:15pm, says that he was impressed with the diversity of the musical lineup.
"I don't understand festivals. I don't really like being outside, especially during the day," he says. "But if this is what they're about, then I'm all about it."
PAST DAY ON THE HILL LINEUPS 1988 (First year's lineup lost to collective memory) 1989 Too Much Joy Love Tractor 1990 Toad the Wet Sprocket 1991 Paris Now See Hear ID Explosion Mutt Finicky 1992 Pearl Jam Tribe After Tribe Let's Go Bowling Zoom 1993 Gin Blossoms Reverend Horton Heat Rise MU330 Kill Creek Crash Vegas 1994 Urge Overkill Pegboy El Magnifico Vitreous Humor The Bubble Boys 1995 Matthew Sweet Tenderloin Bastard Squad Lou's Revenge 1996 Paw The Poster Children Stick Justin Case The Floyds 1997 They Might Be Giants The Norman 360 The Glitterkicks The Gravel Pit Arthur Dodge and the Horsefeathers Chebella! 1998 Soul Coughing Los Amigos Invisables Fear and Whiskey The Believe It Or Nots The Creature Comforts Two Player Option 1999 Hum Son Venezuela Frogpond Panel Donor The Poster Children Starsky 2000 The Urge Rex Hobart Proudentall The Jesse Jackson Five The Co-Op 2001 Fastball The Daybirds Pomeroy The Youngblood Brass Band The Secondhands 2002 The Anniversary No Lessons Hot Sauce Emilia Dahlin The Hardaways
Superargo's video-enhanced performance will seek to captivate random onlookers in the same way that 1998 opener The Believe It Or Nots went above and beyond the call of duty.
"I wanted us to do something ridiculous, so our friend Chad joined us onstage for the first time ever in the role of the dancing cow," recalls former Believe It Or Nots guitarist and vocalist Greg Franklin.
"I thought it was hilarious because Chad was standing there in this cow costume eating beef tacos," Franklin says. "It was a bunch of people that had never seen us play before and I'm sure that left some sort of impression."
The dancing cow made a short-lived return appearance during Soul Coughing's set.
"He had stolen some sort of sign that said, 'All pets must be kept on a leash' and he was standing behind the drummer toting it up and down and stomping his feet," Franklin says. "Their road manager grabbed him and said, 'Get offstage': I would think that as abstract as Soul Coughing tended to be that they would have been a little bit more receptive to such an artistic statement."
Franklin, who now plays for the Kansas City band Jackie Carol, still considers his band's Day on the Hill gig to be its defining moment.
"I just remember being incredibly excited when we found out that it was going to happen," Franklin says. "My parents came up from Arkansas : I think it was one of the first times that me playing music seemed fairly legitimate to them."
Franklin still harbors "a deep resentment" towards his father for making him leave the 1992 Day on the Hill before Pearl Jam took the stage. A fonder memory can be traced to a more recent Day on the Hill when fellow Lawrence band Proudentall took the stage.
"I remember yelling at (bassist) Billy Ning to recognize the giant floating Chipotle burrito," Franklin says. "He completely straight-faced into the microphone, 'We'd like to thank Chih-pot-ull.'"