Did you ever hear the one about the dyslexic man who walked into a bra?
Beverly Willis-Wyant has. About a thousand times.
"We do one-liners that are absolutely old, old, old jokes," says Willis-Wyant, a member of Lawrence Community Theater's Vintage Players.
"There'll be about eight to ten of us and we do them rapid-fire," she says. "You gotta be fast to keep up with us old folks, you know."
At age 73, Eudora resident Willis-Wyant is recapturing the theater fervor that earned her first place in a 1947 Kansas forensics competition. Her partner Robert Edmonds went on to be a Broadway dancer, while she single-handedly raised seven children.
Twenty years ago, however, Willis-Wyant refocused her priorities.
"After my stroke I said, 'Oh my god tomorrow I might not be here. I better enjoy myself,'" she says. "I laid in bed for three years. I had a lot of time to think about it."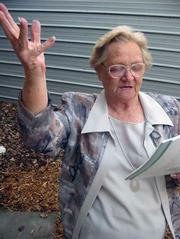 The Vintage Players perform about twice-a-month at local elementary schools, retirement homes, brunches, grocery stores, WWII reunions and museums. They typically interpret short skits with scripts in hand.
"Most of us have reached an age where you don't retain a lot," Willis-Wyatt says. "There are so many other opportunities for young people in theater that I think they would find our script-in-hand thing a little odd."
One of Willis-Wyant's favorite pieces is called "I'm Going to Be A Bear," which she says reflects her dream of reincarnating.
"A bear gets to hibernate six months out of the year," she explains. "And before you hibernate, you eat yourself stupid."
She practices on her 81-year-old husband, whom she married three months ago on the heels of a 35-year courtship.
Persons interested in joining the Vintage Players should contact the Lawrence Community Theater at 843-7469. More local volunteer opportunities are available at rhvc.org and lawrence.com/volunteer.
"He's a just a tremendous audience," Willis-Wyant says. "I guess that's the nice part about being married to someone who's sick he can't get away; he's gotta listen to me."
Willis-Wyant says the Vintage Players provide her with relief from the day-to-day stress of being a caretaker. She also paints landscapes under the name "Granny B" and displays her work at the Lawrence Community Theater.
Her theatric performances reflect the mantra that the Vintage Players instill in their young audiences: "There are no small parts."
"I'm just having a blast," Willis-Wyant says. "I've found some tremendously wonderful friends."