Chris Tolle was one of more than 10,000 people who huddled on Kansas University's Campanile hill when Pearl Jam took the stage in 1992.
"It was my first time seeing a really big outdoor show," Tolle recalls. "I remember being up close and turning around to look back at it and thinking, 'So that's what it'd be like to play to thousands of people.'"
The singer-guitarist got his chance the following year - more or less - when his band Rise was chosen as one of the acts for the annual Day on the Hill. Since then, he's played the concert in 1997 with The Glitter Kicks and in 1998 with The Creature Comforts.
Tolle will earn the rare fourth opportunity when his latest group, The Belles, performs at Saturday's Day on the Hill. It also will mark the first time in four years that ANYBODY has participated in the event, which went into hibernation after a rather disastrous gathering in 2002.
"I'm usually kind of blase about a lot of things," Tolle says. "But when we got the call to do Day on the Hill, I was just really excited. It made me think of all the other Day on the Hill (badge pass) 'laminents' that I've held onto. I probably should wear them just to say, 'Hey, I'm old.'"
The Student Union Activities-sponsored event is also relatively "old" - it traces its roots back more than 20 years. But the reason it is returning after a four-year hiatus is because of some new economic incentives.
"This is the year we got a ($5) student fee, which basically tripled the budgets," says Jenny Kratz, SUA's social issues coordinator. "One of the reasons that Day on the Hill had ended was that band costs were rising and rising, and we couldn't bring in bands anymore that students were interested in seeing. We used Day on the Hill as our leverage to get the fee passed: 'Give us money and we'll bring back Day on the Hill.'"
Past Event
Saturday, April 8, 2006, 3 p.m. to 8 p.m.
Lied Center, 1600 Stewart Drive, KU campus, Lawrence
All ages / Free - $10
After granted the green light (and around $80,000-$90,000 to spend), SUA organized a committee to figure out the event's musical direction. Lawrence concert promoter Jacki Becker was brought in to consult about the potential acts and help to recruit them.
Bands such as Death Cab for Cutie, The Shins and Modest Mouse were among those courted but ended up declining. Eventually, Austin pop-rock veterans Spoon was slated as headliner, paired with New York's retro soul act Sharon Jones and the Dap-Kings
The bill was rounded out by some locally based acts with national reputations: Ghosty, Kelpie, The Belles and Superargo.
"I wanted them to all be bands that people could enjoy and dance to," Kratz says. "There are really big names out there like Belle and Sebastian or Bright Eyes, but they're also kind of slow. We didn't want that to be the feel of the day. We tried to put together a lineup that was real eclectic and makes you want to move."
Photo Gallery
Day on the Hill bands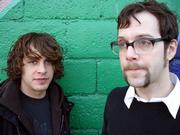 Same 'Day,' new 'Hill'
The ongoing event got its start in the early 1980s when it was known as Day on the Green Hill and featured performers such as Get Smart and Minutemen. After a brief hiatus, the function was relaunched as Day on the Hill in 1988.
Following Pearl Jam's legendary appearance in 1992, the campus outing became Lawrence's premier annual concert, with acts such as They Might Be Giants, Urge Overkill, Gin Blossoms, Soul Coughing and Fastball headlining bills.
Its popularity steadily declined, however, and in 2002 it couldn't even afford to hire a national act, opting instead for an all-local lineup. The nail in the coffin that year was a tornado warning which forced postponement to a later date. Consequently, only a fraction of the anticipated thousands showed up.
"One of the reasons Day on the Hill had to end was it was destroying Campanile hill," Kratz adds. "So many people out there were consuming beverages and trashing the field. To set up the stage you have to dig the holes. Since it was traditionally toward the end of the semester, it was happening right before graduation. The administration at the university didn't think that was a good idea."
So the "Day" is back but the "Hill" is somewhat different. The 2006 concert will be held on the spacious grounds of the Lied Center. Although the show is still free for students (because it's already embedded in their KU fees), for the first time the general public will have to pay $10 for admission. The whole area will be fenced off to prevent gate crashers.
Also new is a free shuttle service from dorms and the Student Unions to alleviate parking hassles.
Related content
In the event of April showers, a massive tent is set up that covers the stage and can accommodate a whopping 6,000 patrons. Organizers expect between 4,000 and 5,000 people to attend.
The next big thing
SUA student advisor Susan Hoffman traces her involvement with Day on the Hill back to the infamous 1992 affair.
"The year that we got Pearl Jam, I slept on the stage the night before to keep it, I guess, from walking away or something," Hoffman says, laughing. "We knew that people were coming from all over and were going to be camping out. It was a matter of making sound companies comfortable about leaving their stuff there overnight. I was one of the late-night shifts."
Hoffman says the ability to deliver an act like Pearl Jam has been both a curse and blessing for Day on the Hill. On one hand, it's considered the town's greatest concert success ("It's kind of the fish story that keeps growing," she says. "I want to say there were 16,000 people who showed up.")
On the other hand, expectations have been unreasonably high ever since then. But one never knows ...
"When we booked that show in January, 1992, Pearl Jam had one song that was hitting the charts," Hoffman recalls. "But by May, they were huge. So I always encourage people to come out and see these good bands. They might not be as big as Pearl Jam was then, but a year from now they may be."
Post your memories of Day on the Hill in our comments