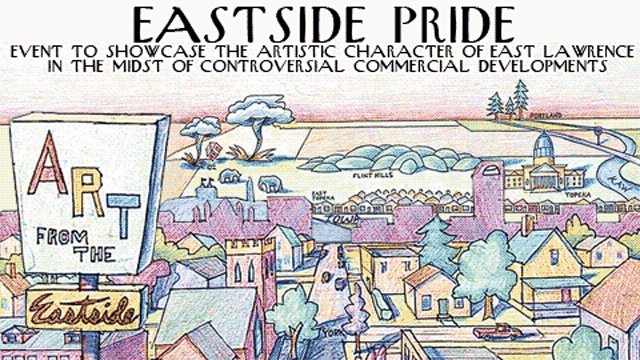 Nine days prior to the opening of the Eastside Art Show, the event's trio of organizers finally figured out what it is.
A happening.
"I wanted to use that word, but it sounds so 1960s," muses K.T. Walsh, an old-guard East Lawrence artist renowned for her outlandish yard art at 732 R.I. St.
"Do I have to put on my white Go-Go boots?" wonders Charlotte Pessoni, a longtime Delaware Street personality.
Pessoni and Walsh are teaming with artist/muralist Dave Loewenstein to coordinate a two-weekend event that will showcase East Lawrence's artists, musicians, poets, writers, jugglers, performance artists, dancers, comic artists, glass-blowers, chefs, storytellers and creative young minds.
The event's loose, grassroots attitude has the vibe of an impromptu block party - a smattering of creative minds rubbing elbows to see what happens.
"It's going to be a real gumbo," Loewenstein says. "Hopefully we can unearth some stuff that we haven't seen before : We'll probably do this show and after it's done we'll know what we should do."
East of Eden
Though the East Lawrence neighborhood has long been recognized as a hotspot for creative minds, none of the event's organizers can recall a similar event.
That, Walsh explains, was reason enough to make it happen - kamikaze as it may be.
"I'm talking to as many people as I can, and there's a lot of resistance to being in an 'official' art show," she explains. "There are a lot of people who just don't want to join that whole scene sending out announcements and hanging in a gallery : I've done that stuff but it's so anxiety-producing that it takes all the fun away."
Like the annual fall "Red Balloon To Do" event, the Eastside Art show will take place in makeshift venues: The Kansas Key Press at 900 New Jersey and Loewenstein's Studio at 411 E. Ninth (others may be announced the weekend of the event). A small grant from the Lawrence Arts Commission will help provide catering, but the "happening" will happen largely without a bankroll.
Organizers have designated "East Lawrence" to mean anything east of Mass. Street (though they admit to having leaky borders). All work will be accepted, and improvisation is encouraged.
"We're going to transform the one block between the two venues," Loewenstein says. "I don't know what that's going to mean yet, but some temporary art embellishment will be all along the path : We're having kids do all sorts of crazy stuff."
Walsh, meanwhile, is stocking up her comprehensive collection of East Lawrence music, fiction, poetry and history. She'll create displays of these goodies - most of which are currently littering the interior of her house - and encourage onlookers to read, ponder, listen to and explore these items.
"We're going to have to put up paper and pens next to the cases where we're showing books and music and say, 'Who else do you know about?'" Walsh says. "Maybe next year we'll be more inclusive."
Rainy days
For Walsh, who has lived in East Lawrence for 30 years, such research is an extension of the work she does for the East Lawrence History Project.
"There's a lot of history here, but when you read the local history books it pretty much stops at Mass. Street, Old West Lawrence and KU," she says. "This was the neighborhood that was working-class, low-income, people of color : We realized that we didn't have the respect for the history that was here, so we started doing research."
Walsh, of course, is as much a part of Lawrence's history as any of her neighbors. In the mid-'90s, her yard art - chiefly characterized by half a dozen umbrellas hanging in her trees - became the center of an infamous brouhaha when she refused to clear out her yard at the city's request
"The fabulous thing about that is that it was way beyond me," Walsh recalls. "People were amazing during that. They were so supportive and they acted on their own and contacted city commissioners and put umbrellas in their yards and all showed up at City Hall when the hearing happened. It wasn't like me going out and beating the bushes - people just rallied."
Walsh won that battle, but she and her East Lawrence neighbors lost the one that put the Riverfront Mall in their backyard. That development, however, paled in comparison to a proposed mall in the mid-'80s that threatened to put a roof over Downtown Lawrence.
"That was when malls were really in their heyday," Walsh recalls. "They wanted to enclose it - with no cars - from Sixth Street to Eighth Street."
New developments
Such battles are the reason that the East Lawrence Neighborhood Association formed nearly 30 years ago and has stayed active through the present day, says Walsh, a board member of the organization.
"We have more issues than any other neighborhood in town," she says. "That's not bragging, we just do - development pressures have always been there."
Even today, such pressures are in clear sight.
The 800 block of Pennsylvania Street is being renovated by local developer Bo Harris into a mixed-use district of apartment-style housing, offices and retail. On March 15, the Lawrence-Douglas County Planning Commission recommended approval of the project. East Lawrence residents will have a chance to comment on or protest the project when the City Commission considers approval (the study session at 10 a.m. Thursday, April 13 at City Hall is open to the public).
Such "new urbanism" concerns longtime East Lawrence cheerleaders like Mark Kaplan, who says that it could alter the dynamic of the single-family zoning that he and others fought for in the early 1980s.
"This is the old urban core of downtown Lawrence, and it needs to be respected," says Kaplan, a film and television sound technician who has lived on Delaware Street since 1977.
"Even city planners will say that you need to buffer the effects of large-scale commercial or industrial development from a neighborhood district, and they're not doing that in this case."
This land is my land
Like many Lawrence artists in 1970s, Kaplan was attracted to East Lawrence because of its social diversity and low cost of living.
"I think a lot of artists just appreciate the eclectic mix of people on the east side and the pronounced working-class flavor of it," says Kaplan, who published a photo documentary of East Lawrence titled "In Plain View."
"The population is pretty dense over here, the lots are small, and the housing is still the best value in town."
Many of those artists - Kaplan included - became activists in the '80s and '90s when Hobbs Park verged on extinction and various highway routes threatened to bisect East Lawrence. Kaplan actually purchased a house in the path of one such proposed development.
"They were going to try to make the Massachusetts Street bridge into a bypass to connect K-10 and I-70," Kaplan recalls. "We just announced that we'd be sitting on the porch with our shotguns."
Such pressures seem to have disappeared for the foreseeable future, but Kaplan and his neighbors are still making moves to tip the balance of power in their favor. By seeking historical designations for locations like Old Municipal Stadium (which hosted Negro League games), East Lawrence is building up a cadre of untouchable properties that will help preserve its character well into the 21st century.
Fortunately, present-day Lawrence leaders are far more sympathetic to such causes, he says.
"Twenty years ago, the city blocked every neighborhood initiative that was made to create historic designations," says Kaplan, who helped preserve the Murphy-Bromelsick abolitionist house at Hobbs Park.
"The unspoken public policy for decades had been to redevelop east Lawrence commercially and industrially."
With the Pennsylvania Street developments coalescing old-guard activists and some new ones, Kaplan is doing what he can to maintain the character of what he views as Lawrence's most artistically vital neighborhood.
"On some level I think things will work out," Kaplan says. "The few of us that know (Harris) have been making some overtures to him personally to see if we can come up with a couple compromises."
Good news
While such developments should be a hot topic of discussion at the Eastside Art Show, they'll likely take a back seat to the community focus that is the East Lawrence Neighborhood Association's calling card.
For ELNA President Janet Good, the art show is an extension of ongoing neighborhood events such as cleanup days and work days.
"I like the fact that we do stuff," Good says. "I think people have to work harder to be connected to their neighbors now, and I see people making the effort in this neighborhood."
ELNA work days - which are partially supported by Community Development Block Grants - help East Lawrence residents of limited means. One recent project built a ramp for an elderly man, while future projects aim to repair roof damage incurred during the March 12 microburst storm.
"I think it makes for a safer neighborhood," Good says. "After the storm, tons of people came around and checked on each other and helped each other clean up. There was a really great dynamic. You could really see how the connections were there."
Good says that the artistic character of East Lawrence has remained intact despite rising home prices, but she worries that some veteran townies may eventually be pushed out.
"I know that with some of the older people, the property taxes have chased them out," she says. "It's a tough problem because property taxes would have to be addressed on the state level. We're really supportive of Tenants to Homeowners and Lawrence Land Trust because they really promote affordable housing, and we moved into the neighborhood for exactly that reason."
ELNA Treasurer Timothy Morland says that the running joke amongst his peers is "Welcome to East Lawrence - now get out."
"There's sort of an over-exuberant pride," says Morland, a 30-year-old father of two. "You see a lot more people taking ownership in their homes - putting equity into their properties and cleaning up the yards and the landscapes. I do see a lot of families moving in; a lot of strollers in the streets."
Timothy's wife Kristin will submit her sequin pieces to the Eastside Art Show. The couple moved away from Lawrence after graduation but decided to move back to raise their first child.
"It's just exceeded my memories in so many ways," Kristin says. "It's exciting to know what your neighbors are doing and be a part of that : Now I wouldn't live anywhere else."