The Harvey Girls are actually a guy and a girl - Hiram Lucke and Melissa Rodenbeek - who fell in love, got married, and decided to start a band. Their complex new album "The Wild Farewell" is indeed a labor of love, combining electronic programming with live instrumentation to create enticing experimental soundscapes and off-the-beaten-path melodies. Both members sing on the self-released record, which follows a young girl's coming-of-age as viewed through the dual lenses of Kansas and New York. The happy couple dropped by the lawrence.com podcast studio to discuss all this and much more.

› Get the podcast
› Listen to the mp3 of the podcast
› Preview the album, "The Wild Farewell"


Interview highlights (sans music) long-hand-style:
lawrence.com: So you didn't break up before this interview or anything?
MR: No, we're really, truly married - still. Actually, our second anniversary is in just a couple weeks.
That could have been really awkward.
HL: Yeah, it would have been.
So, you have a fabulous new album called "The Wild Farewell." How many songs?
HL: Nineteen : We consider it a double record, but it's actually just one long CD.
About the song "Hazy Heat" - is that Lawrence's "hazy heat?"
Past Event
Saturday, April 15, 2006, 10 p.m. to 2 a.m.
Gaslight Gardens, 317 N. Second, Lawrence
21+ / $2
MR: Actually, the concept behind the record is that the first half of it takes place in New York and the second half takes place in Kansas. "Hazy Heat" is from the New York side. I grew up in Brooklyn without air conditioning of any kind and the thing I remember about summer is just dripping with sweat and everything being humid : It's from the point of view of a woman who is sort of trying to imagine her lover coming to her and being together with her in a cool bedroom.
You are an independent band and you maintain a presence on the worldwide internets - how is it working out for you?
MR: Pretty well. We had a lot of help with this last record. The first three we put out ourselves : With this one, Simon from SVC Records - which is related to Spoiled Victorian Child, an mp3 blog - also distributed it, so it's also available through iTunes and direct download from his site.
The notion of "concept record" is not tackled very often : Why did you take that leap?
HL: We just decided that we were going to make a double album with songs about characters that are based in at least one city : and we did it.
Album Mp3s

Wild Farewell
MR: We both really like narratives. One of my favorite books is "Winesburg, Ohio" by Sherwood Anderson. I love little character sketches, and being as familiar with the two places as I am, I didn't want to leave one out.
How are you getting the word out about this record?
HL: We've had lots of wonderful people help us out with mp3 blogs picking up songs and just being really nice. For this record, Large Hearted Boy, Erasing Clouds and Said the Gramaphone did really nice reviews. It's just how we've gotten the word out since we can't go on tour a lot since we have professional jobs.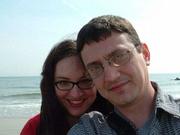 Would you recommend music to a couple looking to strengthen their relationship?
HL: It depends on the day. And you should probably ask the people who sit through practice with us.
MR: Not to sound extremely corny and sentimental or anything, but it was part of how we fell in love with each other. I'm really glad we do it because it gives us an avenue to one another's hearts and minds : It's something to do that's a little more interesting than going home and collapsing and zoning out with a TV program or something.