Most Americans have never heard of Sheikh Maktoum bin Rashid al-Maktoum of Dubai. And most people from Dubai have never heard of Lawrence artist Stan Herd.
But all that is about to change.
Herd, known for his giant crop portraits, has created a new piece of art: a two-acre depiction of the sheikh, the former leader of the United Arab Emirates.
Herd said he was inspired by a shared love of thoroughbred horses, plus the recent anger in the U.S. over plans to turn port security over to a Dubai-based company.
"We don't know any Arab people. We know Osama bin Laden; we know the terrorists," Herd said Wednesday. "My thinking is it might make sense for us to make common cause with Arab leaders who are reaching out to us."
The portrait was scratched out of soybean stubble, plowed earth, crushed limestone, woodchips and sunflower seeds on land, south of Kansas Highway 10, owned by the Pendleton family.
The farm's customers haven't seen the portrait, John Pendleton said.
"It's hard to believe that, when you step back to an aerial perspective, the subtle shapes and textures come alive," he said of the artwork.
Sheikh Maktoum, vice president of the U.A.E. and ruler of Dubai, died in January. The U.A.E. is composed of seven emirates, including Dubai, Abu Dhabi, Sharjah, Ajman, Umm al-Qaiwain, Ras al-Khaimah and Fujairah. The emirates are in the Persian Gulf between Saudi Arabia and Oman.
Outside Dubai, Maktoum may be best known as one of the owners of Godolphin Stables, one of the world's pre-eminent thoroughbred racing horse farms.
Herd said horses owned by his family shared common bloodlines with Maktoum family horses. The Maktoums have been raising horses for 15 generations; Herd said his grandfather started his family tradition of raising horses.
"It's a tribute to the tie between these two families," Herd said of the portrait.
The work was not done on commission, Herd said.
"Every time I do an image, I'm hopeful it's seen and people take notice," Herd said.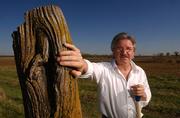 And notice has been served. Herd said he received a call Tuesday from a Dubai-based reporter. Officials with the U.A.E. embassy in Washington, D.C., though, said Wednesday they hadn't heard of the portrait - but asked the Journal-World to send a photo of Herd's efforts.
Herd's love of horses is taking on several different forms. He is also part of a group planning an 800-mile race between New Mexico and Kansas City - The Great Santa Fe Trail Horse Race - in September 2007.
He knows Americans might not understand his crop tribute to the sheikh.
"That's the whole point of it," he said, adding, "I think there's definitely an anti-Arab bias in this country.
"It's hard for me to side with our president about anything," Herd said of the Dubai ports deal, "but on this issue I have to."