Mention the name Bruce King, and Delinda Pushetonequa emits an involuntary "ooh."
"I think he's one of the greatest playwrights in the country," says Pushetonequa, a recent graduate of Haskell Indian Nations University and actress with Haskell's Thunderbird Theatre. "He has lots of great stories to tell."
Two of those stories, both one-act plays, will be acted out for the first time this weekend by the Thunderbird Theatre. These are the third and fourth plays the company has premiered for King, an internationally known playwright who deals with native issues.
The plays, "Ceremonial" and "A Season of Indian Art," will be introduced at 8 p.m. Friday and Saturday at the Lawrence Arts Center, 940 N.H.
Pat Melody, Thunderbird Theatre's director, says the premieres originated during a phone conversation she had with King. She asked if he had any plays the Thunderbird Theatre could perform. He replied: "Why don't I just write you one?"
The resulting play was "A Season of Indian Art." "Ceremonial" also was written recently, though not specifically for the Thunderbird Theatre.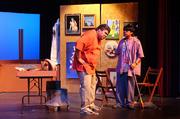 "A Season of Indian Art" tells the story of art buyers who come to a trading post looking for a set of paintings rumored to be hidden on a reservation. The play examines the tension between the art world and business interests.
"Ceremonial," meanwhile, is a conversation between two American Indians who meet at a train depot - one is a businessman who has withdrawn some from his native culture, the other is a transient who challenges him in his own beliefs.
King, who will give post-performance talks both nights, now lives in Santa Fe, N.M., and recently had an anthology of his plays published by the University of California-Los Angeles Press.
The shows
What: Two one-act plays by Bruce King, "A Season of Indian Art" and "Ceremonial" Who: Thunderbird Theatre of Haskell Indian Nations University When: 8 p.m. Friday-Saturday Where: Lawrence Arts Center, 940 N.H. Tickets: Adults, $10; seniors, $8; students, $6 Ticket info: 843-2787
"He's an extraordinary writer," Melody says. "It's a combination of humor and seriousness. The connections he makes are really about human nature. They're native in nature, but they're universal at the same time."
The Thunderbird Theatre's connection to King dates back to 1984, when he won a playwriting competition at Haskell.
Twenty-six years later, his plays still resonate with the student actors who perform them.
"It talks about human nature, all the characters do," says Derick Swiftbird, a Haskell sophomore who performs in "A Season of Indian Art."
"Bruce King has an ability to write for any audience," says Daryl Young, a senior who is one of two performers in "Ceremonial." "It's not specifically for natives, but universal."