The night is bustling with activity.
An inviting dance floor quickly becomes a free-for-all of spins, dips and twirls under vibrant lights beaming off the walls. Meanwhile, the music is full throttle starting at 10 p.m. and lasting straight until the wee hours. A DJ is accompanied by live bongos, flanked by instructors teaching the unsure how to move.
The return of Latin ambiance in Lawrence is found at Coco Cabana, where music and passion come alive through salsa dancing. The Latino community has found a new gathering spot after several years without a venue.
"I think that in Lawrence it's hard to find a place to have nights like this where we can have dancing and we can have our music," says Adrianne Nunez, Kansas University senior. "It brings the Latino community together a lot more then you are going to find anyplace else in Lawrence."
Coco Cabana is the Latin-themed night offered every Friday at Limerance, 1520 Wakarusa Drive. Running for more than three months, the evening routinely attracts 200 to 250 people.
"I was personally a little bit surprised by how many people were really into the dancing," says Limerance owner Matt Baum.
The idea for the theme night is nothing new to members of the Latino community who used to enjoy the beats at La Tasca and Coco Loco before both locations closed. Today's Coco Cabana is a revival of what was lost in Lawrence for the past two years: a locale for Latino culture.
Lawrence-based 151 Entertainment partners Ron Ruiz and disc jockey Danny Tetuan, known as DJ Jalapeno, approached Limerance about hosting a Latin night. After talking with his business partner, Mickey Kimble, and being open to trying new things, Baum was eager to get it started.
"Now it's really stabilized. The first people weren't so sure if it was going to work," Baum says. "It's a really mixed demographic of people. It's just whoever is into what we are doing."
The crowd is predominantly Latino, but not entirely. Ruiz agrees with Baum on the mix of people each week. Some patrons arrive by happenstance expecting free pool, while others come for one reason: to feel welcome.
"I wish that this could be something that was both the weekend nights," Nunez says. "If they had it every night of the week I don't think they'd draw a crowd out as big as they do on every Friday night, because everyone gets so excited for it. That's what they're waiting for at the end of their week."
Photo Gallery
Salsa dancing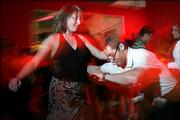 An accepting place
Based on comments from Hispanics and Latinos, the community is on the rise in Lawrence. The growth reveals, as well as the popularity of Coco Cabana, that the city's venues haven't kept up.
"I think there is (a community) that is untapped," Nunez says. "A lot of people don't see it, and it is a lot larger than people think."
The success of Coco Cabana is in part due to the partnership between Limerance and 151 Entertainment. Baum and Ruiz maintain the concept and crowd by keeping it fresh and only charging $5 at the door.
"It doesn't seem to be going anywhere and we're really pleased with the people, so we're gonna keep trying to do things that keep it interesting," Baum says.
Two-year-old Limerance has become known for its fostering approach to getting and keeping business. Baum says they toss around what they think is cool and see whether anyone likes it. He believes it is important to get a variety of people in the door and deliver a positive, upscale atmosphere.
Limerance's calendar of events has previously included a gay-centric night. The night became popular at a time when the gay community was struggling to find an accepting place in Lawrence. Today, Limerance also hosts a jazz night featuring Floyd the Barber to complement a $10 wine tasting.
"By trying to change it up and get different people, we do something different every night," Baum says. "You just take what you think is a positive and see if people agree with you."
Networking DJs
Meanwhile, Ruiz is the architect behind the Coco Cabana. Working in local entertainment for 15 years has given him a reputation. As an owner of the entertainment company Latino Sound, he along with three other DJs serve Latino communities all over Kansas, most often in Lawrence, Topeka and Salina.
Ruiz says they plan to expand to other bars in Lawrence and into Topeka. As far as advertising, Ruiz has gone digital by sending out mass messages over online networking sites such as Facebook.com, Myspace.com and cellular text messages.
However, the real secret to success is saying thank you.
"I always tell people I want to try to treat people how I want to be treated," Ruiz says. "So if I'm good to them they'll come back to see me."
And they are.
As for Baum, the future looks good, as he has learned that a full dance floor ensures a loyal following.
"I like the atmosphere that we have," says Baum says. "I love doing the Latino thing."
Learn to salsa
Are you holding out on experiencing the Latin beats in Lawrence because you don't know how to dance? Use this quick insiders guide, along with a bedroom mirror to practice and dare the dance floor next Friday.
According to Fred Astaire Dance Studio Inc., salsa is a fast-paced, rhythm-centric dance combing styles from Cuba, Puerto Rico and America. With a partner in tight grip, the salsa is created by taking three steps for every four beats. Steps are referred to as an 8-beat pattern or eight count, while the fourth beat is most often a tap or kick.
A basic step routine is referred to as "dancing on the one." Learntodance.com explains this routine by beginning steps on the first beat and continuing the steps right on through the eighth beat.
Begin with your feet together. On beat one, put your left foot forward. On beat two, step in place with your right foot. On beat three, bring your left foot back to your right foot. And on beat four, do a kick, tap or pause.
On beat five, put your right foot back. On beat six, step in place with your left foot. On beat seven, return your right foot to your left foot. And on beat eight, do a kick, tap or pause.
Remember the steps as together, a back-and-forth rock, a kick and then repeat in the opposite direction. Once the steps begin to come naturally, rotate the beginning beat to the second or third beat.
Altering the beginning beat suggests different styles, such as New York or Cuban, which often include a side-to-side step.
Fred Astaire Inc. notes salsa dancing is always sassy, sexy and fun. Therefore, once the steps come naturally, let the pulsating music guide your body.
Sources: www.fredastaire.com and www.learntodance.com
Salsa night

When: 10 p.m. Fridays

Where: Limerance, 1520 Wakarusa

Cost: $5 (18 & over)

More info: 842-5805