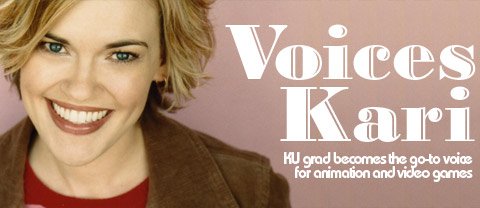 Kari Wahlgren recently performed a love scene opposite Sean Connery - yet she never actually met him.
It's just another career quirk experienced by Wahlgren, who has rapidly become the go-to voice for more than 60 animated movies, TV series and video games.
In the case of Connery, the rendezvous happened while Wahlgren was recording lines for the game "James Bond 007: From Russia with Love."
"It was the first time they had used Sean Connery for the voice of Bond in any of the games, so he recorded at a different time than I had," Wahlgren says. "But I went back for a pickup session, and they had edited our scene together. I actually heard myself do this whole seduction scene with Sean Connery. It was so freaky.
"One of my favorite lines was, 'I hope I don't disappoint you, Mr. Bond.' He says, 'I'll let you know in the morning.'"
Wahlgren, a 1999 Kansas University theater graduate, seems to be popping up on screens everywhere - from English-language dubs of Japanese anime to violently realistic video games.
Currently, she can be heard in theaters as the baby hippo in "The Wild." But in the last four years she has articulated dozens of noteworthy characters, including:
¢ Nova in Disney's TV series "Super Robot Monkey Team Hyperforce Go!"
¢ Jedi warrior Serra Keto in the game "Star Wars: Episode III - Revenge of the Sith"
¢ Scarlett in the anime feature film "Steamboy"
¢ Janissary "Jan" James in the game "Halo 2"
¢ The title character in the Cartoon Network's "Witch Hunter Robin"
"It's something that I always wanted to do," says Wahlgren (whose first name rhymes with "sorry"). "I remember having this understanding even when I was really young that somebody was doing the Disney princess voices and thinking, 'I really want to do that some day.'"
The Hoisington native is now based in Los Angeles. Despite her high-profile resume, she relishes the anonymity that accompanies a person who does voice-over work. So far no stranger has ever recognized her from talking.
"I did this one anime title called 'FLCL' that is really popular," she says. "There was a kid standing right in front of me at the bank the other day, and he had a T-shirt with my character (Haruko) on it. I was giggling to myself, but I didn't say anything."
Skills learned at KU
Although she dabbled with some regional radio spots while living in Kansas City after graduating from KU, Wahlgren originally moved to L.A. in 2000 with the goal of becoming an actress.
"After a year and a half, nothing was happening with the on-camera work," the 28-year-old recalls. "I got so tired of going to auditions and not even being able to speak.
"I had to be beaten down and disillusioned first, as we all are when we move to L.A."
So she took a break from acting to focus all her energy on voice-overs.
"Once you get a good feel for how video games and anime work, then you get a lot of repeat business," says Wahlgren, who is skilled at conveying everything from squeaky grade-schoolers to gun-toting seductresses.
She is quick to point out how much her college experience shaped her professional career.
"Some of the classes I took were particularly helpful," she says. "I took a lot of Paul Meiers' dialogue classes and Shakespeare classes. Those have been a huge advantage with booking video games, because there are a number of different accents they ask for, and the time period is often from that time period. So to have clean diction and do some passable accents immediately helped."
"She was always highly motivated, very talented and easy to work with," says retired KU theater professor Ron Willis. "Somehow I thought she would be onstage or in films. But (her current occupation) doesn't surprise me in that one of the things she demonstrated while she was here was a high degree of control with her voice. "
Changing goals
At first Wahlgren got into her specialty through dubbing Japanese shows into English. However, she is now landing more original work - a situation she greatly prefers.
When dubbing, her voice is synched up to a pre-existing picture, whereas in original animation Wahlgren is recorded first, then the tracks are sent to an animator who draws a character to match her dialogue.
She claims the original animation pays best. The dubbing is a less-lucrative buyout situation, which prevents her from earning residuals when it airs.
While Wahlgren enjoys most of the movies and TV shows that she has worked on, she admits she doesn't play any of the video games.
"My nephews are very excited because they get free copies of my games every once in a while," she says.
The actress continues to pursue live-action work. She just completed a commercial with tennis star Andy Roddick. ("He was very excited that Wayne Simien had signed to the Miami Heat, because that's his home team," she reveals.) And she has made a couple of feature films, most notably as Tink in the druggy updating of Peter Pan called "Neverland."
"My goals have definitely changed since I moved out here," she confesses. "I think I would be more sad if I couldn't continue with the voice-over work than the acting."
Although Wahlgren loves her career, she says it's occasionally an oddball way to make a living.
"You can spend days in a tiny, dark room, and there's no one else in the room with you," Wahlgren says. "In the room next to you are two people: the engineer and director. You can feel like you've gone for days without really talking to anyone. How ironic is that?"