Stephen Elder was never an art therapist. But he was an artist - and an occasional therapist thanks to his gig working the night shift at the Lawrence Community Shelter and Drop-In Center.
"I just set up an easel in the parking lot and invited people to join in," Elder says. "I had people who had never done any kind of art at all and other people that hadn't painted in 10 years."
The impromptu experiment prompted such good vibes that Elder decided to further his art therapy efforts. He began coordinating a weekly class wherein the shelter's homeless residents painted "welcome" rocks to be used as fundraising items.
"There was a sense of, 'Wow - I was part of that,'" Elder recalls. "It was a self-esteem building thing."
Elder is one of two artists who volunteer at The LCS. The other - Audrey Klopper - is a registered art therapist who visits every other Wednesday to do sculpture, drawing and other art projects.
The shelter welcomes ideas for workshops. No certifications are required.
"There's a lot of potential," Elder says. "It takes a little bit of time to build up a relationship. When they don't know you, they watch and they're kind of quiet. But once they get to know you, they open up."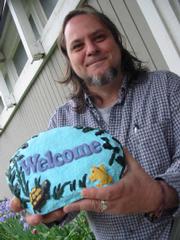 Elder is hoping to turn his rock-painting workshop into a business to benefit homeless people. He applied for a grant from the Catholic Campaign for Human Development but won't know the results until later this summer.
"If it all goes to plan, it'll be really neat," he says. "We would probably hire 10-15 people to get paid by the rock. These are people who, in a lot of situations, can't do normal jobs."
Elder says he would welcome additional help with the painting sessions, which he describes as laid-back yet productive.
"We yak the whole time," he says. "I enjoy it and I like the guys down there."
LCS Director Loring Henderson says he hopes that the rock-painting project continues to grow with support from the community.
"It's been done in Kansas City and over time they've made a few thousand dollars," Henderson says. "It's good therapy. It sounds not so serious, but let me tell you - we get some grown men who look forward to Wednesday."