Wednesday, April 26, 2006
Growing up on a farm near Russell didn't introduce Steve Mills to the luxuries many television executives share.
There was no golf course, and nobody played tennis. Heck, there wasn't even a swimming pool.
But he found an unexpected advantage to his farm background when he filmed one of the most popular television miniseries in history. When he produced "Lonesome Dove" in 1989, he opted to buy 3,000 herd of cattle for filming instead of renting them from a ranch.
When filming was over, the price of beef had gone up - and he made a profit.
"I had experience (with cattle) growing up," he says. "A lot of it."
Mills, a 1951 graduate of Kansas University, has enjoyed a distinguished career in the television and film industry, rising to the ranks of vice president at both the ABC and CBS networks. He is best known for his work with made-for-television movies and miniseries, including "Lonesome Dove."
These days, the 77-year-old Mills still lives in the entertainment hub of Beverly Hills, Calif., with his wife, Lawrence native Barbara Nash Mills.
But life is a little slower than the days when he was reading 20 movie scripts a week, often by the light of a first-class airplane seat bound for a filming set.
"I'm retired until somebody comes up with a project for me," he says, "or I come up with something I want to do."
New documentary
His most recent project, the one that has brought him back to Lawrence this week, is "Invisible Women." It's a half-hour documentary commissioned by the Screen Actors Guild that examines the dwindling number of movie and TV roles for women over the age of 40.
'Invisible Women'
What: Screening of "Invisible Women," a 30-minute documentary about roles for older women in film and TV. Followed by a discussion with Steve Mills, co-producer, and Kathleen McCluskey-Fawcett, senior vice provost at Kansas University.
When: 7:30 tonight.
Where: Conference hall, Hall Center for the Humanities at KU.
RSVP: A few spots remain for the event. To attend or for more information, call 864-3511.
The documentary, which is narrated by actress Mariette Hartley and includes interviews with actresses such as Susan Sarandon and Christine Lahti, will screen at 7:30 tonight at the Hall Center for the Humanities at KU.
Mills cites statistics that show older women control more wealth and have more buying power than in the past.
"And yet, they are not seen on TV or in the movies," he says. "They are a forgotten generation."
Writers aren't creating parts for older women, Mills says, because it's harder to find money to produce films starring them. But he suspects women of the baby boomer generation will unite to fight for better roles.
"I think they may rise again for one last hurrah," he says.
Documentary making
Mills, a former KU debater and student government treasurer, hasn't been involved with a documentary since 1965, when he produced a film on John F. Kennedy.
He says the medium is far different from the TV series and movies he used to produce. His body of work includes hundreds of films, such as "Empty Cradle," which tells the real-life story of a nurse who replaces a baby with a cadaver, and "Murder Ordained," about an Emporia minister and church employee who were convicted of killing their spouses in order to be together.
As a producer, Mills was known for bringing crews back to his home state for filming. He says he still supports efforts to boost Kansas' fledgling film industry.
"I'm all for it," he says. "I think it's uphill, because a couple of other states are hungrier for it than Kansas is. They're willing to put upfront money for things like room and board, which is greater than Kansas will or can afford to do."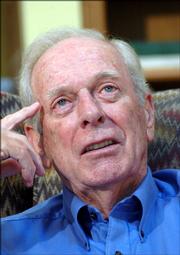 'Amazing career'
Peter Jasso, director of the Kansas Film Commission, says having a small-town success story like Mills is an inspiration to other young filmmakers.
"It's like anything else," Jasso says. "If you work hard at it, there's no reason why being from Kansas or a small town should prevent you from achieving success."
Chuck Berg, chairman of the theater and film department at KU, says more media scholars are examining TV movies and miniseries recently. And they often come back to Mills' works as examples.
"I think Steve's work is, in a sense, just in the process of getting re-evaluated and repositioned historically by scholars," Berg says.
Berg says the list of A-list stars Mills worked with is one testament to his reputation. Those include Sidney Poitier, Burt Lancaster, Henry Fonda, Robert Duvall and Walter Matthau.
"It's an absolutely amazing career," Berg says. "To describe Steve as a television pioneer is really on the money."
Mills says he isn't sure what his next project will be. He has been working on and off for 15 years on a feature-film love story that traces two seemingly reincarnated lovers.
But even with 46 years in Los Angeles under his belt, he's found it difficult to secure the $30 million to $40 million it would take to film it.
That, he says, is the way the business works.
"Don't hold your breath waiting to see that sucker," he says.