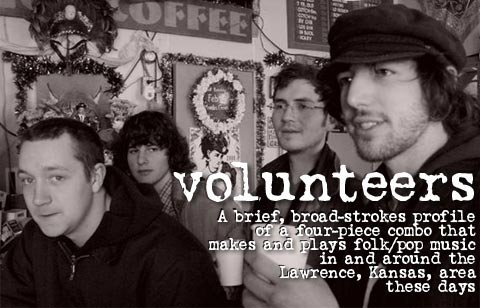 Wednesday, April 26, 2006
If you're not proactively ignoring local music in Lawrence, you've surely noticed their name on fliers, if not seen them on stage several times already. The Volunteers - Rustine Leonard on bass, Andrew Kissel on keys and vocals, Tyler Jack on guitar and vocals, and Austin S on drums - join guest host and lawrence.com intern Rory Flynn to discuss their unique style of folk rock, their upcoming album, their constantly evolving sound and playing music in Lawrence.

› Get the podcast
› Listen to the mp3 of the podcast



Interview highlights sans music
Rory: How would you describe the music that you guys make?
Tyler: Well, since Austin is the newest member of our band we like to have him explain our sound from a sort of outsider's perspective.
Austin: I would have to say Jackson 5 meets Leah Ford. No, really it's more like Wilco meets Paul Simon meets Built to Spill. All in that kind of area. If I knew more names I would probably say some more.
Rory: How and when did you form?
Tyler: Last year I submitted my solo electronic pop music to the KJHK Farmers Ball last year. I was listening to a lot of Postal Service and Beck, it was in that vein. Andrew and I were living together then and we were playing a lot of music together. Then we met up with Rustine and he started playing wicked Paul McCartney pick bass and it kind of felt good.
Rory: Can you talk about the song you recorded with the children's choir for Children International?
Tyler: Children International is a not-for-profit child sponsorship organization and I wrote this song called "Sing it to the Mountains" for an upcoming conference. They really liked it and we recorded it at Chapman Studios in Kansas City and Andrew and I practiced with the children's choir and recorded it.
Andrew: It was a good time. It was cool to be in such a nice studio with real organs and pianos.
Tyler: This summer there is a youth conference and we are going to get together and sing it with kids from around 30 different countries.
Rory: If any of your listeners want to listen to your music now, do you have a myspace page?
Rustine: Yeah, it is myspace.com/thevolunteersmusic. You have to type that directly or it might be hard to find us because there are about three other bands called the Volunteers.
Tyler: But we're the best one.
Austine: Actually we are all going to arm wrestle for the name.
Rustine: We don't actually do any Volunteers music but we could.