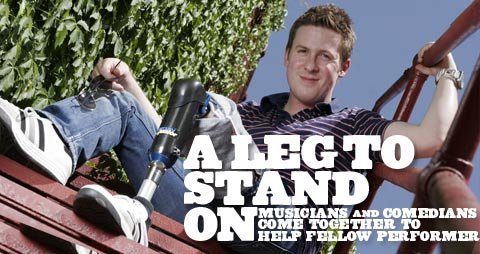 Billy Brimblecom was recuperating hours after having his cancerous leg surgically removed.
The longtime professional drummer was groggy, tired and battling a slew of emotions. The phone in his Overland Park hospital room rang.
It was Def Leppard drummer Rick Allen.
Two decades earlier, Allen lost his arm in a near-fatal car crash. The injury hadn't prevented him from subsequent years of multiplatinum success with the British rock group.
"He called right after my surgery. I was completely out of it," Brimblecom recalls.
"I kept trying to talk about Def Leppard and thank him. I was like, '"Hysteria" was THE record when I started playing!' He was like, 'I'll call you tomorrow when you're not so sedated.'"
Allen had heard about Brimblecom's situation through some mutual musician friends, and he kept his promise and phoned the next day.
"He kept talking to me about a lot of things my acupuncturist talked about, like diet and cooling foods in the body," the 29-year-old Brimblecom says. "He wanted to talk about that, and I wanted to talk about Def Leppard. But he was really inspirational. It couldn't have come at a better time."
Now eight months after the life-changing surgery, Brimblecom is looking for some timely help from others.
The former Kansas University student, best known for drumming in the Lawrence bands Stick and Creature Comforts, needs to purchase a more permanent prosthetic leg. Insurance will cover only half the expense, leaving him with a $30,000 bill.
"He was still in sticker shock over that price," says longtime friend Corey Rittmaster, who remembers a lunch conversation with Brimblecom after learning of the prosthetic's cost. "He said something to the effect of, 'If you have any ideas, let me know.' After leaving lunch I was thinking, 'What can we do? We've gotta do something.'"
The resulting something is a two-show benefit Saturday at The Record Bar. Organized by Rittmaster, the event will spotlight a mix of Brimblecom's two favorite pursuits: music and improvisational comedy.
Brimblecom's band Blackpool Lights will headline both the kid-friendly early show (6:30 p.m.) and racier late show (10 p.m.). K.C.'s The Architects and Shots Fired will perform at the latter gig.
Live ... from K.C.
Leading the comedy portion will be Brimblecom's good friend Jason Sudeikis, the Overland Park native who is gaining renown as a cast member of "Saturday Night Live." He, Brimblecom and Rittmaster all met at Kansas City's ComedySportz improv theater in the mid 1990s.
Originally, Sudeikis had toyed with the idea of recruiting some of his "SNL" castmates (who are off until May) to join him at the event.
"For some reason, this must be the weekend that everyone heads home," Sudeikis says. "And the Chicago Improv Festival is this weekend. I was bummed upon asking. But I think we got a good group, nonetheless. And it's all people who are very close to Billy - which is probably more important than any type of 'hired guns.'"
Given the reason for the benefit, will it be inappropriate to do jokes about missing limbs?
"That's one you got to feel the room on," Sudeikis says.
"I think as long as Billy's laughing, then everybody would be fine. In my experience of doing what would be considered inappropriate material in front of people who would be sensitive, they usually have a tendency to like it. I don't think we'll be pinpointing that, but I don't think we'll be shying away from it either. If handled delicately it's something that could be extremely moving in either a funny or emotional way."
Worst-case scenario
Brimblecom first learned of the cancer on Feb. 28, 2005.
He initially thought the pain he had been experiencing for several years was the result of nerve damage from a 1999 car accident.
Discovering there was a "large mass" in his leg, a surgical biopsy was performed. Chemotherapy ensued.
Doctors told Brimblecom, "The only reason you would lose your leg is in an effort to save your life," he recalls.
In March, the diagnosis was Ewing's sarcoma - a "killer tumor" - that had to be removed along with everything it touched.
On Aug. 4, this worst-case scenario became the lone cure.
"That week before the surgery was amazing," he says. "It was horrible, but it was like I was on this press tour where I was getting ready to leave the country for five years or die or something. It was a lot of going around and comforting everyone I knew. There wasn't really a time for me to be sad."
Picking up sticks
A drummer since he was 11 years old, Brimblecom came to KU in 1995 to study jazz.
"I had a promising college stint ahead of me as a budding jazz drummer. But at 18 I joined Stick and my focus was immediately diverted to that," he says.
The Lawrence hard rock act was revitalizing its lineup with younger blood after releasing an album on Arista Records.
"Joining that band was a landmark turning point in my life. I went from this kid who played in bad funk bands to being in a really cool, respected band that had been around awhile," he says.
That credibility led to other gigs, notably a five-year stint with Lawrence's Creature Comforts and an album and tour with the Los Angeles quartet The Start.
Currently, Brimblecom is performing with Blackpool Lights, led by ex-Get Up Kids guitarist Jim Suptic.
"I would say the band sounds like a mix of Elvis Costello, Tom Petty and the Heartbreakers, Foo Fighters and The Replacements. That's what we usually tell people: American power-pop, if you will," he says.
In terms of drumming, Brimblecom admits he is still adjusting to the loss of his left leg (which controls his high-hat cymbals). It forces him to sit up straighter and not move his body as much.
"I play my instrument basically the same way I always did, I just use different muscles to do it," he explains. "I used to have three joints to operate from, and now I have one."
Despite his medical afflictions, Brimblecom has never thought about giving up music to pursue other interests.
"The career I've been chasing my whole life has been drumming," he says. "And I'm a much better drummer than comedian."
More like this story on Lawrence.com