QuickView:
Good: Recreation of "being there"
Bad: Framerate, new shot control doesn't feel right, dated gameplay otherwise
Check it out: Only if you missed FIFA 2006
Nothing ignites the passions of rowdy and zealous sports fans like the game of soccer. Yeah, yeah I know we Americans can't touch a fraction of what it means to be enveloped in such a society, but 2006 FIFA World Cup tries to recreate such fanfare with utmost attention to detail. But is the game an improvement from the panned FIFA 2006 and Road to the World Cup?
I suppose it boils down to whether or not you're a victim of the arcade vs. simulation debate. FIFA has always been on the accessible side of soccer, mostly to appeal to the American short attention span.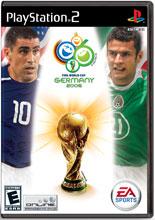 The first great thing about 2006WC is that the game is littered with trivia, extra modes and better attention to the full audiological feeling of "being there." Although 32 teams participate in the Cup, you'll get to select from over 100 that qualified this year. It makes for a nice robust package.
EA Canada did go back to the "shooting" drawing board to draw upon gameplay aspects of the superior Winning Eleven series to pass it off as "refinements." Basically this means that shot selection is much more critical. There are several factors weighing in on how well the shot takes off. Not only player's ability, but open field, reception of the pass and defensive positioning all have impact on the outcome of the shot. Sure, a height meter is there, but the gameplay has received a legitimate dose of depth. But unfortunately it still retains the arcade-like feel of every previous FIFA game.
Identity crisis maybe?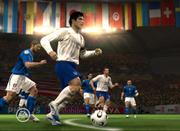 Framerate problems are easier to ignore in some games, but not when so much timing is riding on a shot to the goal. While most of the game plays relatively smooth, action around the goal gets choppy, affecting not only your shots, but your patience. I'm not sure what the problem is, considering the character models basically look the same and the engine has been running smoothly for years. What's the sudden tradeoff?
I think the most bothersome element of 2006WC is that it's a full retail title that basically finishes what Road to the World Cup started. But EA has to milk as much moolah out of a license and that's why we have 2006 FIFA World Cup. Sure, it's decked out with more fanfare and a shot selection tweak, but I don't see that justifying an additional SKU, even IF the World Cup only comes around every four years.
At first glance, FIFA will suck you in with all the bells and whistles of excitement. But the more you play it, the more it feels the same. This isn't a swan song by any means and if you didn't pick up FIFA 2006 during the regular season, this might be worth checking out, especially due to the extra Global Challenge mode that allows you to replay certain historical matches. But don't expect the attempt to emulate the Winning Eleven series to knock your socks off.
Graphics: C+
Sound: A-
First Play: B+
Last Play: C+
Gameplay: C+
Overall: 78% C+
More like this story on Lawrence.com