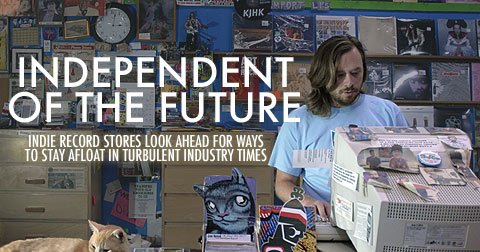 When it comes to supporting indie music, Will Oldham is putting his money where his mouth is.
In just one day last spring, the Baltimore musician played five shows in five New York City venues - all independent record stores - and all shows were FREE.
This week, Oldham kicks off the Midwest leg of his "Bonnie Prince Billy Free In-Store Tour" - 10 indie record stores in nine states over 11 days, including a stop in Lawrence on Aug. 14 at the Love Garden.
Kelly Corcoran, one of the owners of the Love Garden Sounds, said this show is a big deal for the store.
"Will Oldham has been served well by staying indie, and has served indie record stores well in return," says Corcoran.
"Due to his prolific output, I'll bet we've sold more Will Oldham than any other single artist."
The in-store appearance is a marketing staple for indie artists and record retailers.
Admission is usually free on the promise of a boost to album sales, and most retailers welcome the exposure - particularly given the recent decline in indie record stores.
A dying breed?
At the end of 2003, there were 3,600 independent record stores across the country, according to the New York Times.
In just the last three years, 25 percent - more than 900 independent stores - have thrown in the towel.
The stores still around to report sales saw business drop 27 percent from 2005, according to a first-quarter Billboard article - and that's after a 28 percent drop in 2004.
Meanwhile, sales of mp3 players surpassed the $4 billion in 2005.
Past Event
Monday, August 14, 2006, 7 p.m.
Love Garden, 822 Massachusetts, Lawrence
All ages / Free
The internet has dealt a crippling blow to the major record labels, many members of the Recording Industry Association of America, who has responded with aggressive lobbying and with thousands of lawsuits, but has yet to find a means to return the major label to their former position of absolute industry dominance.
Indie record stores, however, have reacted to the challenge with a surge of creative marketing and tightened solidarity within the non-major-label music community. Many indie retailers have formed coalitions, one of the largest being the Coalition of Independent Music Stores. Coalitions increase buying power, which translates to deeper discounts on new releases and greater promotional considerations from the major record labels.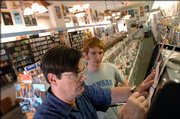 CIMS recently engineered an in-store performance by Sony/BMG recording artist Pete Yorn at Kief's Downtown Music. Until recently, it was almost unheard of for an artist of Yorn's commercial stature to perform in a 1,000-square-foot shop in Kansas, but desperate times call for desperate measures.
The major labels - perhaps desperate to staunch the flow of illegal downloads and increase CD sales - seem to have identified the indie retail community as a potential source of customers.
In the past, indie stores were regarded as a highly specific niche market, dismissed as a sales force and often mocked as cliche. Having been virtually ignored the past 30 years, at least one indie retailer is taking these overtures with a grain of salt.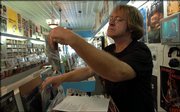 Steve Wilson, Kief's general manager and a 30-year veteran of the music business, has heard it all before.
"They said radio would ruin the record industry but it didn't. They said cassette tapes would ruin the record industry; it didn't. Those factors changed the industry, sure, but change is the natural process. The internet is just the next big thing."
Ten years ago, sales of used recordings were the exclusive province of the indie record stores. Used product - primarily CDs, though increasingly vinyl - account for half of the sales at Kief's Downtown Music.
Corporate chain stores like Hastings jumped into the used product market several years ago, but independent retailers appear unfazed by competition from the big boxes.
"They haven't got the used thing down," says Wilson; "music is only one of the products they sell. Hastings: I never have figured out their game. By what logic it's good to have 15 used copies of every Michael Bolton CD I've yet to figure out."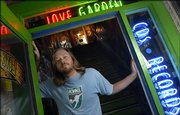 Vinyl recordings, both new and collectible, are making a vigorous comeback. Several stalwart British independents now report vinyl outselling CDs. Many indie labels are resurrecting vinyl as a boutique item, a move much appreciated by audiophiles and serious collectors.
While the majors remain focused almost exclusively on CD sales, indie labels are exploiting offbeat opportunities right and left.
For example, the vinyl edition of Devendra Banhart's latest recording features seven songs that aren't included on the CD. And Merge Records recently released Robert Pollard's solo album on vinyl, which contains a code enabling the purchaser to download the entire album in mp3 format.
Many indie labels target their vinyl releases specifically to serious collectors - people like Zach Hangauer, who runs Lawrence-based Rangelife Records.
State & Fate
The many predicted deaths of the music industry:
1889: First jukebox in America installed in a saloon in San Francisco. Musicians protest, proclaiming it would be the death of live music.
1923: Radio goes on the air. Music industry captains proclaim the end of the record business. Wrong; radio turns out to be the music industry's greatest marketing resource. In 1942, RCA issues the very first Gold Disc to Glenn Miller for his million-selling "Chattanooga Choo Choo."
1963: Phillips introduces the recordable cassette tape. Fearing piracy of the airwaves, record companies again sound the death knell. Nevertheless titles are released on the new format. In the '70s and '80s, tapes outsell vinyl and dominate both pre-recorded and home-recorded music.
1982: The Compact Disc is released in Asia and soon spreads around the globe. Most record companies cease production of vinyl and cassette recordings and put all their eggs in the CD basket, touting superior sound and handling qualities.
1993: Enter the mp3. In 1999, mp3 players hit the market and the Sub Pop label releases the first commercial mp3 recordings. Record companies cite illegal downloading and file-sharing as assassins of the recording industry.
"The album is the ultimate presentation of the recorded art," Hangauer says. In January, Rangelife released "White Flight" by former Anniversary member Justin Roelofs. The vinyl edition, pressed on white wax, came in an eye-catching minimalist package, itself an artwork. "Your vinyl should be the cream of your collection," says Hangauer.
But all this is somewhat beside the point...
"The immediate fix for the sales problem is for the major labels to lower the list price of CDs," says Steve Wilson - to which Kelly Corcoran replies: "Yes, yes, yes, yes and yes."
They say the sweet spot for CDs is $12.
"We were selling Gnarls Barkley like Kleenex to someone with a cold," says Corcoran.
"Then Warner Brothers raised the list price from $13.98 to $19.98 and sales died. The expenses of that greed always trickle down to the little guy. That's why so many small business owners are Libertarians."
While in-stores and coalitions, used product sales and collectable vinyl are a few of the tricks that keep indie record stores afloat, the greatest trick in the indie bag is its natural spirit - it's "music comes first" attitude.
Ask an associate in a Best Buy what they think of the new Will Oldham album and odds on you'll get a blank stare. At an indie shop, you're certain to find an informed, if not passionate, opinion on any form of music - and yes, that opinion may well be delivered in a certain tone by a Jack Black type in a T-shirt and frayed jeans.
Like the barbershop and the diner, the independent record store is primarily a business of interaction. It's a hands-on, Sensurround gallery: a place to hold the hard copy, to get turned on to new things, to see what other rockers are wearing, to catch up with what's going on.
"People will always want music," says Wilson, "no matter what form it's in. But times of change are always times of attrition. Stores will close. Its retail Darwinism, survival of the fittest."