Saturday, August 12, 2006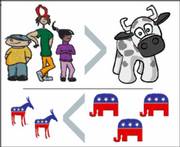 Welcome to Lawrence, freshmen!
Just a few minutes ago, your parents dropped you off at your new dorm room. You'll spend the next few weeks wildly testing the limits of your newfound freedom - and your parents are most likely doing the same. Don't fool yourself: "Empty Nest Syndrome" is just code for "Ready to Have Kid-Free Fun For the First Time in 20 Years!"
You have two choices: You can let them have their revelry. Or you can get homesick and start pining for the days when you could eat good, mom-cooked food and cruise Main Street with people you'd known all your life.
You can't give into the second choice, tempting as it will be at some point. As a public service to your partying parents, then, it's my job to tell you why Lawrence is, in fact, better than your hometown.
Don't believe me? Look around town. There's lots of KU alumni here who never left. There's a reason for that.
The reason is that Lawrence is the Best Town Ever. Some people call us "Snob Hill" for thinking that, but they're just jealous. In fact, Lawrence is better than...
¢ JOHNSON COUNTY: There are buildings here more than 25 years old. It's like seeing castles in England!
¢ WESTERN KANSAS: For one thing, people outnumber livestock here. For another, here's your chance to meet a Democrat or two - an experience you should have at least once in your life.
¢ CHICAGO: I'm not going to lie: You're going to search high and low for an Italian meal up to your demanding standards.
But there always seem to be a lot of Chicagoans at KU. Maybe it's some kind of karmic affinity: Your town burned down once. So did ours.
I don't think that's it, though. I know why you're here.
We had Kirk Hinrich first.
¢ CALIFORNIA: You're right. We don't have mountains. We don't have surf.
But we don't have thick layers of air pollution that turn the sky brown, either. And we do have - what's the word? - oh, yes: Weather. It'll freak you out, I promise.
And here's your chance to meet a Republican or two - an experience you should have at least once in your life.
Whew. I know I missed some of you. Sorry about that. Rest assured, however, that no matter where you came from, Lawrence is better.
Joel Mathis, managing editor for convergence, writes a blog for the Journal-World and lawrence.com. Check it out at <a href="htt://blogs.lawrence.com/mathis">blogs.lawrence.com/mathis</a>.