Imagine John Brown without the lens of John Steuart Curry.
Curry's depiction of Brown was an evolutionary end-note (if you will) of the canonization of Brown's legend. Because Brown never sat for a painted portrait during his lifetime, history was forced to work with the few photographs available, the most popular being J.W. Black's 1859 image of Brown, iconic beard and hard eyes challenging the viewer. From there, artists lionized but watered down the Brown we believe in: there was Brown the benevolent savior to slave woman and child (Louis Ransom, 1863); Brown the baby-kissing populist (Thomas Hovenden, 1884); and Brown, ham-fisted shoulder buddy to Abe Lincoln (Eitaro Ishigaki, 193738). None possess the murderous conviction that drove Brown to Bleeding Kansas in the first place and burned through him to the Virginia gallows four years later.
Curry, fortunately, took hold of the piercing hostility of the Black photograph and set it on fire. Curry gave us John Brown as abolitionist, saint, madman, and martyr, Beatrice's inheritor of righteous anger down from Dante's Purgatory. On our Topeka Statehouse wall, Curry took the old principled man, made him 10 feet. tall, crucified him, parted the tempest sky above, and put Armageddon in his left hand. Curry took John Brown's three visits with four sons and five murders and gave us our very own, undeserved folk hero.
Recurring event
Spencer Museum of Art, 1301 Miss., KU campus, Lawrence
All ages / Free
Kansans-being the hard-headed lot that we are-hated it.
"If Rudolf Hess showed up at your front door carrying Hermann Goering piggyback," wrote a Fresno, Calif., reporter in 1941, "you probably would gasp no louder than most people do at their first glimpse of Curry's John Brown."
Yet as a legend evolves, so too does a painting. "John Steuart Curry: Agrarian Allegories," currently on view at the Spencer Museum of Art through Nov. 4, is a small but poignant tribute to the creative process of one of Kansas' finest painters.
This is an intimate show, one with few finished works. Instead, it is the creative process-the movement, the plotting, the planning-put before us. In it we see sketches for the Kansas Statehouse Murals, the Rotunda Panels (which were never executed), and "Hogs Killing a Rattlesnake." We also see that Curry was no "mere Regionalist," as the school is often smeared, but a sophisticated, hard-working, brilliant painter who deserved more love from his home state than we were willing to give.
Photo Gallery
John Steuart Curry: Agrarian Allegories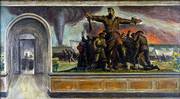 In sketches for the "Tragic Prelude," Brown's visage evolves from a blank face to maniacal holler, his beard fighting the tornado. The tornado moves from a sluggish doomsday column to a lithe, teasing force. More characters develop, more blood spills. It's amazing to see such passion mapped out on a graphed scale drawing.
Unfortunately, Curry departed with the murals unfinished because of dissent and controversy surrounding his images. Seems Kansans did not like being portrayed as Kansans. Some folks protested the tornado, and for others soil erosion and barbed wire were too much to own up to. (An unmortgaged farm? The nerve!) Eventually, the Kansas Senate refused to move some Italian marble that partially covered the rotunda; Curry knew an insult when it was legislated, and the work ended.
As intoxicating as John Brown is, however, the curatorial gem of the Spencer exhibit is the space devoted to costumes Curry designed for a ballet based on Carl Sandburg's poem "Prairie." Interestingly, these designs provide the most bizarre images of the show, yet they are the most literal: the dancer with a horse mask should be seen as, well, a horse. Curry's designs never came to fruition during his life, and his set-an allegory-free prairie sunrise-was never made.
The costumes and the ballet did make it to final production, though some 50 years later. In collaboration with the Lawrence Arts Center, the Spencer is showing a performance (on video) of "Prairie" complete with Curry's costume designs. Painstaking attention has been paid to Curry's intent (a lovely silk "Wheat" by Ione Unruh is on exhibit), even down to the cumbersome horse and cow heads. Equally cumbersome is Sandburg's sugarcoating of history ("A thousand red men cried and went away to new places for corn and / women..."), yet it's unmistakable at this point in time that the performance is more about tribute to Curry than ode to midwestern settlement. Sandburg and Curry were spiritual brothers in lock step with romanticizing the beleaguered Midwest, and choreographer Candi Baker and the dancers' hard work is touching.
Throughout his career, Curry worked to establish an iconography we could call our own. The Spencer's exhibit stands as a late but humble thank you we Kansans should have sent to him decades ago.