"Cat Daddy is one interesting character!" Or at least according to Alphilde Rees and Jason Dick, volunteers for the Kaw Valley Heritage Alliance and Kansas Stream Link. The couple has been spending their free time volunteering for the organizations since the beginning of summer.
You might think that an organization called "Stream Link" would be concerned with nothing more than cleaning creeks and trifling with tributaries. But it also includes characters such as Cat Daddy, a seasoned farmer from Topeka, who captivated Dick and Rees with his colorful stories of catfish and local history. And he's only one of the many individuals and organizations interested in the health and maintenance of Kansas' waterways. "That big round belly under those overalls, huge smile and trucker hat - how could you not like him?"
"One of the best things about working with the KVHA is that you get to meet so many interesting people," explains Rees, a KU creative writing major who concentrates mainly on writing human-interest articles for their newsletter and recording the oral histories of local agricultural figures. The KVHA is currently working on a collection of similar stories entitled Catfish Cookies, a project that Rees is excited to be able to observe.
"I think they're interested in developing the humanities aspect of the organization, which is great because it really draws people in and serves as a good way to educate farmers and landowners about safe land management practices. And with this project, I'm also fortunate enough to have the opportunity to learn what's involved in the process of publishing a book, which isn't something I expected from working here at all, but it's a wonderful experience."
Both Rees and Dick are impressed with the scope of the organization's involvement.
"It's amazing how many pots they've got their hands in," remarks Rees. "They're not just concerned about water and streams, but also how the community comes together and is affected by them. The more people they involve, the more they can engage the community as a whole, which ultimately enables them to more efficiently achieve their goal of having a safe and healthy water system."
Dick, for his part, has taken a more hands-on approach - whether it's working with local youth volunteer organizations on outreach projects, gearing up for stream assessment workshops, or working with program director Travis Daneke on a Stormwater Assessment project, Dick prefers to be outside and active while working with Kansas Stream Link.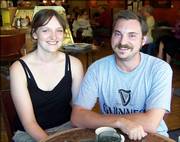 "It's way better than a desk job," says Dick, who should know - in addition to being a student at Johnson County Community College, he also works as supervisor for a Medicare program at Pearson Government Solutions.
"One thing you notice when you look at people who make a career out of volunteering is their passion for what they do. That's what's so great about coming in to Stream Link to help out - you're around people who really love their jobs. Take the people with the U.S. Geological Survey for example - we've worked with them before, and I'm not that thrilled about dirt, but I can tell that they are. That kind of enthusiasm can really be inspirational."
And it's that sort of enthusiasm that Dick's looking to have for his future career. It may be working for the environment, as he does with Stream Link, or life may take him down another path entirely. But his experience with KSL has provided him with not only an advanced knowledge of the conservation efforts put into the Kaw Valley watershed system, but also a respect for the environment that has carried over into his and Rees' daily lives.
"We recycle more, and we're more conscious now of how much water and energy we use at home. I try to save more paper at work too, even though it's not my paper ... We were environmentally-minded before, but working for Stream Link has really drawn our attention to things like that," Dick explains.
Coon Creek Wetland Development Project Date TBA, September 2006 For more information or to sign up, stop by the KVHA at 412 E. 9th St. or contact Travis Daneke at 840-0700 or travis@streamlink.org.
Neither Dick nor Rees are newcomers to the world of philanthropy - they were volunteers previously for the Lawrence Humane Society as well as for various organizations in the past - but they seem to have found their niche at KHVA/KSL. Though school will demand more of their time in the near future, they both plan to continue their involvement in the organizations, "but maybe we'll make it a weekend thing," Dick considers. "It might be better that way anyway, since that's when most of their activities take place."
One of those upcoming weekend activities will take place at the Coon Creek Wetland near Clinton Lake in September. As soon as they have enough volunteers, they will head out to design and build trails, plant trees, install benches, and build a kiosk that has been purchased for the site. The KVHA and KSL are also in need of additional contributors to the newsletter and volunteers for various projects such as the Stormwater Assessment with the City of Lawrence.
"Volunteering is such a rewarding experience," says Rees, "it's hard to imagine my life without it."