Remember the gool ol' days, when the highlight of your week was finger painting or making papier-mâche masks?
Think those are mere memories, never to be savored again?
Wrong.
Exhibit A: Jenna Bleeker, teacher's aide at Lawrence Arts Center Preschool.
"It's got to be the most fun volunteer thing ever, getting to go hang out with kids every Friday," says Bleeker. "On campus, I don't see kids at all, and I'm an only child, so it's good for me to be with them.
"It really keeps you young, being with the little kids," she says.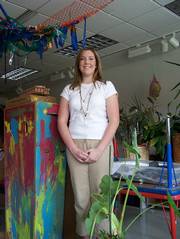 The KU junior in theater heard about the opportunity to volunteer at the preschool through her sorority, Alpha Gamma Delta, and it immediately struck her as a perfect fit.
"I've always enjoyed volunteering, but I really relate to the job because I love to draw and paint, and I just think it's so awesome that they have a program like this for kids this age. I'm from Mankato, which is a really small town, and we didn't have anything like that. I just think that's so cool."
Bleeker will also soon be able to use her experience and interest in theater to inspire budding actors in the classroom.
"I try to help out whenever I can," she says. "And I think that it'll always be a part of my life, just to volunteer when I have time, because it's just fun, and it's rewarding. It makes you feel good that you're helping others. It's just - it's nice."
Preschool Classroom Volunteer Any time M-F before 3:30 p.m. Length of Commitment: 6 months Linda Raymond, director (785) 843-2787 lacpreschool@sunflower.com
Through her work with the Arts Center Preschool, Bleeker is able to relive the experience of discovering art for the first time with the children, something that she believes will give them a head start on their education.
"They're exposed to so many different things in the classroom - they're always playing music, they learn to appreciate beauty, and they learn about colors and how to put things together," she says.
"Art is important, and it helps people to appreciate different things ... I think that, because they're so involved in the arts at an early age, they'll be leaps and bounds ahead of kids who aren't."