Originally published August 28, 2006 at 8:02 p.m., updated February 10, 2012 at 2:39 p.m.
When she was 16, Cara* already had what most men lust for and many women would do anything to have - large breasts.
The problem was, she didn't want them.
Not because she didn't like them, though. She saw her breasts as just another part of her anatomy, a genetic glitch at worst (the women in her family are notoriously small-chested).
But when you're a high school sophomore suddenly stuck with a 36DD chest, it's tough to block out the lingering, hormone-induced stares from the boys.
And it's especially difficult to ignore the punishing glares from the girls.
And then there were the rumors - the jealous classmates claimed she stuffed her bra with Kleenex. She didn't, of course.
Photo Gallery
Nice rack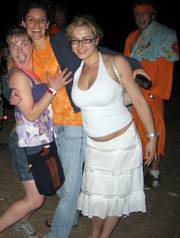 For Cara, the harassment was enough to stir thoughts of invasive surgery. For a while, she thought a breast reduction and maybe a lift might boost her confidence.
"It's one of those decisions that I'm glad I waited to make," she says. "I realized I was doing it for the wrong reasons - because everyone else was encouraging me to get rid of them."
Now 21, Cara sports cleavage on a daily basis. And of course she gets the same looks from adults in Lawrence that she got from kids at her Paola High School - she just doesn't care anymore.
"It made me a lot stronger. I think I would probably care a lot more about other peoples' opinions if I hadn't gone through the years and years of being ridiculed for something that I couldn't change," Cara says.
"I'm comfortable as a woman and I'm comfortable with the body I was given."
Prodigious and perky
Cara's level of self-confidence is one many women - much less at her young age - haven't yet reached, perhaps because our society places so much pressure on having perfect breasts.
Whether you're watching a rerun of "Dr. 90210" on E! or flipping through a gossip mag with weekly coverage of Lindsey Lohan's cup size, you can't help but notice America's cultural craving for all things breasts, boobs, tits, mams ... whatever people are calling them.
Our MTV-watching, In Touch Weekly-reading culture idealizes breasts as large and perky.
And don't even get started with ideal nipple shape, color and size. Start listening to Dr. Robert Rey - Dr. 90210, self-proclaimed "psychiatrist with a knife" - and you might find yourself under the knife paying $5,000 for a totally new set.
Curves that shape a self-image
For healthier body advice, it's perhaps better to consult Dr. Dennis Dailey, local sex expert and KU emeritus professor (and lawrence.com blogger).
He says he's all too familiar with the "enormous pressure from our culture for women to be somehow mysteriously attractive."
And he says that a woman's breasts have the power to shape how she sees herself - for better or for worse.
"It's difficult first of all to hide the fact of their breasts because they're publicly visible," Dailey says.
"And I think it is also a struggle for women to hide or to swallow or to disregard the emotional responsiveness that they are having to their breasts - men looking at them, how they respond to that, men not looking at them, how they respond to that."
And though constant catcalls or the lack thereof can be enough to make any woman hunch to hide her breasts, Dailey says that ridicule from other women can do the most damage.
"I mean, I've heard men say some things about women and their bodies that give me a cold chill, obviously, but I tell you - I have heard women say things about other women that just blow my mind," Dailey says.
He explains that women are extremely sexually competitive and that, from an evolutionary standpoint, this makes sense. Our cognitively less advanced female ancestors once had to compete for top male specimens to mate with. In that game of attraction, healthy breasts became an invaluable sexual asset.
Today those assets seem valuable as ever thanks in large part to the media's pervasive role in amplifying the importance of breasts - that is, the importance of perfect breasts.
And now, women who really aren't happy with their breasts can do something about it - they can be purchased, implanted, and lifted like never before.
Cup size: 'D', for "Dismissed as superficial and vain"
"... just a mediocre debater with big, fake tits."
Or at least, that's what 20-year-old Tina* read about herself one day on a listserv for debaters, coaches and alumni from KU and from all over the country.
Tina-a KU student and debater with an eye on law school-was furious.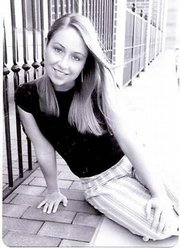 She's not ashamed of the fact that her parents bought her breast implants for Christmas two years ago. That's her business, and she'd probably tell you if you asked, anyway. But this hurt.
Luckily, many of Tina's fellow debaters rose to her defense. But the whole ordeal brought her face-to-face with a harsh stigma: Women with breast implants are often dismissed as superficial and vain.
You might not guess that Tina has breast implants at first glance. She's petite, smart and articulate. She's also a size 36D - sizeable, but not overly large.
That's the same cup size required of Victoria's Secret models, which is fitting, because Tina works in a Victoria's Secret in Kansas City. She's the only one out of 30 employees who has implants.
"I wanted them for a very long time," Tina recalls, "I never went through a self-conscious phase until after I had them. I was never like, 'Oh, my boobs are so small, no one's going to like me.'"
Editor's note: this story was updated in Fall 2007 to use 'Tina' in place of the name of this source, who contacted us saying she'd been denied a job because of this story. In February 2012, a similar circumstance led Lawrence.com to use the name Cara in place of another subject's real name.
Objectified
Some adults might balk at the idea of a teenager getting implants. Dailey doesn't.
"I think adults are so goddamn condescending when it comes to teenagers. Just makes me furious," he says.
"Do I think most older teens - 17, 18, 19 - have it enough together to make that decision, understand why they're doing it? Sure. Do I think they're operating under the same pressures as their mothers and all the other women with respect to that stuff, sure. Do I wish it wasn't that way? Yeah," Dailey says.
Tina says she didn't want implants because of pressures from the media or other girls. She just wanted her body to feel more proportional.
When, at 16, Tina pitched the idea to her parents, they flatly refused. But for one reason or another, maybe because Tina's mom works for a plastic surgeon, they let her have the surgery at 18.
"I did throw a little hissy fit when I was first talking over it. My mom was like, 'She wants to go to a C" and I was like, 'No, I would like to go to a D'," Tina says. "I started crying because they wouldn't let me and I was like 'No, if I'm gonna do surgery then I want a D!"
Needless to say, Tina got what she wanted. After surgery, the pain in her chest was intense.
"It was like everything in my chest was stretching to the breaking point. And I kept thinking, they're just going to explode. I'm not going to have boobs, because they're just going to explode," Tina says.
Tina loves her new breasts. She wears a lot of cleavage-baring tops and says she likes the attention she gets from guys. The only thing she doesn't like is when, at parties, people (read: dudes) think it's their right to feel her up - as though fake breasts are less hers than real ones, she says.
But, as Dailey points out, there's a difference between getting friendly and treating someone's anatomy like a piece of meat.
"When breasts or penises, or anything else ... become objectified, when they're seen only as sexual ... I think that is hurtful or destructive," Dailey says.
"For example, when a man meets a woman and says 'Hello' and immediately looks at her breasts [that] sends a message to her that the most significant part of her humanity is her breasts," he says. "That's an objectification thing."
Shoulder back, head high
But breasts are hardly just some unwelcome burden that women must bear.
Dailey says breasts, and especially nipples, often provide women with sexual pleasure, and that some women are capable of orgasms through breast stimulation alone.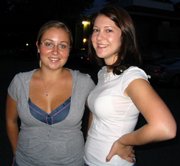 And though breasts can be a woman's biggest insecurity, they can also be incredibly empowering.
Take it from Alyssa Wrightsman, Tina's roommate. Though she's always been a bit jealous of her large-breasted friends (she has quite a few), Wrightsman's happy with her A-cup chest.
She used to be shy about having breasts at all, especially around her family. Wrightsman even subconsciously developed bad posture because she felt uncomfortable sticking her chest out. Since those awkward teen years, she's embraced her feminine shape.
"Honestly, if you're confident enough, your breast size is not going to matter," Wrightsman says, shoulders back.
Cara, because of her weighty chest, has trouble sitting up straight and forcing her shoulders back.
She says she deals with back pain every day, which is why she gets massages about twice a month.
For women with large breasts, normal activities like jogging and swimming are particularly awkward. Cara says she tried to swim competitively in high school, but because of her chest, that didn't last long.
"The breast stroke was more than a joke, let's say that," she says.
Dailey says pure physiological discomfort like this is one reason women get breast reductions. The other reason, he adds, is more psychological.
"They just don't want the focus on their breasts," Dailey says.
That could explain why not one, but three Lawrence women we contacted who had had reductions didn't want to talk about it, even anonymously.
"For a lot of women who have been treated poorly about their breasts," Dailey explains, "revisiting those feelings can be extraordinarily difficult."
Dailey also says that he's never known a woman that regretted getting a reduction, but that he's known many who went through a difficult adjustment phase after the surgery.
The psychological scars of being more memorable for your breasts than anything else, it seems, can't be mended through surgery.
A couple cultural clicks from Victorian
Lately, Cara considers her breasts as a "valuable commodity." She says she watches enough surgery TV shows to know that what she's got is something many women would pay thousands to have.
But Cara - who, until recently, was a waitress at Free State Brewery and has since moved to New York City - says there's still one stigma she can't wrap her mind around.
"It's viewed as socially unacceptable for a woman to expose her nipples, [but] a man has the exact same thing," she says. "It's more of the social construction that women should keep certain things hidden and that's one of them."
We all remember Janet Jackson's Super Bowl slip and the purple pasty Lil' Kim sported on the red carpet. But why?
Dailey says it likely has to do with nipples being the most erotic part of the breast - apparently, that scares people, he says.
"When a woman is in a public setting, and she's showing her breasts ... there is a risk that evidence of her arousal will be noticed by her nipples erecting," Dailey explains.
"It's actually not so shocking when you think about it because we live in a world that is so friggin' sexually uptight," Dailey says.
"Particularly in the United States and pretty much Western culture. We live in a culture that's just a couple of clicks away from Victorian."
Phil Cauthon contributed reporting for this story.
More like this story on Lawrence.com