Saturday, December 2, 2006
Matthew Porubsky is not that interesting.
At least that's what he likes to tell people when they ask him how it felt to experience some of the scenarios in his poems.
"A lot of people read the word 'I' and think it's the writer completely," Porubsky says. "I kind of have to respond, 'Well, that didn't happen to me.'
"The poems are all written from different voices."
All those voices, however, were created by Porubsky, who plays the role of perceptive observer in his aptly named first collection, "Voyeur Poems." The book, published in May by Coal City Review, winds flirtatiously through interactions in bathtubs and bars, over telephone lines and under fireworks displays, near cemeteries and railroad tracks.
And it's not just aimless wandering. "Voyeur Poems" won the 2006 Kansas Authors Club Nelson Poetry Book Award.
At the ceremony, Kansas Poet Laureate Jonathan Holden called the collection "an astonishing book of serious philosophical weight ... like the poetry of the late Wallace Stevens."
Porubsky, who grew up in Topeka, appreciates the praise, especially coming from a Kansas organization.
"It's really nice because I love the state," he says. "I don't know if people from other states look at Kansas seriously, let alone arts in Kansas as a great thing - and it's just not true. There have been so many great artists that have come from the Midwest, especially Kansas. We have so much to offer."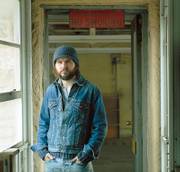 Individual voice
Porubsky developed his voyeuristic tendencies at an early age, working at his family's diner - famous for its hot pickles - in Topeka. He loved watching self-proclaimed tough guys take brave bites of the scorching pickles and then crumble.
Ordinary moments captured his eye as well.
"Like watching my grandpa, having him teach me how to cut up chicken and cut up pork chops," Porubsky says. "I remember the workers would come in and eat sandwiches, and their hands would be dirty and they would leave thumbprints on the bread and they would still eat it."
These are the kinds of honest details that color Porubsky's verse, which drips with sensory impact, as in "daydream girl no.12":
"you lift your hair
and the knot behind your neck
loosens quick
to let loose your top
and i watch a chill
raise your skin."
Read more
"He writes poems about sensual experience in a particularly powerful way," says Kansas University English professor Brian Daldorph, who discovered Porubsky in his poetry writing course in 2002. "He read two poems on the first day of class, and right away there was kind of a spark and individuality about his voice."
Daldorph liked Porubsky's poems so much that, after about four years of helping his former student revise and edit the manuscript, he published "Voyeur Poems" as the spring 2006 edition of Coal City Review. The journal, edited by Daldorph, comes out once a year as a poetry anthology featuring many writers, and periodically as a collection spotlighting one author Daldorph deems worthy of special attention.
Poetry reading
Who: Matthew Porubsky, author of "Voyeur Poems," along with writers from Kansas City Voices and music by Laura Giess and Marc Briand When: 7 p.m. today Where: Aimee's Coffee House, 1025A Mass.
No smoke and mirrors
Porubsky, 27, supports his writing habit with a day job as a conductor for the Union Pacific Railroad in Topeka. The labor-intensive gig often leaves his mind free to piece together words, thoughts and phrases the way he pieces together boxcars.
He leaves the process to chance.
"I'm not a schooled writer where I can sit down in the morning or in the evening every day and write something," Porubsky says. "For me, that kind of makes me start writing about stuff that I don't feel like I need to write about and takes the potency away from the things I do want to write.
"I could write three poems in a day, or I could write one poem in three weeks."
What matters more to Porubsky than quantity is quality, and for him that means honesty and realism. His experience helping Daldorph facilitate a poetry writing group with inmates at the Douglas County Jail a few years ago reinforced those instincts.
Audio clip
Listen to Matthew Porubsky read his poem "at long last."
Audio clip
Listen to Matthew Porubsky read his poem "returning home at 3:34 a.m."
"It was very interesting because - I don't want to sound like a jerk going into it - but I was amazed at how receptive they were and how seriously they took it," Porubsky says. "The degree of honesty in their writing and the intensity of it is really wonderful.
"A lot of writers are concerned with putting it together and making it sound lofty and making it sound literary, while these guys are just kind of flesh and bone poets, kind of just write it out without any smoke and mirrors to it."
Similarly, Porubsky strives to craft his poems with everyman language and authenticity. The result is a first book that sucks readers into the his mind's eye, vicarious voyeurs along for the ride.
As Porubsky urges in the book's introduction: "Keep your eyes open ... you'll see."