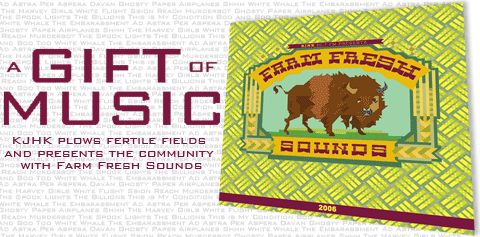 A rare breed lives in our backyard-KJHK is one of the few remaining student-run radio stations in the country. While more and more of its university peers surrender their airwaves to Top-40 and commercials, KJ has remained a beacon of backbone and individuality. The environment on 90.7 FM-far from a predictable cycle of ready-made industry hits-is one that continually yields fresh sounds, turning listeners on to music they've not heard yet.
It's in that same spirit that KJHK is reviving a long-lost tradition: "Farm Fresh Sounds" a compilation CD of area bands. And like the commercial-free KJ airwaves, the CD is free.
Street Level sheepishly ushers KJHK veterans Caterina Benalcazar, Courtney Ryan and Jenny Kratz into our disheveled podcast studio to reflect on indie spirit, dudes with music biz pretensions and the joys of harvesting a well saturated scene.
Subscribe to Street Level podcast in iTunes
lawrence.com: We have a very rich music scene here in Lawrence...
Caterina: I don't think I know a single: well, certainly a single male, that doesn't have pretensions of being in the music industry, on some level. Or didn't at some point. Very few people don't own a guitar in this town. That doesn't mean they record, or that they're good. :If you're not in a band, you're a DJ, and if you're not a DJ, you're a critic.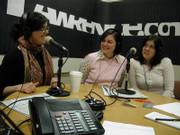 Let's talk about this project, "Farm Fresh Sounds"...
Jenny: Back in the '80s, it was a project that KJHK did, printed on vinyl. It was the year's best local music. And we decided that since the scene is so saturated that there's no reason we shouldn't celebrate that, and help them distribute their music. So we started the project, and it's been a long semester. We decided to keep the name "Farm Fresh Sounds" to connect what we used to do with what we're trying to do now.
How many bands did you have to cull through? How many did you end up with?
Caterina: The whole nomination process was fairly lengthy. We asked everybody on the KJ staff to nominate their five favorite area bands-we also invited Kansas City, Wichita, Topeka and Manhattan bands. :and you had to have at least two or three nominations in order to make the cut. We got about 70 bands that got at least two nominations. And from there we sent out 70 calls for submissions: and got 30 responses.
That's poor.
Past Event
Thursday, December 7, 2006, 9 p.m.
Jackpot Music Hall, 943 Mass., Lawrence
18+ / $3 - $5
Caterina: To a certain degree it's maybe a little trickier for people because we specifically requested material that's never been released. We wanted to offer something for the listener that they couldn't just buy on the bands' previous releases. So we got 30 responses, and from that we whittled it down to our favorite 16. There were about eight people on the listening committee that chose and voted on what they liked the best.
What were the criteria?
Jenny: We had kind of a dilemma with that. We could have been completely objective, but if we're trying to highlight what we think were the best 16 bands this year to hit the area, we couldn't be completely objective. And as local music "gurus," we felt we should be able to say: "Well, this band, the release they just had was really great, and they have had a strong following at shows-we took some of those things into consideration as well.
Caterina: There's a lot of bands out there who chose not to submit anything : so, just for listeners out there, if you don't see your particular favorite band on the CD, its not necessarily because we don't like them, or we don't think they're good. You may want to find out if they eliminated themselves by not submitting.
And you're giving this away?
Caterina: We felt like we needed to have a very tangible love letter from KJ to the rest of the community. :It's also an educational motive that we've got going on.
Where is "Farm Fresh Sounds" going to be distributed?
Courtney: We're having a CD release party-there is admission but the CD will be free. And its also going to be available online afterward at kjhk.org. And if we have any left over, you can find it in downtown businesses, such as Love Garden We can't guarantee there'll be anything left, so come to the show.
Track listing for Farm Fresh sounds
1. Ad Astra Per Aspera Post-Scarcity Sing-A-Long (winter version)
2. Davan - Ali Oxen Free "I Am a Log Cabin!"
3. Ghosty - A Hiding Place
4. Paper Airplanes Belovedaire
5. Shhh - The Terrorphin's Diary
6. The Harvey Girls - Hazy Heat
7. White Flight (The Condition) SayMyName Remix
8. Ssion - Street Jizz
9. Reach - Nothin' But a Customer
10. Murderbot - More Guns
11. The Spook Lights - Teenage Maniac
12. The Billions - Be Careful
13. This is My Condition - Ready to Go
14. Boo and Boo Too - Couch on Fire
15. White Whale - What's An Ocean For? (Live)
16. The Embarassment - Careen