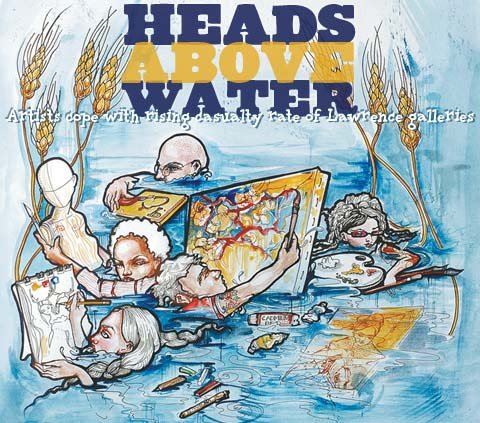 It wasn't long ago that Lawrence officially declared itself "City of the Arts"-1999 to be exact.
Just five years after downtown lightposts first trumpeted the new slogan, the commercial core of Lawrence's art scene began to lose galleries one by one.
First the Grimshaw Gallery's cooperative experiment ended, followed by the closings of ad astra galleria and KOJO. Then Fields folded in October after nearly 40 years as a downtown staple.
When the Olive Gallery recently announced it would close in February, many people began to wonder aloud whether Lawrence really deserved its "City of the Arts" tag.
In the wake of Olive's announcement, artists and art appreciators grasped for explanations of the closings in comment threads on ljworld.com and lawrence.com, with dozens of often long and emotional posts. Some blamed west Lawrence suburbanites for their lack of financial support. Others blamed the Olive for not being accessible enough. Some went so far as to say the local art scene has been drowning for some time and the recent gallery closings were just the last gasps for air.
"A lot of us in town:just thought [the Olive] was the best thing to come along in a long time," says muralist Dave Loewenstein.
"Their closing hit hard for a lot of people because we realized-well, what's gonna happen? Where are they gonna show their art now? Where are they going to have those little 'zines? Where are we gonna have that wall?"
For many new artists, the Olive was the last vestige of a place to get their art in front of people. Although some coffee shops or restaurants occasionally avail a lower profile wall to sell art, those venues come with restrictions. Nudity, political messages, anything a bit controversial that could alienate a customer doesn't fly. Let's face it, Papa Keno's would be nuts to display a collection of stuffed-animal roadkill-like the Olive once did.
Gallery without walls
Yet even before the recent gallery closings, Lawrence artists have had to scrape for outlets for their art.
Two years ago, a handful of local female artists began organizing occasional showings of their work under the moniker LOLA, or Ladies of Lawrence Artwork. The collective comes together about three times per year to create a makeshift gallery. On Saturday, LOLA will set up shop at The Jackpot for a holiday show and sale.
The brick walls of the bar will be transformed into gallery walls featuring paintings, drawings, screenprinted calendars, and assembled media pieces. Tables will be spread with a variety of handcrafted wares, from candles and greeting cards to earrings, necklaces, and clothing.
Molly Murphy, a local artist and LOLA member, specializes in ethereal, storybook-like ink drawings. She sells her work in galleries around the country because, Murphy says, she has to. "Lawrence is the worst place to make a living at art," she says.
But to a small degree, Murphy and her LOLA mates have managed to do just that, in large part because of their cooperative approach to selling art.
"It's kind of nice to have this group pull together so that we can actually have a venue within the city," Murphy says. "We all get along really well and we all actually really like each other's work. It's been a good outlet, especially as galleries are closing."
Pretty much all the LOLA ladies have had shows at the Olive. Luckily, Kylie Grater, LOLA founder and jewelry designer, doesn't depend on galleries to stay afloat. She's sold lots of her jewelry-earrings, necklaces, and the like-at the Olive and other retailers in town. But she makes most of her money on the internet. Her website, earlyjewelry.com, sells to customers in art markets in Portland, Seattle, and New York City.
Despite that, Grater says there's still something special about selling her art in Lawrence, face-to-face with people she knows.
"We can pack a store and sell a lot of merchandise just as independent designers," Grater says. "That's always an awesome feeling at the end of the night. You're making money, but you're also empowered as an artist and creator. To be like, 'Wow, people do really like my stuff.'"
Grater says that even though LOLA has been a huge success for all involved, she's not interested in owning a storefront on Mass. to sell her wares.
For one, Grater says, downtown rent is ridiculously high. Murphy supplies the second reason.
"The viability is obviously a question right now for something like that in Lawrence," she says. "The way things are going, that's kind of a treacherous path to take at the moment."
One perk for artists featured in LOLA events is that they keep almost all the earnings from sales. While galleries often claim up to half of a sale, LOLA venues don't ask for much in the way of a commission, says Grater.
Kendra Herring, a LOLA member who sells greeting cards featuring her own photography among other things, says that high commission charged by galleries was a driving factor in the formation of LOLA.
"We're doing all the publicity, food, and the hanging ourselves. We're not giving anyone a commission and that makes a big difference," Herring says. "That's one of the reasons LOLA was born."
Guerilla galleries
The DIY approach has served LOLA well. But the question remains, do other Lawrence artists have the initiative and the business acumen to forge ahead without the Olive? Can they manage without a go-to place to show and sell art, as well as a vital social hub for the local art scene?
Loewenstein says that for years, local artists have been devising guerilla galleries in living rooms and front yards, in studios and garages.
"That's always happened in Lawrence. They find some way to do it. It's like we're reinventing the wheel again and again," he says.
Perhaps one of the most successful and beloved DIY art shows in Lawrence is the Red Balloon To-do, an annual event that unites artists and art-lovers for five hours across multiple venues, many of which are private homes.
Last year's organizer, Chelsea Rae, says that the Red Balloon To-do is run more by the art community than by the artists themselves. It takes six months, she says, to plan for those five short hours.
Though the Red Balloon To-do may be evidence of the art scene's vitality despite the loss of gallery space, what Lawrence needs-says Loewenstein-is something bigger. Something sustainable year-round. And, preferably, somebody with money, and lots of it.
"There needs to be a space where there's curated shows, not just space on the wall," Loewenstein says.
"The ideas I've heard are to have cooperative type spaces, not like the Grimshaw-that was pretty sketchy. Artists have to buy in, you pay a little money:you pay that money instead of having a huge commission from a sale. To keep the doors open, you wouldn't have to sell all this stuff"
"(It should be) somewhere between a museum and a gallery, where a few wealthy patrons say 'You know what? I think Lawrence really needs to have a great art venue. And I'm rich. I'm gonna get behind this.' But the only way they're gonna do that is if there are some really skilled, experienced people for them to say 'I trust these people to do this right.'"
Ivory tower gallery
Many have suggested that KU might assume more of a leadership role in Lawrence's art scene, particularly by showcasing local artists at the Spencer.
Saralyn Reece Hardy, the Spencer's director, says that the museum is "deliberately" planning to show the work of more KU and Lawrence community artists.
The Spencer's current exhibition, "Made in China," is a step in that direction. Many photographs on display were taken by KU students traveling through China.
But art scenesters looking for free-spirited art openings similar to those at the Olive shouldn't count on the Spencer to step up with the wine and cheese. Hardy says the museum has no plans to gear openings toward younger audiences like the Olive did.
Hardy says she thinks that everyone in the Lawrence community has something at stake when it comes to local artists. She adds that "the Spencer has a role and obligation" in helping the local art community land on its feet.
But were a new gallery to spring up, the question remains if there is even sufficient demand for art in Lawrence-or is "City of the Arts" little more than hollow municipal marketing?
According to Grater, some people are worrying a little too much about the fate of the art scene.
"I don't think you can bag on Lawrence for not being a city of the arts just because some businesses have gone out of business. It's just hard right now for the economy," Grater says.
Murphy also blames the economy-not people in Lawrence-for the dipping art market.
"My friends who do very well in major cities are selling to extraordinarily wealthy people who are in that 1 percent who are doing very well right now," she says.
"I think, as the middle class is dissipating into need-based living, that does affect a lot of artists like us who are more emerging."
Another factor undermining gallery viability is that local artists often sell their work directly to buyers. By cutting out the middleman (i.e., a gallery), the artist makes more money without having to give up a commission and the buyer probably pays less, too. In an art scene as small and accessible as Lawrence, some buyers prefer to purchase a piece face-to-face, from a friend, than from a clerk at a gallery.
Gallery next
But whatever the state of arts in town, Loewenstein is optimistic that a new chapter in the Lawrence arts scene will soon begin. He's organized a meeting with the Spencer's Hardy, members of LOLA, and other backers of the arts in Lawrence to discuss what proactive action might be taken. Others interested in the meeting may attend Thursday, Dec. 14 at 7 p.m. at Loewenstein's studio, 411 East 9th.
"This'll be really interesting, I don't think this has happened before, where we've gotten together and said 'What are we gonna do?' It's been talked about in little circles for years," he says.
"It takes people who:are willing to take a risk and say, 'We're going to start something new that highlights the rich art scene we have here in a way that hasn't been done before.'"
It will probably take more artists like those in LOLA, who are forging their own path-without the help of a gallery.
Herring, who has been known to transform her friends' living rooms into art galleries in a pinch, makes the solution seem simple.
"That's the kind of thing, in this town, we're going to have to do more of," Herring says of DIY galleries.
"Just because the Olive closes doesn't mean we're going to stop finding ways to look at art."