Photo Gallery
Style Scout: Molly Murphy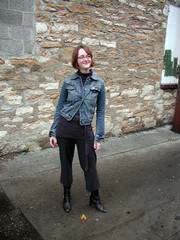 The second installment in our series of stylin' Mollys.
Molly Murphy
Age: 29
Hometown: Fort Morgan, CO
Time in Lawrence: 13 years
Occupation and/or major: Illustrator / Caretaker
Where was/what doing when scouted?
Working on a t-shirt design
Favorite clothing store?
Most of my clothes come from Shannon's closet or trading with friends. Social Service League otherwise. Ecoboutiquo has my favorite clothes downtown.
Other stores you frequent?
Community Mercantile, Olive Gallery-it'll be terribly sad to not be able to buy art supplies downtown. I tend to wander between a lot of the local places downtown: the Casbah, Creation Station, and African Adorned.
How would you describe your style?
Layered up until I feel like I'm done dressing myself. I'm a big fan of mixing patterns, and any style of tall boot I can find. I'm usually fairly casual, but I also usually have an accessory to make it look like I've dressed up more than I have.
Favorite trend for this season?
Obviously, the big tall boots. I'm kind of glad that Uggs are disappearing this season. Longer shirts-less butt-crack. I like skinny pants on women. Long beaded necklaces. I like that wearing local designers is becoming something of a national trend. It goes along with buying local, organic foods-buying locally has started to cross over into the art / design world.
Least favorite trend right now?
Big, gaudy belts--faux metal finish leather belts generally worn around tunic tops. Still clinging to the 80s throwback. Please, no more boys in skinny pants-the euro-rock, dirty denim plastered on boy butts. It's gross.
Where do you get your haircut?
My friend Julie Sledgister cuts it at her house. She'll fix my hair after I cut it myself, with the obligatory lecture involved. I've had a couple good haircuts at Static. I'm looking for a cut I don't have to mess with; I'm into ease.
Favorite coffee shop in Lawrence?
Either Henry's or the Pig. Henry's has great coffee; and the Pig always has somebody working with a good story. We don't need to name Kate.
Favorite bar in Lawrence?
Well, I don't drink, so most of my bar time is for shows. I go to the Tap Room every Thursday for Snuff Jazz; I go to a lot of shows at Jackpot; and I like the small, in-your-face shows at The Replay.
Is there anything you'd like to see more of in Lawrence?
The obvious answer would be more support for the arts. There's a large group of working artists who are clearly being undervalued or overlooked by the local community. It would be nice to see people more into newer media and emerging artists-more in sync with the rest of the country. The art-buying community is very careful and conservative here, and not very educated on new trends.
Less of in Lawrence?
Fewer box stores, fewer fast food places: The lack of character that's popping up on the outskirts of downtown is not at all what I identify with nature of Lawrence. I might be proven wrong: some people might want a tan, bland community. It would be nice if there wasn't so much shopping money going towards Johnson County.
Are you a happy American?
I don't think anybody should be a happy American. New Orleans is still in shambles, the middle class is struggling, and we're still led to believe that while we aren't helping anything in our own country, we can fix Iraq. We're either living in a falsely content state or an oblivious state if we're happy with our situation right now.
Tell us a secret
A large part of my art support club is the Sisters of Charity in Leavenworth. My mom was a nun for 6 years. All of her old friends from the convent come to most of my art openings. My subject matter doesn't immediately bring nuns to mind.
Who's got style?
Right now, Nancy Pelosi. I like the picture of her grinning between a confused-looking Bush and an angry-looking Cheney. Being undeterred in the face of adversity is pretty stylish. Inka Essenhigh-she's an artist who took new pop imagery into a highbrow art world. That's great because it showcases skills that haven't been respected by the art establishment before. And always my friend Heather O'Brien with her pointy shoes.
Style = ?
Style is making your determination obvious. You just kind of know when somebody means what they're saying.
More like this story on Lawrence.com