Thursday, December 7, 2006
It normally takes Lawrence artist Nancy Lehenbauer Marshall months to complete one of her oil paintings.
On Saturday she will have just 45 minutes.
"I should have been practicing on the street corner all summer," Marshall jokes of her invitation to be the guinea pig for an "art-on-the-fly" demonstration.
"I haven't exactly been timing myself. But I just changed mediums - I switched to pastels. It's going to be a quicker color drawing, a still life. The idea was to allow people to see a piece develop on-site."
Marshall is one of 50 artists whose work will be on display at the sixth annual Lawrence Own-Your-Own (LOYO) juried art exhibition and sale. The event kicks off Saturday at the Lawrence Arts Center, 940 N.H., and runs through Dec. 17.
A silent auction will take place simultaneously to bid on Marshall's painting, and all proceeds will go to the Bert Nash Community Mental Health Center.
The LOYO exhibition and sale is somewhat unique in the community in that there are no entry fees and artists receive the full retail price for each piece sold. Artists agree to donate 20 percent of their earnings from the exhibition to Bert Nash.
"Just about anybody can walk in and find something either in their price range or something that is of interest to them," says Scott McMichael, director of community development with Bert Nash.
Past Event
Saturday, December 9, 2006, 7 p.m. to 9 p.m.
Lawrence Arts Center, 940 New Hampshire St., Lawrence
All ages / Free
"We want diversity. We've had things for $30 all the way up to $6,000. There is a wide array."
McMichael says the show is a perfect fit for Bert Nash because "we're big on partnerships."
"We have partners with the Lawrence school district, KU, local law enforcement. This is another partnership we're very fond of: the art community. Because we use art therapy in some of the things we do here, it's a natural for us to be tied to the art community," he explains.
However, LOYO looks outside the Douglas County area when judging the nearly 150 pieces involved in the show.
"What's really unique about this show and what made it really fun to judge is you've got everything from furniture to fiber to ceramics, sculpture, different types of 2D. It's really across the board," says Charla Sanderson, a Wichita-based artist and assistant director at CityArts who is serving as juror for the event.
Photo Gallery
Lawrence Own-Your-Own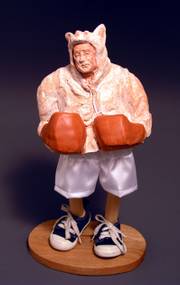 Sanderson preliminarily assessed the selections by looking at photos of the images on her computer.
"But I will be up in Lawrence on Friday and will actually see all the work hung and installed," she says. "I will either say, 'Yeah, I still want this to be the winner' or 'Oooh, let's change that.'"
LOYO awards and prizes include three juror cash awards: $500 for best of show, $300 for second place and $100 for third. Local merchants sponsor five or more merchandise and gift certificate merit awards.
McMichael says the idea for LOYO spawned from a similar show that organizers came across in Colorado. With so much controversy in the Lawrence art community about the benefits and drawbacks of art auctions, LOYO functions as a nice balance because it ensures full retail price for participants' artwork.
"Certain artists in the community are a little more vocal than others about the art auction thing," McMichael says. "It depends on who you talk to. Some actually think it creates some hardship in that it might devalue their artwork.
"But I've seen art auctions go both ways. I've seen pieces of art that probably went for more money than they would have set a price for, and some that probably went for a little less. In the overall big picture, it might balance out."