Monday, December 11, 2006
For most of the merchants in Lawrence, the Christmas season yields a significant and essential portion of the annual take. For many, it's make or break.
For the past decade, downtown businesses have watched big box stores and the internet lure many of their customers away. Soaring rents and rising operating costs have also contributed to the increasing number of vacant storefronts downtown.
On a fine December day, Street Level ambles south on Mass and drops in on some bustling downtown businesses to see what condition their Christmases are in.
Weaver's
lawrence.com: Lots of vacant storefronts lately. Any sense of the retail climate downtown?
Vice President Earl Reinemann: There's always sort of a natural evolution going on downtown :But it seems like the ones that are still here are doing pretty well.
Subscribe to Street Level podcast in iTunes
How is Weaver's faring compared to previous years?
Reinemann: We'll be celebrating our 150th year coming up. We started in 1857 and survived Quantrill's Raid, survived the Civil War: The Lawrence retail market has changed so much in the past ten-plus years with the big box stores and a lot of the national chains that have come to town. :I think we have to constantly modify and improve our merchandise mix and know what the customer wants and will react to. We have to be on our toes. Maybe all the increased competition in town has made us a little sharper and more able to compete in the marketplace.
The Toy Store
How's the season shaping up?
Manager Steve Buren: We're actually up a little bit [from last year]. On Saturdays, it's elbows to elbows in here.
Where are the Barbie dolls?
Buren: We don't carry the Barbie. We don't carry the licensed characters. That kind of stuff you can get at Target and Wal-Mart and they beat us to death on the price. So we concentrate more on the stuff you can't find in those places--a little more educational.
Are [toy] guns still popular?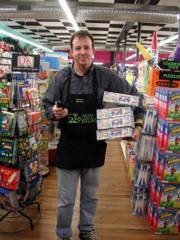 Buren: Not so much. We have a store in Topeka and they do a little better with them. Maybe it's a Lawrence thing. All we have is cap guns and rubberband guns. It's not the big seller it was when I was a kid.
Game Nut
What are the big sellers?
Owner Gene Nutt: The old school stuff is huge for us: a lot of the original Nintendo and Super Nintendo. :Everybody wants what they had, wants their kids to play what they had.
This is your second holiday season. How is this comparing to last year?
Nutt: Overall, I'm pretty pleased with the way things are going. I'm doing exactly what I expected to do down here when I opened. :You have to offer the things that people are looking for-that's the key. I see a lot of the stores come and go down here, just in the year I've been here, and I think they're too "niche market." They need to open up to what people are looking for, not focus only on what they know.
How much of an effect do the big box stores have on your sales?
Nutt: As a pre-owned item store, we don't see competition from those stores because we can always beat their price. Every time; we can always beat their price.
Spectator's
How's the season shaping up?
Owner Kathy Swanson: So far, it's a little better.
Do a lot of people come here from out of town?
Swanson: Yes, thank goodness. From St. Louis, Chicago, New York City, Des Moines, Milwaukee, lots of Columbia people. We're real lucky because we're a university town. This town draws from all those metropolitan areas.
You've been here how long?
Swanson: Twenty-five years.
You've seen the retail landscape change over the years-back and forth, up and down:
Swanson: It's all the same. If you have what people need-pay attention to their needs-and take care of them as you should, retail is all the same. It's all about selling the service more than the item.
La Parrilla/Zen Zero
Alejandro, are you doing anything special for the holidays?
Owner Alejandro Lule: I'm going to Paraguay.
I mean, is La Parrilla doing anything special for the holidays?
Lule: We always do. We make classic Mexican food. Christmas is big in Mexico. :We're going to make buffalo with achiote and Negra Modelo, seafood enchiladas, and, maybe posole.
And Subarna, what's going on over at Zen Zero?
Owner Subarna Bhattachan: December is the last month for us to be busy. Come January, things slow down a little. We've been doing quite a lot of catering-at least one or two a week.
Is the volume of [holiday] business this year on a par with last year?
Bhattachan: It's about the same, maybe a little bit better for us.
Are there any winter dishes in Asian cooking?
Bhattachan: One pot meals-hot pots. Tandu is from Tibet and northern Nepal. We make homemade egg noodles and then add beef, onions, ginger, garlic, bamboo shoots, Chinese broccoli, potatoes-really thick, kind of stew-like.
What's the state of downtown for independent merchants these days?
Bhattachan: Well, for independent merchants and restaurants downtown, it's kind of hard. :The vacancy rate in downtown went up from about five percent to seven percent. :The cost of operation is very high, which basically means rent.
Free State Brewery
What's the holiday beer this year?
Owner Chuck Magerl: The holiday beer is coming out next week, so we're all sworn to secrecy until it actually emerges. Every year we brew a holiday beer that is something completely different. We always throw a little extra flavor and spice into it.
What's the state of downtown for independent operators?
Magerl: :The only two pluses that I can even cite in the last five years, quite honestly, have been Borders:and the Journal World deciding to stay downtown.
Are we suffering downtown?
Magerl: Yes. We're suffering as a community. The last four months of retail sales in downtown Lawrence are flat compared to last year, which to my mind says they're backsliding. Lawrence is the only sizeable city in Kansas undergoing that. Manhattan's insane-a boomtown mentality. They're running anywhere from 25 to 45 percent increases.
Involvement is key.
Magerl: Yes, it is. We need to make sure that merchants downtown care about what happens downtown. :We can't operate under the illusion that just because things were wonderful here ten years ago, it means that we've got the world on a string.
More like this story on Lawrence.com