Sunday, December 17, 2006
Susan Hunt-Wulkowicz grew up amid concrete and skyscrapers in downtown Chicago, but she always dreamed of a life in the country.
So in a windowless studio in the heart of the city, she created an imaginary rural world in her artwork. Barns, farmhouses, majestic trees, pastures, animals and people began appearing in her prints - all plucked from her very active imagination and rendered in great detail.
"I was trying to make a place to escape to in the middle of chaos. ... And the more detail I put in, the more it was believable to me, and in turn, people responded to it the same way," Hunt-Wulkowicz says.
"In a lot of artwork, the closer you look, the more unreal it is. A beautiful Monet painting viewed from distances is one thing. Up close it's amazing that it turns into what it does from a distance. I do something different in that the closer you look, the more you see."
Apparently people are enjoying the view. Hunt-Wulkowicz's hand-colored etchings and lithographs now appear in more than 100 galleries around the world, including Signs of Life, 722 Mass.
She's part of a five-woman exhibition there called "The Gift" that will be on display through Jan. 27. The show also features work by Joan Bohlig, Sandra Bowden, Elizabeth Rowley and Heather Smith-Jones.
Home, at last
Hunt-Wulkowicz bought her first etching press in 1969 and began her printmaking career. After a brush with death from a ruptured appendix and a divorce from her first husband, she co-founded the Chicago Center for the Print with master printer Dennis McWilliams in 1985. The two married the following year.
Soaring property taxes forced them to sell the center in 1989, but there was a silver lining in the loss of their labor of love: The couple moved to rural Wisconsin.
Hunt-Wulkowicz finally had finally realized her dream.
"We moved here on 25 acres of beautiful natural land," she says, "and it was like God picked us up and shook us and put us where we belonged."
Photo Gallery
Susan Hunt-Wulkowicz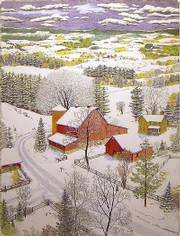 It was there - just outside of Janesville in the southern part of the state - that Hunt-Wulkowicz joined a little church and began incorporating tiny Scriptures into her prints. The words are difficult to detect with the naked eye - Hunt-Wulkowicz looks through two magnifying glasses to create them - and that's the way she likes it.
"They're subtle," she says. "It just seemed like it was my way of saying thank you."
Mysterious process
Magnification equipment also helps the 62-year-old artist make all the precise, tiny marks necessary to pull off prints so rich in detail.
Etching and lithography are laborious, time-consuming processes. Both require very careful drawing backward, so the image transfers forward on the press.
"In the case of etching, you're drawing backwards through a dark coating on a copper plate," Hunt-Wulkowicz says. "With lithography, it's a little bit different. Wherever you're drawing dark will then be dark, as opposed to etching, where wherever you draw through the coating is a copper line.
"So that's really an intellectual technique. You don't get to see what in the world you've been working on for months until it's over."
After the plates have been inked and run through the press, Hunt-Wulkowicz hand-tints each one with watercolors. She usually prints an edition of 300 white and 300 cream. Each piece represents hours of work.
"I'm trying to make a piece that will have intrinsic value," she says.
Tiny surprises
Although Hunt-Wulkowicz's prints depict Midwestern country scenes, her most fruitful market is Japan. When Japanese collectors started snatching up her work, she wondered why. Then it hit her, during her first trip to the country in 1996.
She noticed that she had unknowingly adopted the same perspective - three-quarters up, kind of hovering above her subjects - as traditional Japanese painters and printmakers. She figures she internalized the look while wandering the Asian wing of the Chicago Art Institute, where she took youth classes as a child.
"Having always imagined the places that I was drawing rather than seeing them - because I was in the city and near-sighted - my imagination took me up to this three-quarter view that, unconsciously, I think I really admired at the Art Institute," she says. "It makes my work more unique than most landscape that you would see."
Gallery director James Schaefer appreciates the love Hunt-Wulkowicz pours into her work. Just the other day, while perusing the gallery, he noticed in a 4-by-6-inch etching called "March" that a farmer who couldn't have been more than half a centimeter high was wearing a red shirt.
"I realized I was just looking at a speck," he says. "It struck me that she really loves these things. Why would you hand-color something with such detail?
"That piece is $200 or $300. You're not going to make a killing at those prices. It's going to be because you care, and her work has a lot of care."