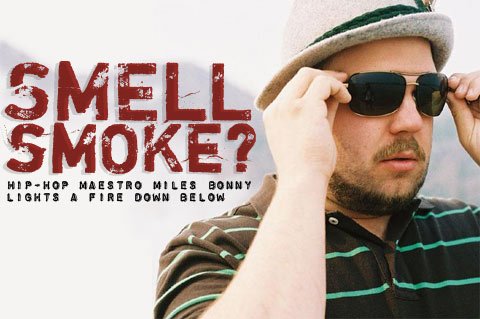 Wednesday, December 27, 2006
Past Event
Saturday, December 30, 2006, 9 p.m. to 1 a.m.
Jackpot Music Hall, 943 Mass., Lawrence
18+ / $5
As half of Kansas City's beloved hip-hop unit SoundsGood, Miles Bonny wore a producer's uniform, arranging outlandish, infectious beats behind Joe Good's eloquent raps. For his solo debut, maestro Bonny slipped into something sexy and strode to the front of the stage.
"Smell Smoke?" is a smart and sassy compendium of hip-hop sonnets mashed up with deep orchestral grooves, Brechtian theatrics and twittering electronics. Languid melodies, voluptuous horns and midnight vibraphones shiver and shimmy over Bonny's trademark arsenal of eccentric, rump-teasing rhythms-but wait! That voice! Is that Bonny singing? And how: Bonny croons, moans and growls his way through the dazzling "Smell Smoke?" like Barry White at a butt-naked seafood buffet.
Street Level ambles downtown to meet Mr. Bonny at a sunny outdoor cafe for a chat about electronic highways, feeling sexy and the evolution of hip-hop in Cans Ass City.
Subscribe to Street Level podcast in iTunes