Friday, December 29, 2006
When it comes to Lawrence, the term "arts and entertainment" encompasses a huge field.Everything from punk band concerts to poetry readings to gallery openings to live theater performances to movie productions fall under this banner.
Throughout the year we covered many of the highs and lows that sprang from the active A&E; scene. Features staffers recently revisited these articles and voted on the top 10 A&E; stories of 2006. Here are the results:
Wakarusa fest and mess
The Wakarusa Music & Camping Festival in June was a story that kept evolving months after the initial event. Already a big deal from a musical, cultural and economic standpoint, the concert festival immediately became "news" when a large police roadblock forced traffic to a standstill for hours. Then more than 80 people from 28 states were arrested on alcohol and drug violations during the four-day festival, which led to it being dubbed "Bustarusa." Soon the ACLU became involved because of concerns about the Lawrence Police Department's unprecedented partnering with the Highway Patrol, Sheriff's Department, DEA, FBI and the Alcohol and Beverage Commission in utilizing $250,000 worth of night-vision camera equipment capable of covering up to 85 percent of the festival area. The residual fallout was enough to make everyone forget how great it was to see tens of thousands of people grooving to The Flaming Lips.
'C.S.A.' release
For the first time in decades, a movie that was written, produced and shot in Lawrence was released nationally (and internationally). Lawrence director Kevin Willmott's film "C.S.A. - The Confederate States of America" - which re-envisioned post-Civil War America, from the South's "victory" at Gettysburg all the way to modern-day slavery - was picked up at the Sundance Film Festival two years ago. But in February, the project finally hit theaters, earning raves from critics. (Entertainment Weekly called it "a fearless and brilliant racial-historical satire.") In August, the film's reach expanded with its release on DVD.
Hip-hop's bad rap
Two victims were shot and one in killed in February after a hip-hop concert at The Granada. The incident put those in the burgeoning Lawrence hip-hop scene on the defensive ... yet again. "That's a stigma I've been fighting from day one: how the power brokers in the community are viewing hip-hop culture," said local musician and longtime promoter Jesse Jackson. This perception was further exacerbated when rapper Anthony J. Vital of the local group BombSquad was found shot to death in October.
Gallery goodbyes
Lawrence may be known as the City of the Arts, but economic realities threatened the validity of that title. Olive Gallery and Art Supply announced in November it would close unless someone was willing to take over ownership. A month earlier, Fields Gallery - a downtown Lawrence mainstay since 1968 - pulled up stakes for good. "Attending art openings for the free wine and cookies does not constitute support of the art scene," said Olive Gallery owner Jill Kleinhans. "It costs money to have a thriving arts scene. Lawrence just isn't ready to fit the bill."
Photo Gallery
2006 top local A & E stories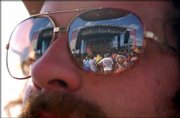 Kirk Rundstrom
With his mohawk, tattoos and piercing blue eyes, musician Kirk Rundstrom projected an air of invincibility. That was what was so shocking when people learned that the guitarist-singer for the infamous bluegrass-punk act Split Lip Rayfield was diagnosed with esophageal cancer earlier this year - and financially not well-off enough to combat it. Donations poured in. Auctions were organized. Dozens of concert benefits throughout Kansas and Missouri were staged. Meanwhile, Rundstrom went off chemotherapy and was given six months to live. But without the poison chemicals coursing through his veins, he became strong enough to take part in a Split Lip farewell tour and a reunion of his former band, Scroat Belly. He continues to record and perform.
Poet Laureate Low
Denise Low, an interim dean of the College of Humanities and Arts at Haskell Indian Nations University, took over the role of Kansas Poet Laureate in July. Low, who holds a doctorate from Kansas University, recently issued "Words of a Prairie Alchemist," a collection of essays published this year. "I hope to give more appreciation and recognition to our homegrown writers," she said of the honor.
'Jericho' in Kansas
North Lawrence officially changed its name to Jericho for a day in September. The event was tied in with the premiere of the TV series of the same name about a small Kansas town isolated by nuclear explosions. Gov. Kathleen Sebelius presided over the gathering that featured producers and actors from the series, capped with the unveiling of a piece local crop artist Stan Herd had created for the occasion. Too bad the CBS show itself continues to be filmed entirely in California.
Embarrassment reunion
From the tail end of the 1970s through the early '80s, Wichita-based band The Embarrassment established itself as the most promising of the state's sonic heroes, fostering a national reputation as "the best band you never heard of." Despite not having performed together for 17 years, the quartet reunited for a trio of shows, culminating in an August night at Liberty Hall filled with loud guitars and unbridled nostalgia. The concert was captured by New York filmmaker Dan Fetherston for a documentary about the experience.
Gazebo anniversary
Few would have predicted that when a $600 gazebo was erected in South Park during the spring of 1906 that it would still be a functional, iconic part of the city a century later. Home to Lawrence City Band concerts, film sets, weddings and community gatherings, the 30-foot structure (officially named the William L. Kelly Bandstand) celebrated its 100th anniversary in May with a tribute gala.
Bleeding Kansas
Although dubbed Bleeding Kansas, the inaugural concert turned into an international gathering. The August festival at Burcham Park recruited major rock headliners, including Seattle's Death Cab for Cutie and England's platinum-selling Keane. It became one of the most successful Lawrence festivals in terms of attendance, with no Wakarusa-style fallout to taint the occasion. It also represented one of the last performances by the Grammy-nominated Keane. Two weeks later, singer Tom Chaplin checked himself into rehab for alcohol and drug abuse, leading to the cancellation of its three-month tour.
Top Feature Stories of 2006
Wakarusa fest and mess
'C.S.A.' release
Hip-hop's bad rap
Gallery goodbyes
Kirk Rundstrom
Poet Laureate Low
'Jericho' in Kansas
Embarrassment reunion
Gazebo anniversary
Bleeding Kansas