Thursday, February 2, 2006
Note: The INXS show has been rescheduled to March 1 due to the lead singer coming down with bronchitis. Tickets will be honored for the rescheduled show.
Kirk Pengilly recalls a pivotal meeting with fellow band members of INXS in 1998, shortly after vocalist Michael Hutchence died.
"One of the ideas I came up with was to do a worldwide search for a singer on TV," says the guitarist/saxophonist for the veteran Australian group. "We discussed how we would do it - there was no such thing as reality shows then.
"We figured it was either going to be the best or worst marketing campaign ever."
Cut to the fall of 2005, when Canadian J.D. Fortune was chosen live as the winner of the CBS television show "Rock Star: INXS." Apparently, this marketing strategy is tilting toward the "best" ever.
"I guess it has jump-started (our career) substantially," Pengilly says from a tour stop in Los Angeles. "If you look where we were two years ago, we didn't have a singer and we weren't doing anything. It was the kind of thing we needed."
The confident, sometimes antagonistic Fortune - a former Elvis impersonator who recently had been living in his car - was chosen from among 15 talented hopefuls, sending INXS scrambling to finish a record before its winter tour began. The resulting "Switch," the band's 12th album, is the first in more than a decade to gain substantial radio and video airplay.
"We had to record, mix, master and deliver the album to Epic in under five weeks," he says. "I think this one was a real learning curve because we didn't have any time to second-guess anything. At one point we had four separate control rooms and studios running at the same time just to get it done on time."
The album also features three songs co-written by Fortune. This includes the first single, "Pretty Vegas," which the singer actually composed during a songwriting challenge the contestants faced on "Rock Star."
"Most of us were like, 'Who the hell is this guy?' in the first half of the series," Pengilly remembers. "But the turning point for me was during that first songwriting workshop where he went on to clearly write the best song."
New sensation
Formed in 1977 in Sydney, Australia, INXS has gone on to sell 30 million albums. While the band once dominated MTV and commercial radio with hits such as "Don't Change," "What You Need," "Devil Inside" and "Never Tear Us Apart," it has continued to log more than 4,000 live performances in 50 countries.
For the 47-year-old Pengilly - who has morphed from looking like film director David Lynch in Buddy Holly glasses to looking like director John Waters in a beret - the arrival of Fortune is inevitably accompanied by a period of adjustment for the veteran bandmates.
"He's a fantastic performer, but there are things that we need or expect or prefer done a certain way," he says. "It's like a marriage when you've first gotten married and are living together. ... It's interesting meeting in the middle with what J.D.'s needs are or our needs are."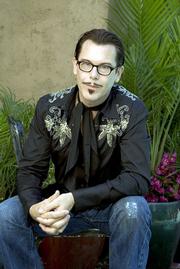 Now that they're traveling together, is there anything about the singer that annoys Pengilly?
"Everyone has their roles and their idiosyncrasies," he says. "There's nothing that really drives me crazy. He can't sit still, though. We call him JDD."
Same direction
Pengilly says a new season of "Rock Star" is being discussed involving another high-profile band (names such as Van Halen and Queen have been put on the table). It's reportedly been green-lit by CBS, though the format is undergoing some revision.
"We're kind of keen to sit down with Mark Burnett and the other executive producers to find out where it is going, because it was our idea, and we're all proud of how the show ended up," he says. "It didn't rate very well in the beginning, but by the end it was the highest-rated show in its time slot."
One thing the musician appreciates is how the program not only bolstered INXS but the band's genre in general.
"There seems to be a bubbling up again of the whole rock thing," he says. "Whether our show helped spark that off, I don't know. Now you've got shows like 'Love Monkey,' which is awesome. I kind of predicted when we did our show that there were going to be more of them with a focus on rock stars again. That whole culture was completely gone. In Australia the biggest stars of the last decade have been sports stars."
Past Event
Thursday, February 2, 2006, 8 p.m.
Midland Theater, 1228 Main, Kansas City, MO
All ages / $35.50 - $67.50
Pengilly hopes the revamped lineup will return INXS to a position where the group can fill stadiums. That seems a reasonable possibility with a young, charismatic performer once again fronting the hook-proficient act.
But would Michael Hutchence have approved of the choice of Fortune?
"Definitely," Pengilly says. "He's all the goods. That's what we were looking for, and obviously that's what Michael was. I think Hutch is up there having a good chuckle and happy that we're actually continuing on, making a record and touring. I don't think he would have ever wanted anything else."
Q&A with Kirk Pengilly
Q: Was there much argument within the band over who the new singer should be among the "Rock Star" contestants? A: "We didn't actually sit down as a band and sort of formally discuss who it should be until the second to last week. That was when there were four left. ... Andrew (Farriss) was pretty disappointed. He had his heart set on having a female singer, specifically Suzie (McNeil). He wasn't too happy that week when she was the one who went home."
Q: So many of the songs got played on the show and reinterpreted. Did any of them sound better or more dated to you? A: "Without beating up on the house band, who was absolutely astounding, they did seem to have trouble doing some of the INXS stuff. I don't know what it was, whether it was because we're sitting on the couch watching them perform our songs and they got really nervous. But I know we were looking at each other going, 'This is not quite getting the feel.' It kind of made us realize some of our material is very specifically INXS."
Q: What can we expect from your live show on this tour? A: "I don't know how to describe our show because I've never seen it. But basically from go to whoa, everyone is standing and dancing and having a great time. To me, that was what we were always about."
More like this story on Lawrence.com