Thursday, February 2, 2006
Someone's hands are always dirty around here.
Kids come after school to make pinch pots. Kansas University graduate students refine their sculpting skills. And the elderly mold clumps of clay into mugs on potter's wheels.
It all happens at the Lawrence Arts Center's ceramics studio.
"This studio, of all the studios here, is by far the busiest and most active," says Ben Ahlvers, arts center education coordinator.
Keeping the wheels spinning and the kilns firing nearly 365 days a year, of course, takes more than artistic inspiration.
So for the past eight years, on the day before Super Bowl Sunday, the arts center has riffed on the wildly popular nationally televised football game with a popular event of its own.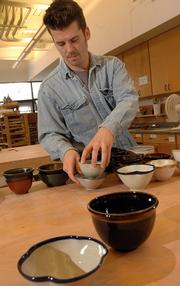 Souper Bowl Saturday - no, that's not a typo - trades pigskins for handmade bowls, and the money raised from pottery sales goes not to the NFL but to the LAC's ceramics studio.
"It helps keep this place running," Ahlvers says. "It's a very integral part of how we can keep the tools that we have working and be able to get some new ones."
The ninth annual Souper Bowl starts at 11 a.m. Saturday at the arts center, 940 N.H. A $10 donation buys one bowl that patrons can have filled with soup from Hy-Vee and bread from Great Harvest Bread Co.
That's quite a deal, says Margaret Morris, arts center education director, "especially for the quality you get. We have very handy potters who make these, whose work sells for a lot more than $10 a bowl usually."
Souper Bowl Saturday
When: 11 a.m. Saturday Where: Lawrence Arts Center, 940 N.H. ¢ A handmade bowl with soup and bread runs $10. ¢ Bidding in a silent auction featuring six nationally known artists ends at noon Saturday.
New to this year's sale is a silent auction of work donated by six nationally recognized ceramic artists. In addition to pieces by Ahlvers and Stacy Barnes, the center's ceramic artist in residence, works by Dan Anderson, Brad Schweiger, Robert "Boomer" Moore and Jeremy Krane are accumulating bids in the arts center lobby as the Souper Bowl approaches. Bidding closes at noon Saturday.
"As far as contemporary ceramic art goes, this is it. These guys show internationally," Ahlvers says. "I was surprised at the level that these guys gave. I just asked if they'd be interested, and they sent some pretty nice pieces."
The goal each year is to sell 400 bowls, Morris says, but students, local artists and arts center staff made 500 bowls this year in case people are hungry for more. Occasionally someone will donate more than the $10 minimum and just take one bowl. But it's more common for people to get bowl-happy.
"I've had people buy 10 bowls, which we're happy with because it's kind of a win-win for everybody that way," Morris says.
The bowls were fired in the center's gas and electric kilns. All are glazed and safe for food. Though an assortment of colors and surface treatments came out of the kiln, Morris says artists always make an effort to keep some bowls uniform in case customers want to create a set.
But she never knows quite what will be donated.
"You get really whimsical pieces," she says. "Last year there was a bowl that was shaped kind of like a cut-out watermelon, but it had this kind of angel's face on the front. And it was just hilarious and sweet and beautiful all at the same time."
The center has an added incentive to make extra sales this year. A generous patron recently donated enough money to purchase a new gas kiln for the studio, but the center will have to build a roof structure for it.
If customers break the 400-bowl goal, the extra money could make the roof possible.
"Our gas kiln now is kind of like 'Petticoat Junction.' We're struggling to keep up with the amount of work that people produce," Morris says. "In the interest of efficiency and actually delivering better work to the students and being able to fire more quickly and more work at once, this new kiln will be crucial."