When Ande Parks was explaining the idea for "Capote in Kansas" to his publisher several years ago, he unwittingly made a suggestion that proved prophetic.
"I actually joked we could pitch it with Philip Seymour Hoffman because he was the only guy in Hollywood I could even think of as playing Truman Capote," Parks says.
Now the film version of "Capote" - which opens in Lawrence today - has earned five Oscar nominations, including best director, best picture and a best actor nod for Hoffman.
Hollywood may have beat Parks to the punch in terms of casting, but Parks released his version of the story first. His graphic novel "Capote in Kansas" (Oni Press, $11.95) - which traces the time the late author spent researching and writing "In Cold Blood" - came out in July, two months before Bennett Miller's movie "Capote" made its debut at the Telluride Film Festival.
"They cover almost exactly the same time period," says Parks, a Baldwin resident and former Kansas University student.
"But (the graphic novel) represents the victims much more than the film does. My story was of a triangle between Truman, his loyalty to a killer he may have fallen in love with and the victims as well. I represented those victims with - I hate to call her a ghost; let's call her a spirit - of (victim) Nancy Clutter."
Parks admits the timing of the rival movie project came as something of a shock.
"Obviously, it killed any possibility of our book being optioned," he says. "But it's been good for sales."
Special coverage: In Cold Blood Much more info on Truman Capote, his well known book, and the murder of the family the book was based on at ljworld.com/specials/incoldblood Hollywood bypasses Kansas on dual Capote projects An interview with the director Bennett Miller
"Capote" isn't the lone Hollywood effort to explore this corner of history. "Infamous" (formerly titled "Have You Heard?") is also scheduled for release in October, starring Toby Jones as Capote and Sandra Bullock as Harper Lee.
So why after all these years is there such a sudden interest in Truman Capote?
"I read one article that the Robert Blake trial might have some hand in it, oddly enough," he says. "That got people thinking about Robert Blake's career, which got people thinking about his great performance in 'In Cold Blood.'"
First 'Blood'
Parks (who attended KU from 1983-'86) first read Capote's masterpiece in junior high.
"At that point I had already been fascinated somewhat by seeing Truman on TV and in the movie 'Murder By Death,'" he recalls. "I was captivated by this odd little man with the strange voice who always had fascinating things to say."
When he began researching Capote's time in western Kansas for the book, Parks found the story instantly compelling.
"It was a big surprise to me that Harper Lee came with him to Kansas," he says. "You not only have a great writer setting aside six years of his life to come here, but he also was accompanied by a lady who would write the great American novel."
Surprisingly, Parks never visited the Garden City area during his research.
Photo Gallery
Capturing Capote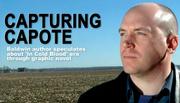 "It's because the (1967 film version of 'In Cold Blood') exists, which was shot on those locations at the time. I thought it would be pointlessly redundant to go see what they looked like 40 years later. The artist I worked with (Chris Samnee) had the film and could freeze-frame that DVD anywhere he wanted."
While Parks was suitably impressed with Hoffman's performance in "Capote" ("He's almost a lock for an Oscar," he says), there were elements of the picture he wasn't so moved by.
"I think we were more consistent to what degree we sensationalized or didn't sensationalize the material," he says. "I found it odd that the movie thought it was acceptable to sensationalize the violence - they show a close-up of Herb Clutter with his throat slit. On the other hand, there is no physical representation of Truman's sexuality. ... In my book, we deal with his sexual life with his partner and more directly with the sexual feelings he may have had with people in Kansas."
Lawrence-based comic book author Jai Nitz says, "I think 'Capote in Kansas' manages to capture the quiet moments of character and history that a two-hour movie can't afford to put in, and it's those little moments that make a story rewarding. Parks had the luxury of being able to tell his yarn without Hollywood studio concerns. Like any good comic book or sequential story, when it's done right, it's better than a movie or a novel because it's the best of both worlds. Parks does it right."
Good ink
Currently, the 41-year-old Parks makes his living as a comic book inker.
He's well-known in the industry for his partnership with Phil Hester on "Green Arrow" - a DC title initially written by movie director Kevin Smith. His first professional gig was with the Superman-oriented "Action Comics," but he has since written for the characters Wonder Woman, Daredevil and Spider-Man.
His foray into historical fiction came through his own 2003 graphic novel "Union Station," which dealt with the 1933 mobster massacre in Kansas City.
As with "Capote in Kansas," he collaborated with another artist to produce the work.
"I couldn't afford to lose the inking money I would lose if I took time to draw 'Capote' as well," he explains. "Plus, I'm not nearly as good as the guys I've worked with. Ande Parks the artist would not satisfy Ande Parks the writer."
Parks just returned this week from the Angouleme International Comics Festival in France, where he was invited to speak about "Capote in Kansas." But don't expect him to be leaving the Wheat State permanently anytime soon. Unlike Truman Capote, he's here to stay.
"Comics are better to a guy like me than one who lives in New York City, for example," he says. "You don't have cost-of-living raises based on where you live in comics."