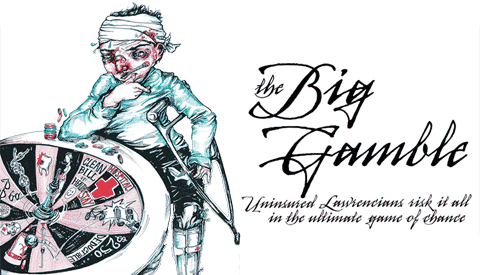 For the first 33 years of her life, Kendra Herring had health insurance. But she never really used it.
In May, when she finished graduate school, the newly self-employed Lawrence artist let it lapse - just months before she really could have used it.
On her way to a gallery opening in Iowa last month, Herring lost control of her car at 75 mph and rolled it down an embankment and into a concrete drainage ditch.
The accident broke her left wrist. Aaron Marable - her boyfriend and fellow Lawrence artist - was in the car, too, and suffered two cracked ribs.
"There was so much glass everywhere, and the car was so mangled - like an accordion," Herring said. "Looking at the car I can't believe we were inside it. A broken wrist is so minor compared to what could have happened. I feel like I can't complain."
But that was before Herring started getting bills from the hospital.
Once she saw the $1,000 tab for the ambulance ride and $4,800 for the ER - with more bills to come for X-rays, IVs, anesthesia and the arthroscopic surgeon - the impeccably serene Herring had trouble containing her frustration and anger.
"I'm feeling completely overwhelmed. I'm wishing I hadn't gone (to the emergency room) after all," she said.
Coming from Herring, that's quite a statement - as a left-handed artist, the accident threatened her career, and more.
"This (arm) is my identity in so many ways. This is odd to say, but my left arm is sort of priceless," she said.
At the scene, Marable decided to forgo treatment. "I just knew that I was OK enough to not afford the $1,000 ambulance ride and the X-ray bills and all of that stuff that may or may not show that there's something wrong. So I just rolled the dice," he said.
"It sounds silly because it's like, 'It's just money - what does it matter?' But sometimes it does."
Artful thinking
Every day, hundreds of Lawrence residents make choices about what to do with their injuries or potentially chronic ailments.
The fortunate ones will go to a provider stipulated by their health care plan and pay a nominal charge that might force them to shop at Aldi for a month or so. The less fortunate might lose their faith in the U.S. health care system amid a pile of astronomical deductibles and co-pays.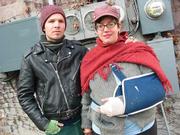 Then, of course, there's the truly screwed - the 12 percent of Douglas County residents who don't have health insurance. Herring and Marable, unfortunately, fit into that category.
Being an artist or any other self-employed or part-time employee often means health insurance is cost-prohibitive - particularly in Kansas.
"If you're hurt majorly," Marable says, "the little bit of insurance you have will cover your ass." Otherwise, he says, the benefits provided by relatively affordable plans aren't worth paying for.
Marable, however, has one advantage over many of Lawrence's 10,000-plus uninsured citizens: he's learned how to navigate the holes in the health care safety net.
A couple years ago, Marable tore a joint in his shoulder while playing kickball. Health Care Access, 1920 Moodie Rd., gave him free X-rays and a free doctor consultation.
When he went to Lawrence Memorial Hospital for subsequent visits, he informed the hospital of his low-income situation and negotiated a discounted rate.
When all was said and done, a $2,000 injury cost him less than $1,000.
Related story: Hard road ahead - Kirk Rundstrom confronts esophageal cancer
"I just pled my case, basically," Marable says. "Even if the health care system isn't everything it should be, there are ways to get a little bit of help."
This time around, help came from a source that Marable didn't even think of until a couple days after the wreck. After some advice from friends and a little bit of research, he discovered that he was entitled to $3,000 from his car insurance company.
"Don't be afraid to ask questions," Marable advises. "They're not going to tell you everything you need to know."
Holistic thinking
Lawrence resident Steve Guinn learned the ins and outs of America's health care system during two decades as a paramedic. Now working as a holistic practitioner with Harmony Wellness, 841 N.H. St., Guinn stays on top of the news by reading medical journals and attending alternative health-care conferences.
Past Event
Wednesday, February 15, 2006, 7 p.m.
Louise's Downtown, 1009 Mass., Lawrence
21+ / $5
"The health care system in this county is getting ready to collapse," says Guinn, 50. "Health care is no longer an artform - it's a business. You have certain segments of the population that they're not even interested in serving."
According to Guinn, uninsured U.S. citizens get a bum deal because they have to pay cash when they visit a doctor. Though insurance companies often negotiate lower rates in the weeks following an insured patient's visit, doctor's offices that receive federal funding must charge the "prevailing rate" in the region.
"For the person who has no insurance and is paying cash out-of-pocket, they're caught in a real vise," Guinn says. "I think our health care system is putting people in a real catch-22 of graduating from college and pursuing their dreams of being an artist and not having any of the benefits of health insurance versus getting a factory job."
Traditional health care conventions are being challenged by a growing number of "complementary health care practitioners" across the country who don't accept insurance and are thus allowed to bill on a sliding scale, Guinn says. Such doctors often spend much more time with patients and seek holistic solutions rather than prescription-based solutions.
"People who don't have health insurance have a great opportunity to take responsibility for their own health care," Guinn says. "I see an acupuncturist once a week and I've gotten rid of back pain. It's not something covered by insurance, and it's $60 a pop, but it's helped me become functional again."
In Guinn's opinion, the single biggest problem with America's health care system is its inefficiency. Within the next five years, he expects the crisis to reach a critical mass due to insurance companies becoming overwhelmed by an aging customer base. At that point, he hopes the federal government will work towards creating a single U.S. insurance program.
"People think that Medicare is inefficient, but its administrative cost is half of 1 percent," he says. "The biggest private health insurance company in the country has administrative costs of 75 percent, so only 25 percent of all the premium money is going to health care. The other 75 percent is going to stockholders."
Lawrence resources for uninsured health care
Health Care Access 1920 Moodie Rd. (just west of 19th and Haskell) Hours: M-F 8:30 a.m. - 4:30 p.m. Walk-in hours: M-F 8:30 a.m. - 10 a.m. Cost: $10 per visit (negotiable) More info: healthcareaccess.org
Heartland Medical Clinic 1 Riverfront Plaza Suite 100 Hours: M-F 9 a.m.-noon, 1:30-4:30 p.m. Walk-in hours: M-F 9 - 10 a.m. Cost: $28 (negotiable) More info: hcclawrence.com
"I know a doctor's office here in town that has six doctors and 80 people working in the insurance department," he adds. "It's not their fault - it's the way our country is set up."
Points of access
In Lawrence, two clinics cater to uninsured and low-income patients: Health Care Access and Heartland Medical Clinic, 1 Riverfront Plaza Suite 100.
These two institutions are the saving grace of a health care system that is better equipped to serve patients who have private health insurance, or at least deeper pockets. They can't solve all of its problems, but they can solve some of them.
"I was amazed that there are places out there like Health Care Access," says Tom King, who recently broke his wrist. King is an uninsured freelance writer (who contributes to this publication (via Street Level blog and Foodways blog).
"The fact that the X-rays were paid for - that was huge. That would have been at least $500 right there. And the doctor they sent me to was not some inexperienced doctor. He was a pro - a cutting-edge dude in sports medicine."
Uninsured adults like King only qualify for assistance from Health Care Access if they can prove that they make less than $17,704 a year. That number increases depending on the size of one's household (a family of four must earn less than $35,000).
"It's nice that it's there, but it's targeted at one segment of the population," King says. "What about the middle class? All it takes is one big accident and you're wiped out."
Those big accidents typically fall into the hands of Lawrence Memorial Hospital, which doled out $3.5 million in charity care in 2005. The hospital adjusts charges on a sliding scale for patients who make less than $19,140 (twice the federal poverty line). Patients who fall below the poverty line can often write off their entire bill.
"We do it all the time," says Janice Early-Weas, the hospital's director of community relations. "People have to contact us about these things. If your bill ends up going to collections, obviously you didn't seem to care too much about working with us."
Catastrophic charges can also be negotiated, Early-Weas says, and patients can apply for extended payment plans with no interest or finance fees. The hospital also has social workers who help disadvantaged patients apply for Medicaid.
Many expenses can be avoided simply by maintaining a close relationship with a local physician or walk-in clinic and avoiding the emergency room whenever possible, Early-Weas says.
"People come all the time for a variety of symptoms that really have no place in the ER," she says. "Particularly in Lawrence - because it has a large student population - people don't have relationships with physicians."
Shades of Blue
While Congress has been busy chopping the already meager health-care budget, at least one Kansas insurance company has made a goodwill gesture towards low-income residents.
Beginning March 1, Blue Cross and Blue Shield of Kansas will offer a "ValueBlue Plan" that avails the same benefits as its "AffordaBlue Plan" for half the cost. To qualify, individuals must make less than $19,140 annually and have been without health insurance for at least 12 months.
Kansas Insurance Commissioner Sandy Praeger says that ValueBlue represents a unique effort within the private sector to reach out to Kansas's 300,000-plus uninsured residents.
"Blue Cross isn't making any money on it," Praeger says. "If the private sector doesn't step up and try to help with solutions, they're probably fearful that there will be some sort of federal solution that they won't like as much."
Praeger says that Kansas excels at providing affordable health care for low-income children through the state's HealthWave program. Adults, on the other hand, must generally rely on the private sector.
"There just aren't a lot of options," Praeger says. "The Medicaid program is almost nonexistent for able-bodied working adults. If you make any money at all, you are not going to be eligible."
One piece of pending legislation that could benefit Lawrence workers is a state program that would make it easier for businesses to afford health insurance for their low-wage workers. Though the details aren't yet official, Praeger says that the program would subsidize 60 percent of the costs with the employer paying 30 percent and the employee paying 10 percent.
The program will have to partner with a major Kansas insurance company before it can get off the ground. Praeger says she is hopeful that will happen by June, when the state-appointed funding for the project disappears.
"If we don't get it in place we might lose those dollars, and I'd hate for that to happen," she says.
Praeger encourages consumers to diligent when shopping for health insurance plans - especially ones that promise low monthly premiums.
"Unfortunately what usually happens is somebody says, 'We can provide you with coverage at low cost' but you're very limited in terms of benefits," she says.
After the Wreck
A benefit show featuring eight local bands was scheduled by friends of Marable and Herring for Feb. 15 at Louise's Downtown.
Though Marable would hardly want his "success story" of evading hospital bills to serve as an example, he has come to one conclusion about how to deal with his health care system.
"You can't rely on national health care or the government to care for your needs, but you can rely on your community," he says. "I'd just much rather my government provide security for me rather than the security they're spending on defense."
- Phil Cauthon contributed to this story.