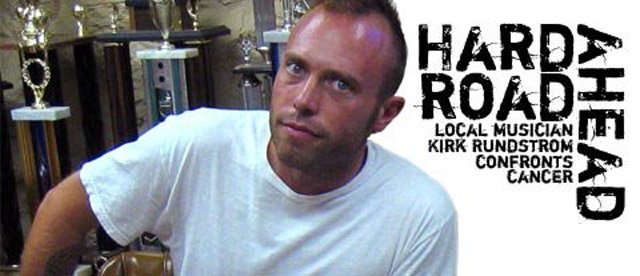 The more Kirk Rundstrom learns about America's health care system, the more he realizes he never understood it in the first place.
"It's very confusing to me," says Rundstrom, the guitarist and vocalist of Split Lip Rayfield, Kansas's widely popular punk-tinged bluegrass outfit. "If you go to McDonalds and order a cheeseburger, it's going to be 99 cents. You go to the hospital and it's going to be anywhere from free to $20,000 or more depending on what they feel like charging you."
Rundstrom, 37, learned that he has esophageal cancer during a recent tour stop in Colorado. He returned home to Wichita last week to begin aggressive treatment of the disease and is currently undergoing 24-hour-a-day chemotherapy.
While it's hard enough for Rundstrom to get out of bed with two IVs plugged into his heart and a dozen medications in his body, the difficulty of his situation is multiplied by the fact that he doesn't have health insurance.
"If you have insurance, you get in immediately and you pick the doctor you want to see," Rundstrom says. "It's a lot of work to get treated without insurance : We're filling out paperwork; we wrote letters to the nuns at the hospital. It's not like we're just sitting back idly having this fall into our hands."
So far, Rundstrom has received what he needs: an aggressive chemotherapy schedule designed to shrink the tumor in his esophagus so it can be removed with surgery.
Past Event
Friday, March 24, 2006, 5:30 p.m.
Bottleneck, 737 New Hampshire, Lawrence
All ages / $5
"The beautiful thing is that no one has said 'no,'" Rundstrom says. "Doctors and people working on the cancer floor (of the hospital) are a beautiful breed of people. I've never had so much compassion and care."
Still, the bills are mounting.
Last week's treatment was billed to Rundstrom's home for the amount of $1,400. This week, he was fortunate enough to receive free treatments from a charitable foundation that collects unused medications from deceased cancer patients.
The surgery that Rundstrom needs, however, is likely going to be highly specialized and expensive - it could involve operating on his breast plate. Rundstrom has located four qualified surgeons but none have been able to quote him a price.
"You're never able to go, 'Well, what's this going to cost?'" says Rundstrom, who estimates that the surgery will cost more than $100,000. "The price will happen after it's all said and done and the magic price people decide what the prices are."
Potentially catastrophic financial situations are all-too-familiar to Rundstrom, who lost his mother to cancer and has an extensive family history with the disease. Though Rundstrom's mother had three cancer-related insurance policies and a Blue Cross and Blue Shield policy through her employer, she still accumulated a huge debt with treatments that cost as much as $20,000 a week.
Donations for Rundstrom's medical fund are being accepted at splitliprayfield.com. Forthcoming benefit show info will also be posted there and on lawrence.com when available.
"It was frustrating to go through," Rundstrom says. "She was trying to do her part as an American citizen and when it was all said and done her entire estate was sold to pay off her cancer debt."
That experience soured Rundstrom on the value of health insurance, a commodity that he already held in low esteem after doctors performed a C-section to deliver his first child.
"When it was all said and done, the insurance didn't cover anything," says Rundstrom, who now relies on Kansas's HealthWave program to insure his two children. "We ended up paying off that childbirth for 10 years."
Rundstrom is hoping to raise enough money through savings and charity to make a down payment on his surgery. A number of benefit shows are in the works and donations are being accepted at splitliprayfield.com.
"When the tumor shrinks I'm only going to have a small window of opportunity to get this done," he says. "With no insurance, we've got to come up with a pretty big chunk of change just to get a doctor interested."