To travel to Bhutan is to venture not only into another culture, but also into a different time.
By the time I stepped off of the obsolete twin-engine aircraft onto the short, high-altitude airstrip, I'd been traveling for several days. Journeys into this Himalayan kingdom the size of Switzerland are restricted. The royal government limits outside access into the country to minimize external contamination of the traditional Buddhist culture in this Land of the Thunder Dragon.
There is a major government initiative in Bhutan to keep the traditional arts alive in a culture that is beginning to enter the 21st century. I was there to observe how this occurs on a media-saturated world.
As an associate professor of mass media at Baker University, I was conducting field research on the emergence of national cinemas in the Himalayan kingdoms of Bhutan, Nepal and Tibet. The long journey was to supplement my course on non-Western cinema, and the interviews I conducted and documentary footage I was able to film have proven to be quite valuable, giving me the opportunity to present my findings in Washington, D.C., and, later this year, in Tunisia. As useful as I have found the knowledge I have gained, the true benefits of the journey have been much more.
Photo Gallery
People of the Himalayas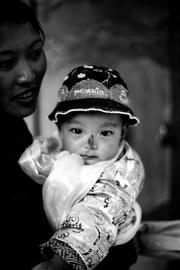 I was fortunate to take blessings in chapels deep within the cloisters of ancient monasteries, meditate to the throbbing hum of countless monks in prayer, witness a funeral on the banks of a sacred river. I was able to penetrate deep within the bowels of massive fortresses, scale dramatic heights and walk among varied peoples of differing faiths and circumstances. I walked among people living their lives under military occupation, a benevolent theocracy and a failing government in the grip of a bloody insurrection.
Everywhere I was surrounded by children. In Bhutan I was able to give young monks their first glimpse of themselves on videotape. I attended classes of deaf schoolchildren in Kathmandu, sharing with them badly needed school supplies and drawings from Baldwin first-graders. In rural Nepal, I chatted with Indian pilgrims as we rowed across a frigid alpine lake in a leaky boat to visit a Hindu shrine.
These and many other encounters changed the way I view the world and my notions of myself. I hope my photographs help others see the people of the Himalayas as I have seen them.
On view
What: "Ghost Trees of Bhutan," photos from Baker University professor Mark Kirk's trip to Bhutan, Nepal and Tibet When: Through March 4 Where: Unity Gallery, 900 Madeline Lane Hours: 10 a.m.-4 p.m. Monday-Friday Info: 841-1447 ¢ Gallery sales will help raise funds to support orphanages in Nepal. Kirk will give a presentation at 7 p.m. Feb. 19 at the gallery.