Andrew Meyers likes to help his community. Mostly, though, he likes it when it helps him.
"You get a lot of attention if you're a volunteer here. You feel loved," says Meyers, a volunteer at Ballard Community Center, 708 Elm St. in North Lawrence.
Meyers and his friend Leah Feldman visit the Ballard Center once a week to play with the toddlers and help out with the center's social services. Both KU sophomores say they like the center's fun, laid-back atmosphere.
"We went to this other place and the head lady was kind of cranky," Meyers says. "This is pretty much like being a big sibling. You just play around for a couple hours and be little again."
Meyers and Feldman assist with classroom activities like arts and crafts, singing and dancing. Their favorite activity is building stuff in the sandbox and letting the kids destroy it.
"They have big imaginations," Feldman says. "When you're two, what else are you going to do all day?"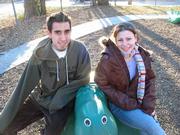 The dynamic duo also assists with ongoing projects such as the food pantry, clothing pantry, school supplies store, rent and utility assistance and the Holiday Bureau.
"It's nice to volunteer with someone because you have somebody to talk to and understand things," Feldman says. "It's fun anyways, but it's extra fun."
An added bonus of volunteering at the Ballard Center is getting away from the university atmosphere and into one of Lawrence's oldest neighborhoods, Feldman says.
"It's humble : it's real culture," she says. "When you volunteer, that's what you're going to get."
If you're extra lucky, you might even make a new friend.
Persons interested in volunteering for the Ballard Center should contact Paul Hunt or Michelle Scott at 842-0729. More Lawrence volunteer opportunities available at lawrence.com/volunteer or at rhvc.org.
"The kids don't remember my name but they remember little things about me," Feldman says. "They know I have a belly-button ring and they ask to see it every time."
Ballard Center Director of Resources Paul Hunt says he is currently seeking language translators as well as everyday volunteers.
"One of the reasons that a lot of non-English speakers don't come to these centers is that they know that the language barrier is going to get in the way and they have trouble getting services," he says.
"I like to find out what folks do best and stick them with a job they'll enjoy."