Tuesday, February 7, 2006
Gangsters and hip-hop. Guns and hip-hop. Killings and hip-hop.
Those in the Lawrence hip-hop scene - from performers to promoters - have been conscious of the public perception of their musical genre.
"Should people be worried about hip-hop shows bringing more violence to the downtown area? Not at all," said Lawrence-based promoter Edwin Morales, in response to the Sunday morning shootings outside the Granada.
"I've worked at (various venues) and have witnessed a lot more violence at other shows than at hip-hop shows."
Morales was packing up from performing with local musician Archetype across the street at the Jackpot Saloon, when the shootings occurred. He said he didn't believe the shootings were related to the concert.
"People come from Topeka and Kansas City to Lawrence all the time. They come out here to have beers," he said.
Peaceful show
About 10 hip-hop artists from Kansas, Missouri and Colorado performed at the Granada on Saturday night during an Upset Records showcase.
"It's kind of blowing our mind here because the show was so peaceful," said Bridget O'Brien, publicist for the Colorado-based label. "But some people will take that opportunity and use it for violence."
O'Brien said Upset artists Doe and Ray Ray weren't in the vicinity when gunshots erupted just after 2 a.m. Sunday. She said she believed at least one of the victims attended the show. She said it's the first time a violent incident had occurred during an Upset Records tour.
"Even at this show, we didn't have any problems within the venue," she said. "Inside I know there was one little tiff between a guy and his girlfriend, and that was about the extent of it. After every show we go up and talk to the manager and make sure it was fine. Just in case we want to book that venue again, we want to make sure that they're happy with us. They said everything was perfect."
Though Upset Records' logo shows a scowling rapper wielding a baseball bat, O'Brien said her artists don't cater to the thug lifestyle.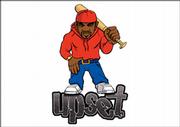 "Everything at Upset Records is about partying and good times and girls," she said. "We don't classify any of our shows or lyrics as gangster rap."
She did admit, however, that occasional lyrical elements aren't so jovial.
"Because some of our artists have been through hard times, they vent on some songs," she said.
While Lawrence is primarily known for its rock and acoustic music acts, the city has developed a crop of nationally recognized hip-hop artists over the last decade.
"It's a young scene. It's very hungry. The scene here is one that helps each other a lot to get regional and national recognition," Morales said. "There are kids here that have more opportunity than they do in Topeka and Kansas City. They go to school. They were raised in different environments. They have a different perspective."
Fighting the stigma
Local musician and longtime promoter Jesse Jackson agreed that Lawrence enjoys a diverse hip-hop community, especially for a city its size.
When promoting local hip-hop shows, Jackson said he often hires extra security, primarily to appease club owners who assume the music attracts trouble.
"That's a stigma I've been fighting from day one: how the power brokers in the community are viewing hip-hop culture," he said. "But the most obvious thing about hip-hop culture is that the predominant people buying the product are white, suburban youth."
Jackson said the music shouldn't be blamed.
"If you have a metal show, a rock show, any show, you're going to have some knuckleheads in the audience and they're going to get kicked out," he said. "It's the same thing at hip-hop shows."
More like this story on Lawrence.com