Thursday, February 9, 2006
It's 1 p.m. at Unity Temple on the Plaza, and baritone David Lara takes his place onstage.
He's been backstage warming up - and calming down - since this morning.
The Kansas University graduate student from Buhler has auditioned before, of course, but this time is different. Judges representing the Holy Grail of opera houses - the Met in New York - are perched in the balcony, waiting for Lara to make even the tiniest of vocal missteps.
But mistakes aren't in Lara's cards today.
He sails through his first aria from "The Marriage of Figaro." The judges want more. They ask for a particularly challenging section of "Avant de quitter" from "Faust." Lara grants their request.
Then, a bit of good fortune: Not only do the judges want a third song, but from the pieces remaining on Lara's list, they choose Ford's aria from "Falstaff" - a piece he has spent weeks perfecting for his role in KU Opera's production of the show.
Feeling confident, he belts it out.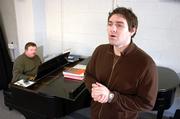 "In the show, I'm knocking over tables and beating pillows," Lara says. "It's an aria where he thinks he's been cheated on by his wife, and he's just going crazy. I had to tone down my physical expression for the recital setting.
"The crowd's reaction to the first two pieces I did was good - it wasn't great - but when I finished the third one, their reaction was the best out of the three."
It would be three hours before the judges would announce their decision. When they did, Lara wasn't disappointed. The vocal performance major became one of four contestants out of 24 to advance from the district competition on Jan. 21 in Kansas City to the regional auditions in Tulsa, Okla. He'll compete there Saturday against about 10 singers from Kansas City, St. Louis and Tulsa.
The next step is semi-finals in New York. Winners there advance to the national finals and compete for a $15,000 prize.
Even the top award, however, does not guarantee the winner a spot on the Metropolitan Opera stage.
"They really reserve their right to take you under their wing or not," says Lara, 26. "But regardless, you get the money, you get the prestige, you can put this on your resume. It's a huge deal to win the whole thing. Most singers do it for that alone.
The winners
The following district finalists from Kansas City will sing Saturday in Tulsa, Okla., in an audition competition for New York's Metropolitan Opera House: ¢ Kara Lynn Douglas, a lyric soprano from Olathe ¢ Brandi Icard, a soprano from Spartanburg, S.C. ¢ David Lara, a baritone from Lawrence ¢ Donata Cucinotta, a soprano from New York
"And then if the company decides we'd like to see this guy in a year or two, they might actually take you in and help you achieve your goal. So that would just be the icing on the cake."
Mark Ferrell, music director of KU Opera, accompanied Lara and other KU contestants on piano during the district auditions, which have taken place in Kansas City for 50 years.
He knew right away that Lara was nailing his audition.
"You can tell," Ferrell says. "I had a pretty good feeling that he was hitting on all cylinders."
Everyone in the department is excited for Lara, he adds, but this is just the first step. To Ferrell's knowledge, no one from KU ever has advanced beyond regionals. What's important to realize, he says, is that the judge's decisions are very subjective.
"There are no rules or ideals or regulations that come from the Met National Council," Ferrell says. "I try to encourage singers who are competing in a contest like this to remember that it's one person's opinion and ... the next person judging them might love their presentation.
"One man's piercing high note is another man's thrilling high note."
Lara enters Saturday's audition with optimism. He's decided to move Ford's aria from "Faust" to the top of his song list so the judges are guaranteed to hear what he considers his best work.
Whether or not he snags the $15,000 prize and the fame that comes with it, Lara already has secured gigs for the next two and a half years. During fall auditions in New York, he earned a summer spot in San Francisco's Merola Opera Program, followed by a two-year stint in Seattle Opera's Young Artists Program.
But the Met would be nice.
"It is certainly a great place to dream about, but I would certainly be happy at several other companies," Lara says. "So if I make it to the Met, then I will feel truly accomplished. And if not, I'll still have great experiences at a lot of other really good companies."
More like this story on Lawrence.com