Thursday, February 9, 2006
Baldwin — Carolyn Lambert loves the sound of a string quartet in the Collins House reception hall.
She and her husband, Baker University President Dan Lambert, helped design the hall - a 1992 addition to the official president's residence - with the arts in mind, adorning its walls with art and constructing a stage at one end.
"The acoustics in this room," Carolyn Lambert says, "are just perfect."
The Lamberts' commitment to the arts will be the focus of this year's Chocolate Auction, an annual benefit for the Baldwin Community Arts Council. It's a last tribute from the arts community before the couple move out of the Collins House this summer, when Dan Lambert retires.
The 18th annual auction, which runs from 2 p.m. to 4 p.m. Sunday, will be at the commons area of Baldwin High School. Organizers expect more than 100 items - both art and chocolate goodies - to be donated for silent and live auctions.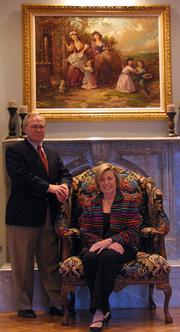 The event raised around $8,000 last year for scholarships and school programs.
Ande Parks, auction chairman, says it makes sense to honor the Lamberts.
"We had people who have been here quite a long time and dedicated themselves not only to education, but to make sure Baker is involved with the artistic culture in Baldwin," Parks says.
'Extensive program'
Those who work with the Lamberts say they have been committed to promoting the arts on several levels during their 19 years in Baldwin.
Afternoon delight
What: 18th annual Chocolate Auction, featuring silent and live auctions of art and chocolate foods When: 2 p.m.-4 p.m. Sunday Where: Commons area of Baldwin High School, 415 N. Eisenhower Admission: $1 Money raised goes to scholarships and school programs organized by the Baldwin Community Arts Council.
Susan Buehler, assistant professor of music, says the Lamberts have provided administrative support to fine arts departments. They also have opened up the Collins House to arts events, including faculty recitals.
"We hate to see the Lamberts go," she says. "It's been a real joy for us to work with them, as far as the music department is concerned."
Walt Bailey, professor of art, says Baker made strides toward creating a sense of place during Dan Lambert's tenure. The addition of outdoor sculpture and the Osborne Chapel helped with the overall aesthetic appearance of campus.
Bailey also cites the creation of Art Affair, a student-run art gallery in downtown Baldwin, as an improvement, in addition to the remodeling of Parmenter Hall, which houses the art department.
The next Baker president will need to help decide whether to create a museum to exhibit Baker's growing art collection and how to deal with art classes that are bursting at the seams, Bailey says.
"We have a very extensive program," Bailey says. "We have students involved in the arts in a number of different ways. We're teaching students from across campus, not just art students. One wants to make sure this is a part of life and not some frill that ends up being a dispensable item."
Arts encouragement
The Lamberts deflect the praise to the university's faculty and students.
"Our role, more than anything, has been to encourage an emphasis on the arts and on culture," Dan Lambert says. "I think that's been our role and responsibility. Others have made it happen, by and large. People in the art department and music department are very careful to make sure every student who comes to campus has opportunities to be engaged."
The Lamberts personally have purchased several pieces of art that decorate the Collins House through the years. They plan to donate the art to the university when they leave.
"We're not the main attraction with this auction or with the art community," Dan Lambert says. "We support it because we believe in it, but lots of people do that."
More like this story on Lawrence.com