Friday, February 10, 2006
For Turtle Island String Quartet, the road to the Grammys kicked off in Lawrence.
It was here four years ago that the experimental group was commissioned by the Lied Center to collaborate with the more traditional Ying Quartet on a live performance uniting jazz and classical musicians.
"I have a real strong memory of staying at the (Lawrence Holidome)," says Turtle Island cellist Mark Summer. "I believe the first rehearsal we had there with the Ying Quartet was in a bar that was closed. We were struggling to have enough light to read our music."
Fortunately, the musical interplay proved illuminating. The members of each quartet - most of whom had not met each other previously - seemed to hit it off well.
"What we found right away is that we had so much more in common than we had imagined," Summer says. "It was kind of a string quartet love fest right from the beginning."
The offspring of that musical one-nighter ended up being the record "4 + Four," which was nominated for a Grammy in the new Best Classical Crossover Album category. It represented Turtle Island's first Grammy nod.
"We rented a 10-passenger limo for us and the Ying Quartet to go to the ceremony," Summer says, speaking from a tour stop in Laramie, Wyo., the Friday before the Grammys. "That's a pretty good way of capping off 20 years doing this."
Summer also was nominated in the same Grammy category as a member of The Jazz Chamber Trio and its collaboration with Paquito D'Rivera.
"I figure I have a really good chance this year of bringing home something," he says.
True enough. "4 + Four" was announced as the winner at Wednesday's Grammys.
'A Love Supreme'
When Turtle Island performs tonight at the Lied Center, it will be indulging in a completely different kind of collaboration. The group will present "A Love Supreme," a concert that pays tribute to jazz legend John Coltrane.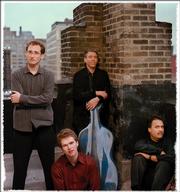 "It's a pretty big undertaking," Summer says. "It's a four-movement piece, and it's music considered sacred by a lot of jazz musicians. There are a lot of people who wouldn't even feel comfortable performing this music, so why are we doing it? David (Balakrishnan, violin) had a real strong vision of what he wanted to do with the piece."
The cellist admits he is no Coltrane expert. ("My own son will laugh at me because he's a tenor player. I'll say, 'Who is that?' And he goes, 'Dad, it's Coltrane, of course.'") But he believes the saxophonist - who died of liver cancer in 1967 - was a formidable talent.
"He had his own vision about what to do on the instrument," he says. "And after being an addict he got clean and dedicated his life to God, so his music has a real depth."
Although Summer is uneasy comparing his own skills or career to Coltrane, he does assert they share certain ideals.
"That desire to have your music mean something more than to get your audience to wiggle its hips, that certainly resonates with everybody in the quartet," he says.
'Art of the Groove'
Clips of audio interview with Mark Summer:
While in town the Bay Area foursome also will perform a program titled "Art of the Groove" at Central Junior High School. (The 1 p.m. Monday show is a school-only event and not open to the public.)
"It's designed to be presented to all-age groups," he explains. "It talks about basic differences between the rhythm of classical music and the rhythms of jazz, rock and roll, blues and more popular forms."
Summer, who's been with Turtle Island since its inception 20 years ago, believes his ensemble is much more potent in a live setting.
"With this group it's very helpful to see us play," he says. "People listen to our recordings and enjoy them, but it's very helpful to see us pass around the traditional roles of the jazz band. Like someone is doing rhythmic techniques that take the sounds of drums or piano or guitar. We're all passing these roles around quite freely - unlike the traditional jazz band where the drummer is always going to be the drummer."
Past Event
Friday, February 10, 2006, 7:30 p.m.
Lied Center, 1600 Stewart Drive, KU campus, Lawrence
All ages / $11.50 - $28
Turtle Island is renowned for being able to interpret jazz standouts such as "A Night in Tunisia," "Stolen Moments" and "Milestones." But it's also dabbled in poppier ventures such as selections from "West Side Story" and Beatles tunes such as "Because."
"It's a real challenge without words to make pop music work really well," he says. "But usually when it's music that we have a strong affinity for, there's a way to make it work in a string quartet form. ... I think our big thing is we can take these acoustic instruments and do just about anything with them."
More like this story on Lawrence.com