Sunday, February 12, 2006
Nearly every fairy tale begins with the line "Once upon a time" and wraps up neatly with this proclamation: "And they lived happily ever after."
That's not always how it works in real life, notes Lawrence storyteller Priscilla Howe. With that in mind, Howe plans to tell a slate of love stories on Valentine's Day - some that end swimmingly and others that sort of sputter and drown.
They're stories for grown-ups.
"Part of my intent in doing this is to provide some entertainment for a sort of alternate date night, but also for people who don't have dates," Howe says. "It's just fun to go and listen to stories and to move into another world for a short amount of time.
"It's what we do with movies, but with stories we get to see all the details in our own heads. It's not given to us, and that makes it satisfying in its own way."
On the bill are a couple of medieval tales - "Sir Gawain and the Loathly Lady" and "Aucassin and Nicolette" - as well as a contemporary story by Cynthia Rylant called "Checkouts."
"It's a great little story about a teenage crush," Howe says. "It just expresses that feeling of an unrequited teen crush very well."
Howe, who is known internationally for her storytelling performances at schools, libraries and festivals, also will recount a few stories of her own. One is about some blind dates gone wrong.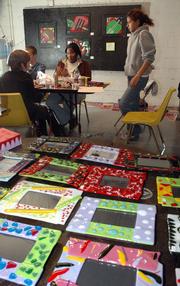 The event, intended for adults and children over 9, starts at 7:30 p.m. Tuesday at the Lawrence Visitor Information Center, 402 N. Second St. There is no fixed admission price, but "love offerings" will be accepted. Call 832-1294 for more information.
"Stories are just a great way to pass the time in the winter and come together and be in the community," Howe says. "When people listen to stories together, they have a shared history with that story."
'Have a Heart'
Speaking of stories, Valentine's Day is not the time to tell your significant other the one about how you had every intention of getting them a special gift but just ran out of time.
No excuses this year.
The kids at Van Go Mobile Arts, 715 N.J., have been working for weeks to crank out one-of-a-kind, handmade gifts especially for the holiday. Candlesticks, jewelry, soap, decorated boxes, mosaic furniture and greeting cards are among the items being offered at the fourth annual "Have a Heart" art exhibit.
The show opened Friday, but the gallery remains open from 1 p.m. to 5 p.m. through Tuesday to accommodate last-minute shoppers. Local artists Grace Carmody, Angela Schultz and Van Go art director Cathy Ledeker mentored the 14- to 21-year-old apprentice artists who created the work.
"What's so exciting is this isn't a production line," says Lynne Green, executive director of Van Go. "This is hand-crafted and custom-made by young people in the community. And it's a wonderful way not just to buy a gift, but a way to support young people in our community who are really attempting to better their lives."
'Songs of Love'
Attending an evening of song and intimate dining on Valentine's Day will help support another Lawrence arts organization.
The Lawrence Community Theatre has gathered a selection of its best singers to perform "Songs of Love and Laughter," a cabaret show accompanied by dinner prepared by the folks at Maceli's, 1031 N.H.
In previous years, the theater has partnered with the Lawrence Rotary Club to produce a large-scale dinner and music show at the Lied Center.
"This year we decided we would try a little more intimate venue," says Mary Doveton, the theater's artistic director. "What we discovered in that program was that most people who wanted to go out that night wanted to be able to have dinner and entertainment in the same place.
"We had this wonderful opportunity to couple Maceli's great food and lovely atmosphere with some of our finest singers."
Performers will include Annette Cook, Sarah Young, Franci Talamantez, Fran Hopkins, John Phythyon, Rick Bixler, Todd Burd and Alfred Lata.
The program includes everything from "Stupid Cupid" to "My Funny Valentine."
"Al Lata is doing a wonderful number from 'Guys and Dolls' that he did called 'More I Cannot Wish For You,'" Doveton says. "Annette is doing a couple of Patsy Cline songs, and Sarah Young and Al are going to do a couple of duets."
Limited tickets ($50 per person) remain for the event, which begins with a cash bar at 6:30 p.m. Tuesday, followed by dinner at 7 p.m. and a cabaret after the meal. Doveton recommends calling the theater at 843-7469 first thing Monday to reserve a spot. For a look at the menu, visit http://community.lawrence.com/CommunityTheatre/.
More like this story on Lawrence.com