Sunday, February 12, 2006
The bright purple toys are multi-talented.
They can lounge around. They can sit up. They can tip their hats.
Some Kansas University students are hoping the toys can brighten Mardi Gras for children displaced from New Orleans by Hurricane Katrina.
"It's love and support from our community to theirs," says Sarah Heath, a Kansas University senior who helped make the toys. "Not only did these people have their homes and lives destroyed, but they had their holidays taken away."
Ministry of Sculpture, a KU student group, this week will ship 60 hand-crafted wooden toys to former New Orleans residents now living in Houston.
They will be distributed to children ages 3 through 8 who are seeking assistance through the Society of St. Vincent de Paul, a social service agency in Houston.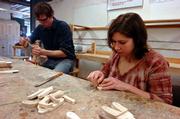 Heath, who is president of Ministry of Sculpture, says group members were looking for something to do for hurricane victims without having to raise money.
"We all felt awful," Heath says. "We wanted to do something. The whole concept of it is instead of donating money, we're using the facilities and skills we have."
The result was the toys, to be delivered in time to celebrate Mardi Gras, which is Feb. 28.
Matt Burke, assistant professor of sculpture and adviser to Ministry of Sculpture, designed the wooden toys to be similar to dolls sold around Fat Tuesday, with hats and pointed feet to mimic special shoes.
Over the course of three weekends this winter, six to eight KU students cut the dolls out using band saws, sanded them with machines and by hand and, using beet juice, stained them purple - a traditional Mardi Gras color.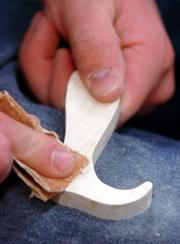 They then connected the pieces together using copper tubing, creating a 1-foot-tall toy with a removable hat and movable joints that allow it to contort to a variety of positions.
Burke says the project has taught students that art can have practical applications. In this case, he says, it's providing healing.
"We want the realm of art to be more out in people's lives," he says. "This is a real service-learning experience."
Community support
Though the toy project started with the sculpture students, it expanded to school children and businesses.
The wood - kiln-dried elm, walnut and oak from Missouri and Oklahoma - was donated by KC Hardwood in Kansas City, Kan. Hy-Vee donated the beet juice for staining.
Children involved in after-school programs at Lawrence elementary schools decorated the boxes in which the toys will be shipped.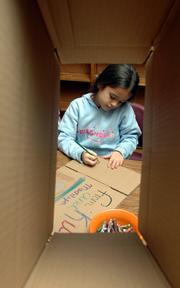 Meshayla Garcia, one of those children, says she hopes the boys and girls in Houston like to play with the toys.
"They'll be surprised," she says. "Maybe they have different kinds of clothing to put on them."
She says her classmates have talked about what happened with Hurricane Katrina.
"It's sad because people died and they have no homes," she says. "They don't have houses to live in."
Andy Hadle, a KU senior from Riley, says the toys aren't meant to make up for the hurricane's devastation. But maybe, he says, it can help a little.
"It means somebody's thinking about them - everybody is, I suppose," Hadle says. "It feels good, helping out."
More like this story on Lawrence.com