Monday, February 13, 2006
Think condoms are expensive? Consider the alternatives.
"They're less expensive than HIV or a baby in the grand scheme of things," says Lizz Stephens, a volunteer for Douglas County AIDS Project. "Living with HIV and AIDS, even though it's 2006, is still not easy. Drugs are very expensive."
Thanks to volunteers like Stephens, condoms are free for those in need. DCAP teams frequent local nightlife spots to pass out handfuls of prophylactics and refill stationary baskets.
"We try to make it as accessible as possible for anyone and everyone," says Stephens, 23.
"Some people are more receptive to it than others but at least it's out there."
While such preventative campaigns account for DCAP's public personality, the organization also offers free HIV testing and works directly with HIV/AIDS patients to provide advocacy, support groups, financial assistance and referrals.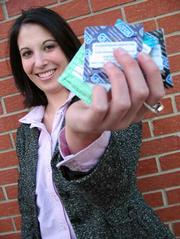 DCAP volunteers don't work directly with clients, but they play a major role in ensuring they receive the best possible care.
"They're a not-for-profit so there's not a big budget and there's not a big staff," Stephens explains. "If I can come in and I can put some labels on some newsletters, I'm freeing up the limited resources of the agency to do what the agency is meant to do."
Currently, Stephens is soliciting donations for DCAP's annual Mardi Gras fundraiser. The event takes place Feb. 25 at Abe and Jake's and features local piano songstress Kelley Hunt.
"That's really the fun stuff - the downtown events where you get to talk to people and the parties and the art auctions," Stephens says. "That's the glamorous part of volunteering, as opposed to the labeling."
That's not to say that Stephens minds the busy work. The Lawrence native recently graduated from Northwestern and returned home to take a "year off" (which somehow involves a full-time paraeducator position at Lawrence High School).
"This isn't busy at all compared to what going to school was like," Stephens says. "For me, it's really about matching my interests and my passions with an organization that is doing the same thing. Big picture - I feel very fulfilled by this."