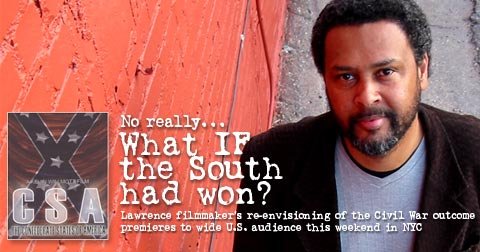 Wednesday, February 15, 2006
After nearly 14 years in the making, Lawrence director Kevin Willmott's "C.S.A. - The Confederate States of America" is set for its official U.S. premiere this weekend in New York City.
Willmott's film - which re-envisions post-Civil War America, from the South's "victory" at Gettysburg all the way to bizarre manifestations of modern-day slavery - was picked up at Sundance two years ago by Spike Lee, who has since shepherded the film to a proper release. Well, as close to proper as Willmott could have expected anyway...
The film has proven to be fairly controversial and unsettling enough to some viewers that walk-outs have not been uncommon at screenings. In this conversation with Journal-World film critic Jon Niccum, Willmott talks about his film, its long-anticipated reception by a wide audience, as well as the Lawrence filmmaker community that made it all possible.
"C.S.A." premieres in Kansas City on Feb. 24 and in Lawrence on Mar. 10.

› Get the podcast
› Listen to the mp3 of the interview
› Official website
› View trailer

More like this story on Lawrence.com