Thursday, February 16, 2006
It's no secret that centuries of sailors have relied on the steady North Star to guide them through troubled waters.
Slaves, too, set their sights on the star during harried flights from their owners.
But nautical lore didn't inform their journeys. The wisdom and code of slave songs did. And secrecy played a part.
"Slaves back in the time called (the North Star in the Big Dipper) the drinking gourd so that white folks wouldn't know what they were talking about," says Lawrence author Napoleon Crews.
They transmitted the secret in songs like "Follow the Drinking Gourd," a tune that inspired a new play that Crews wrote for St. Luke AME Church. In honor of Black History Month, a cast of church members, community residents and local celebrities will stage "Keep Your Eye on the Drinkin' Gourd" on Friday and Saturday at the church, 900 N.Y. A dinner of Cornish game hen, wild rice and trimmings will precede the performance.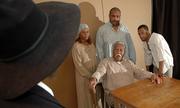 The script follows a young slave girl named Cora (Aishah Holm), who decides to run from a Missouri plantation after her financially strapped master sells her, reneging on a promise to let her marry. Just when she thinks she's utterly lost, another escapee points out a glow on the horizon: It's Lawrence, Kansas - a sure sign of freedom.
But Cora's new owner, Sheriff Sam Jones (played by Douglas County Sheriff Ken McGovern), is in hot pursuit and has captured her would-be husband, Jimboy (Kato Crews), who fled to follow his heart. Soon, Jones parades into Lawrence with his catch, eager to find his property, and a heated stand-off between the sheriff and abolitionist Col. Shalor Eldridge (Dale Kovar, of KLWN radio) ensues.
"The history that comes out in the play is not just black history, but it's Lawrence and area history," Crews says. "So a person could come and find out, in some of the later scenes, about the slave state-free state conflict."
Getting into character
Although Cora's story is fictional, the scenario easily could have played out during the Bleeding Kansas era, when pro-slavery Missouri ruffians and Lawrence abolitionists clashed routinely and Underground Railroad stops in Lawrence shuttled slaves north to safety. Sheriff Jones, although based in Missouri, attempted to lord over Lawrence for a time after being elected Douglas County sheriff in a ballot-stuffing caper. He and his cohorts torched the Free State Hotel during the 1856 Sack of Lawrence. And Col. Eldridge, who owned the hotel, rebuilt it a year later as the Eldridge House.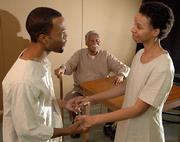 Another piece of history comes through in the play's slave songs, such as the well-known opening number, "Wade in the Water," which provides literal escape instructions. But the enslaved sang for other reasons, too.
"It was obviously part of a great expression of feeling in that time, whether it was sorrow or happiness. The music meant a lot," says Aishah Holm, who plays Cora. "It was much more than just words or melodies. I think the play does a really good job of playing up the important part of what music really meant in the slave community."
She admits it's been emotionally challenging to get into the role.
"I'm actually very rebellious to the idea of being in this position and living that kind of life," she says. "You have to bring out these emotions you don't normally experience - fear, intimidation. I'm finding it very difficult to get in that role of subservience, knowing your place."
Living history
For church member Leonard Monroe, preparing for the show has been fun, if not a bit foreign.
"None of us are really actors, but we're giving it all we've got," says Monroe, who plays Cora's father, Pompy. He says Crews, who also attends St. Luke, wrote the role with him in mind.
Dinner play
What: "Keep Your Eye on the Drinkin' Gourd," a historical drama by Lawrence writer Napoleon Crews When: 7 p.m. Friday and Saturday Where: St. Luke AME Church, 900 N.Y. Tickets: $25 for dinner and play; $15 for play alone (in advance only) Ticket info: 856-1118, stluke@sunflower.com
"My description more or less fits the role of Pompy: old and crippled," he says, laughing.
At 74, the Lawrence native knows his share of the area's black history. That's made rehearsals fun for Doug Weaver, a lecturer in Kansas University's theater and film department and director of "Drinkin' Gourd."
"None of them are professional actors; they do this because they have a love for either the story or their church and to try to help their church, or about the history and really want to bring that to the foreground," he says. "This group of people is a living history of Lawrence."
Continuing tradition
When he was writing "Keep Your Eye on the Drinkin' Gourd," Crews had no idea it followed a long dramatic tradition at St. Luke. He learned from Dorothy Pennington, who teaches black history at KU, that the church was known for staging dramatic plays in the early 20th century. An Aug. 21, 1920, story in the Journal-World carried coverage of the church's performance of "African Queen."
"With all of this information, I felt like - and Pastor (Verdell Taylor) felt like - hey, we are following a tradition. We're reviving tradition, kind of like we're trying to restore the church," Crews says. "We're restoring the building, but we're also restoring some of these old things."
Depending on the success of "Drinkin' Gourd," the church hopes to continue producing dinner plays on a regular basis. Funds raised will go toward efforts to restore the nearly 100-year old building, where Harlem Renaissance poet Langston Hughes attended church as a boy.
"At a time when history is so important to everyone - whether it's black history, white history or any kind of history - if you can kind of get a feel for it, I think it takes in everyone," Crews says. "That's what we want to do."