Friday, February 17, 2006
When Jane Elliott has children, she plans to name one of her girls "Amelia."
That's how attached she's become to playing the title role in "Amelia Earhart: First Lady of Flight."
"She was a woman who came from an indistinguished background," says Elliott, 23. "It's not rags-to-riches, exactly, but that story appeals to people. She's a woman who came from a small town and became so famous. Everything she did showed courage and strength. It's something you didn't see from women at that time."
Elliott and three other cast members from the Lawrence-based Seem-To-Be Players have been spreading those lessons about Earhart, whose disappearance remains one of the country's biggest mysteries, to a national audience for nearly a month.
They'll bring the children's play back to Lawrence this weekend, for shows at 2 p.m. Saturday and Sunday at the Lawrence Arts Center, 940 N.H.
"I think she's a well-known name," says Elliott, a 2003 Free State High School graduate, "but people don't necessarily know the whole story. I'm excited to be out here sharing that with people."
Earhart, born in 1897 in Atchison, had enough aviation accolades to make her a celebrity. In 1928, she became the first woman to fly across the Atlantic Ocean, and in 1932 the first woman to fly it solo. Also in 1932, she was the first woman to fly solo coast-to-coast in the United States.
Soaring to stage
The play was written by Ric Averill, drama program director at the Lawrence Arts Center and artistic director for the Seem-To-Be Players. He says he got the idea years ago when his daughter started asking questions about Earhart.
"Part of what made her interesting was her absolute refusal to be defined by gender or expectations," Averill says. "Her feeling was if you're going to do it, just do it. She had a very plucky spirit of can-do."
The play takes on the feel of an old-time radio show, with interviews with the Earhart character. Many of the interviews are based on real-life newspaper accounts, with a lighted sign saying "Quote" indicating when Earhart's direct words are being used.
A mock airplane with a 16-foot wing span and the drone of a cello give the feel of an airplane onstage.
"It's very theatrical that way," Averill says. "Kids are always very willing to suspend disbelief."
The show has been on the road since late January and will continue through early April. In all, it will hit 30 cities in 13 states.
Aviation allure
Photo Gallery
Amelia Earhart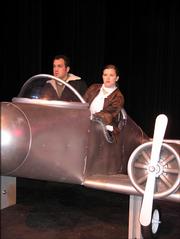 Louise Foudray, caretaker at the Amelia Earhart Birthplace Museum in Atchison, says she's not surprised audiences in other states have taken to the play. She says Earhart's appeal transcends state boundaries.
"I think it's because she was so much in the public eye," Foudray says. "Almost everybody, especially who was living at the time, knew of her because she was so famous. She had accomplished so much. It was so unusual for a woman to be doing these things back then."
Earhart's mysterious disappearance - during a 1937 attempt to become the first woman to fly around the world - only adds to her mystique, Foudray says. The U.S. government has spent more than $4 million trying to figure out what happened to her, with private researchers spending much more.
"I really think most of the interest is in her actual accomplishments and her being an icon and a figure for children to look up to," she says. "So many schoolchildren, once they start studying Amelia, they really get into it."
Still, the disappearance remains one reason why people get interested in Earhart. The play does deal with the mystery - near the end, the lights gradually go down with cast members chanting, "She's missing."
"You can hear a pin drop, even with an audience of 600 kids," Averill says. "The moment you realize she's gone, it amazing."
Elliott, who says she did extensive research on Earhart before she secured the part, says she thinks Earhart's life would be fascinating, even without the intrigue of her disappearance.
"The play doesn't go to try to answer those questions," she says. "Kids' questions have revolved around that, and to tell you the honest truth, I don't know. I'm more interested in how she started and how she got interested in flying."
¢What: 'Amelia Earhart: First Lady of Flight," by the Seem-To-Be Players
¢When: 2 p.m. Saturday and Sunday
¢Where: Lawrence Arts Center, 940 N.H.
¢Tickets: $8.50 for adults and $6.50 for children, students
and seniors
¢Ticket info: 843-2787