Sunday, February 19, 2006
Baldwin — The image captures a painful moment in history.
It's 1959, and jazz singer Billie Holiday is in a recording studio for what would be the last time before she died of cirrhosis of the liver.
Angled lights cast a long shadow of what remains of Holiday's once-full frame, which has suffered from her abuse of alcohol and heroin. She's listening to what she's recorded, and her teary eyes give away her disappointment with her sound.
A professional photographer might have been kicked out of the studio during the difficult moment. But not Milt Hinton.
Hinton was a renowned jazz bassist whose career spanned from the 1930s to the 1990s. But he's becoming increasingly famous for photographs he took during his long career that offer an insider's look at many of the jazz greats of the 20th century.
"These were his friends, and he took pictures of them wherever they went," says David Berger, co-director of the Milton J. Hinton Photographic Collection, based in New York City. "They responded to Milt as a friend. In that sense, I think he took more candid photographs."
Photo Gallery
Images Keeping Time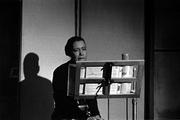 Twenty-eight images from the Hinton collection are on display through March 3 at the Holt/Russell Gallery at Baker University. The show, "Images Keeping Time: Photographs by Milt Hinton," is part of Black History Month activities at Baker.
Berger estimates Hinton, who died in 2000 at age 90, played on around 1,000 albums. He recorded with nearly all the all-star jazz players in the past century, including Cab Calloway, Dizzy Gillespie, Benny Goodman, Lionel Hampton and Holiday.
Hinton started taking photographs in 1936, when he received a $25 Argus 35 mm camera for his birthday. He often would balance a camera on his music stand during recording sessions and snap photos during breaks.
"The beauty for us is he had the wisdom to do a kind of very personal documentation of the people who were important to him," said Walt Bailey, a Baker art professor who organized the exhibition. "With a career that spans 70 years, he had some great company during that time."
Some of the photos capture important moments. There's trumpeter Clark Terry and singer Lou Rawls performing at the White House in 1969.
Others capture the human side of famous artists - trumpeter Dizzy Gillespie puffing out his cheeks with a group of children in France, or trumpeter Harry "Sweets" Edison lighting a cigarette. In another photo, guitarist Danny Barker has fallen asleep on a train and is resting his head on Gillespie's shoulder.
And the photos capture the difficulty of being a black musician in the times of segregation. In one photo, Calloway's band is seen entering a restaurant under a giant sign that says "Colored Entrance."
On view
What: "Images Keeping Time: Photographs by Milt Hinton" Where: Holt/Russell Gallery, Parmenter Hall, Baker University, in Baldwin Hours: 1 p.m.-4 p.m. Monday-Friday through March 3 Gallery talk: Ray James, assistant professor of music, 7 p.m. Wednesday
Holly Maxson, the other co-director of the Hinton photo collection, says Hinton never set out to make a historical record of the 20th-century jazz scene. He was just taking pictures of his friends, and it just happened that his friends were famous.
"Milt was one of these people who felt he was in a unique position in history," Maxson says. "He was black and born in the South, but he got a chance to get out of that and see the world as a musician. And to him, music was a universal language. I think he felt so incredibly lucky."
Maxson and Berger say many of the 60,000 images in the collection are more like snapshots that do not appear to be taken by a skilled photographer - Hinton was, after all, a bassist by trade.
But Bailey, the Baker professor, says there is evidence Hinton knew what he was doing with a camera. In one photo, Hinton appears to have climbed a ladder to get a better angle on his subjects. In another, the subject is framed perfectly among microphone stands. Another uses a shallow depth of field to draw attention to a musician.
And the photos were taken almost exclusively using existing light, without a flash.
"You can't spend any time with these photos without feeling for the people," Bailey says. "It's a sense of joy and poignancy - it's all here. As documentary photography, it's good work."
More like this story on Lawrence.com