Monday, February 20, 2006
As a proud owner of the entire Berenstain Bears catalog, Ariel George is well qualified to participate in Read Across America.
More importantly, however, the 19-year-old KU freshman has mastered the art of reading upside-down.
"You have to do the teacher thing where you read over the book so they can see the pictures," George explains. "You kind of forget how to read. You have all these little faces staring at you."
The March 2 event - held annually on Dr. Seuss' birthday - sends local volunteers into classrooms to share their favorite books. The Roger Hill Volunteer Center is currently seeking 30-40 volunteers to read at Woodlawn Elementary School, New York Elementary School and The Lawrence Boys and Girls Club.
"All you have to do is show up and bring your favorite children's books," George says. "They're all fairly well-behaved. I've never had horrible children or anything."
The event gives people outside the educational system a chance to connect with local elementary-age children.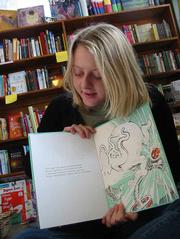 "If you're not planning on becoming a teacher or working with children later in life, I think that you tend to ignore children or breeze past them," George says. "It shows young kids that people our age want to do things with them. It's someone of their generation telling them to read and not just a teacher."
George, a recent graduate of Lawrence High School, is a senior member of the Youth Volunteer Council. The organization - based out of the Roger Hill Center - matches local teenagers with volunteer opportunities in Lawrence.
"Sometimes I feel bad because I feel like I get more out of it than I really put into it," George says. "It's really relaxed. You can show up whenever you want to and come to the meetings or just go to the events."
The YVC helped George discover local organizations like Habitat for Humanity and LINK. She soon found herself hanging around the Roger Hill Center much more than she initially expected.
Persons interested in volunteering for Read Across America can contact the Roger Hill Volunteer Center at 785-865-5030. The event will occur from approximately 3:30 to 4:30pm on March 2. More volunteer opportunities available at rhvc.org and at lawrence.com/volunteer.
"Sometimes we'll take the initiative to raise money for something, so we'll plan our own projects," she says. "You get to know different community leaders, which are helpful when you get to college and you need recommendations."
George says that college-age Lawrencians should "at least call or go in" to the Roger Hill Center at some point. The center's offices are located in the United Way building at 2518 Ridge Court.
"I think most students don't know about the resources in town, so they don't think to call the volunteer center if they're looking to volunteer," George says.
Those in search of instant gratification are advised to jump aboard the Read Across America train.
"Get a cookie. Have some juice," George urges. "That's an incentive for the college kids, I guess."